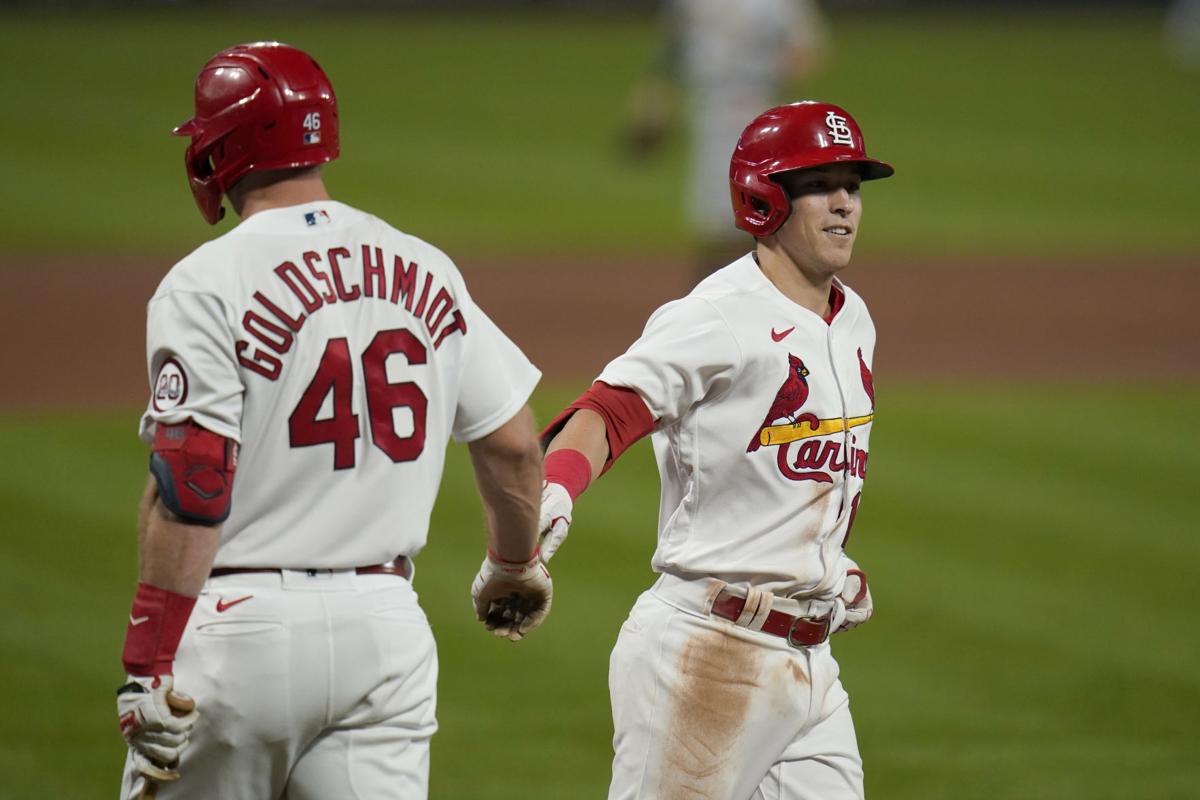 ST. LOUIS — Time is running out for the Milwaukee Brewers.
Looking to bounce back from a series-opening loss against St. Louis, the Brewers split their doubleheader with the Cardinals on Friday, all but eliminating any room for error over their final two games as they vie for a postseason berth.
Brent Suter gave the Brewers four shutout innings and Christian Yelich hit his 12th home run as Milwaukee opened with a 3-0 victory. The nightcap was on the complete opposite end of the spectrum, however, as the Cardinals scored three runs in 2⅔ innings against Josh Lindblom, broke the game open with a six-run fifth and received a dominating performance from Daniel Ponce de Leon in a 9-1 victory.
"We pitched extremely well in that first game and did enough offensively against a good pitcher to get it done," Brewers manager Craig Counsell said. "The second game just didn't go well. We didn't hit and we didn't pitch well."
With two games remaining in the regular season, the Brewers (28-30) sit fourth in the National League Central, two games back of the Cardinals (29-27). The Cincinnati Reds (30-28) are just a percentage behind St. Louis for second place in the division and the guaranteed playoff spot that comes with it.
Milwaukee is tied with the Philadelphia Phillies, 1½ games behind the San Francisco Giants, who currently hold the second NL wild card spot.
The Brewers face the prospect of having to win their final two games to have a chance at a franchise-record third consecutive playoff berth.
"These last couple of weeks have felt like every game is a do-or-die scenario," Suter said. "The wins are like, 'OK, we held serve.' And then the losses are tough punches to take."
Suter scattered two hits and a walk while striking out four.
The Brewers scored three runs in five innings against Cardinals right-hander Jack Flaherty (4-3). Devin Williams and Josh Hader preserved the shutout over the final three innings.
"We all threw zeroes up there, which is big," Suter said. "And the offense did a great job, getting out to a pretty early lead. We were able to hold it. Devin and Josh were fantastic."
Lindblom (2-4) didn't fare nearly as well. After allowing just one earned run over 10⅓ innings in his past two starts, Lindblom allowed an RBI single to Matt Carpenter in the first inning and fell behind 3-0 on Kolten Wong's two-run triple in the second.
It was still 3-0 when Drew Rasmussen came back out for the fifth. Wong led off with a single to set up Tommy Edman's fifth home run and, after Rasmussen struck out Paul Goldschmidt, Carpenter reached on a single.
The Brewers challenged the call, which was upheld after review, and left-hander Eric Lauer came on to face pinch hitter Rangel Ravelo. Lauer struck Ravelo out but walked Paul DeJong to load the bases for Dylan Carlson, who made it 5-0 with a double to left.
Matt Wieters exteded the inning with an RBI single and moved to second on a passed ball before Lauer got out of the inning.
Ponce de Leon (1-3) struck out six over six innings to collect the victory in the nightcap. He'd allowed just one baserunner and did not give up a hit through through the first five before Orlando Arcia led off the sixth with his fifth home run.
"He pitched well," Counsell said. "He got his breaking ball going pretty good as the game went on."
"Our mission is pretty simple now," Counsell said. "We have to win two games. If we win the next two games, we have a shot."
Burnes on IL
Corbin Burnes' regular season is done and his availability for any potential postseason appearances is doubtful after an MRI revealed a strained left oblique, landing him on the 10-day injured list.
The right-hander took the mound Thursday vying for the NL ERA crown but was pulled in the fourth inning because of back tightness.
In his seven starts before facing the Cardinals on Thursday, he went 4-0 with a 1.13 ERA. He held opposing batters to a .161 batting average and .436 OPS while striking out 59 over 40 innings, putting him in the conversation for NL Cy Young Award honors. Overall, Burnes went 4-1 with a 2.11 ERA in 12 appearances this season, including nine starts.
Get the latest baseball news delivered to you!
Sign up to receive professional baseball news in your inbox every week.