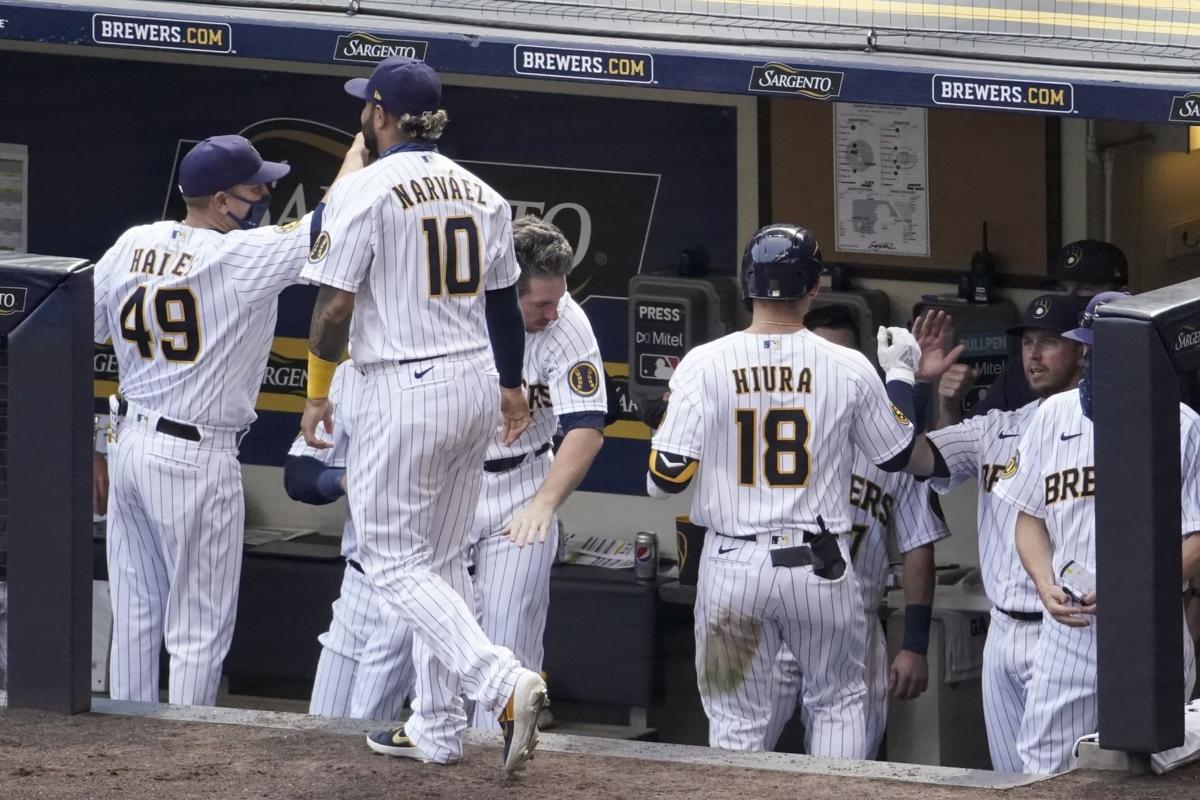 MILWAUKEE — A baseball player could do much worse than trying to emulate Christian Yelich.
After the Milwaukee Brewers outfielder used a day off earlier in the week to find ways to break out of a season-opening slump, first baseman Justin Smoak took a similar approach Saturday in the hopes of snapping his own offensive funk.
The efforts paid off handsomely Sunday as Smoak collected three hits and drove in a pair of runs in Milwaukee's 9-3 victory over the Cincinnati Reds at Miller Park.
Nobody was happier for Smoak than Yelich, who has shown signs of reverting to form with three home runs in four games since his day off.
"It's tough when you're struggling but he worked hard yesterday with (hitting coach) Andy (Haines) on the field and it seemed like it paid off for him," Yelich said.
Smoak had appeared in each of Milwaukee's first 11 games, starting 10, but had batted just .128 (5-for-39) with a home run, two RBIs and 19 strikeouts in 43 plate appearances. Manager Craig Counsell said that Smoak's struggles stemmed from ball/strike recognition, which Smoak said begins with a mental approach — something that has been admittedly difficult for hitters as they adjust to empty ballparks devoid of the usual noise and energy provided by spectators.
"It's just more of having the mindset of being ready to hit," Smoak said. "With no fans in the stands, you've got to pump yourself up and get going and it's something that's not easy to do. As a group we're trying to make those adjustments."
Mechanically, Smoak and Haines worked on tightening up his mechanics, which Smoak said helps with his mental approach by providing more time to identify a pitch and start his swing.
"It's something that I've done throughout the last few years and throughout my career, and it's something that definitely we'll keep doing," Smoak said. "When you're up at the plate in a game you can't be feeling for things, and it's something that we have done, top to bottom, throughout the first few games here and the first couple weeks. Hopefully we get them behind us and start playing better baseball."
Breakout performance
The Brewers received back-to-back solo home runs from Christian Yelich and Keston Hiura in the seventh inning Sunday. The last time Milwaukee hit back-to-back home runs was Sept. 25, when Ryan Braun hit a grand slam and Eric Thames followed with a solo shot in a 9-2 victory over the Reds in Cincinnati. That contest, which clinched a playoff spot for the Brewers, also marked the last time the Brewers scored six runs in an inning before Sunday's sixth-inning outburst.
Yardley impressing
It's no surprise that the Brewers' bullpen has been one of the team's biggest strengths.
What is surprising, however, is which reliever has been among the most reliable.
Right-hander Eric Yardley leads the team with six appearances and has yet to allow an earned run in 5⅔ innings, holding opposing hitters to a .190 average.
"'Reliable' is a good word for him," Brewers manager Craig Counsell said. "Eric's done fabulous. Eric's done his job. He knows himself really well, he knows what he's good at and he knows what he has to do. He's off to a nice start."
Yardley, 29, went 0-1 with a 2.31 ERA in 10 games as a rookie last season for the Padres, who placed him on waivers in November. The Brewers claimed him, thinking his unique side-arm delivery would generate ground-ball outs — a valued skill in a hitter-friendly environment like Miller Park.
He's done just that this season with a ground-ball rate of 82.4% — up from 65.9% a year ago — and has had success against batters on both sides of the plate.
"Right-handed (hitters) are his strength but I think he's shown he can get left-handed hitters out," Counsell said.
On deck
Right-hander Adrian Houser (1-0, 0.75 ERA) is scheduled to start Monday when the Brewers open a three-game series with the Minnesota Twins at Miller Park. Houser held the Chicago White Sox scoreless for seven innings last week, allowing five hits and two walks while striking out five. 
The Twins will counter with right-hander Randy Dobnak (2-1. 0.60).