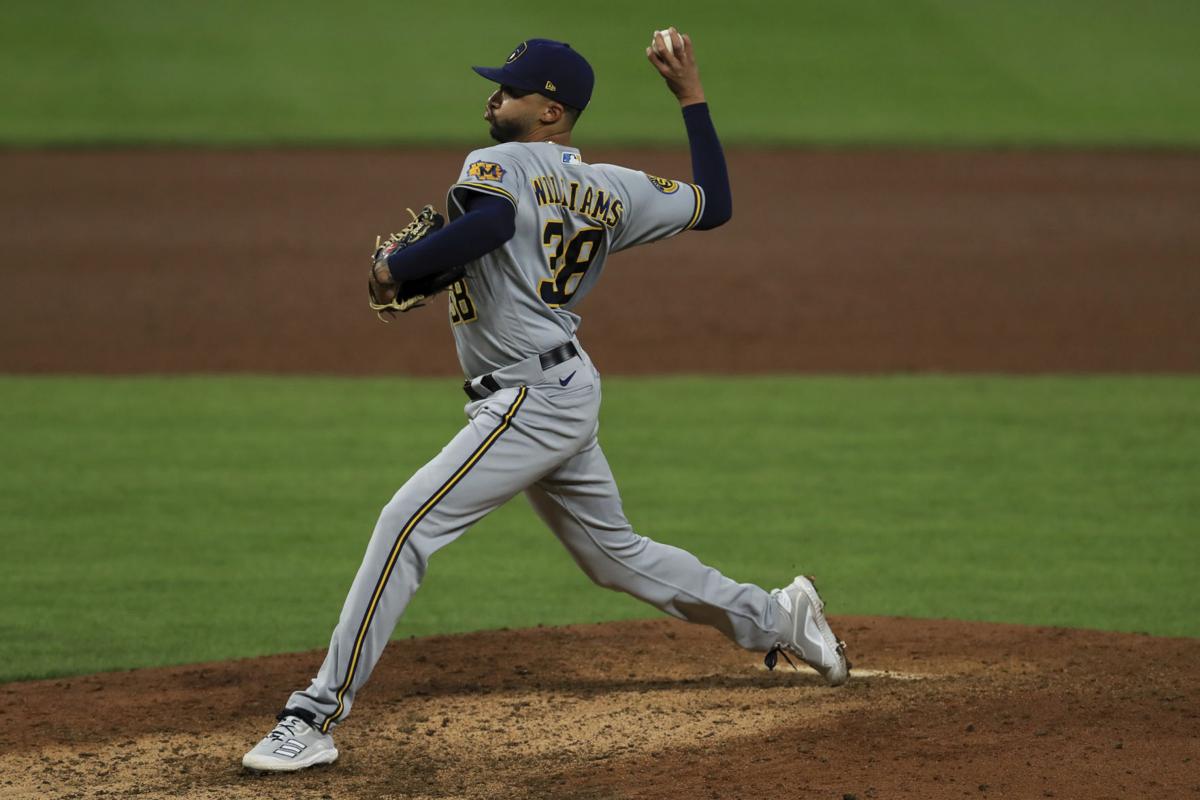 MILWAUKEE — Devin Williams put together a historically dominant season but even he thought his chances of winning the National League Rookie of the League Award were slim.
So slim, in fact, that he booked a vacation to Jamaica before he was announced as a finalist.
And it was during that vacation in Jamaica that Williams learned that he became the third Milwaukee Brewers player to win the award, beating out infielders Alec Bohm of the Philadelphia Phillies and Jake Cronenworth of the San Diego Padres in voting by members of the Baseball Writers Association of America.
"I really wasn't expecting it," Williams said after the results were announced Monday night.
Williams, 26, went 4-1 with a 0.33 ERA in 22 appearances this season and led all MLB relievers who pitched at least 20 innings in ERA, opponent's batting average (.090), WHIP (0.63), strikeouts (53) and strikeouts/nine innings (17.67). He allowed just one earned run in 2020, coming in just his second appearance, and finished the year with 24 2/3 scoreless innings, allowing just six hits and a walk while striking out 49 during that stretch.
Still, he was considered a long shot for the honor in part because of his role. Williams emerged as a set-up man for closer Josh Hader and as a result, did not register a save during the season.
"It also shows how good of a (bullpen) we have if I can win both of these awards and I'm not even good enough to be our closer," said Williams, who was named the National League's Reliever of the Year last month. "I don't think saves are the be-all end-all. If I come up in the seventh inning and I go through one through five, I think that can be pretty valuable as well."
Being named the league's rookie of the year has extra meaning for Williams because of the award's namesake: Jackie Robinson, who broke baseball's color barrier in 1947. Both Williams and Seattle Mariners outfielder Kyle Lewis, who was named the American League Rookie of the Year Monday night, are Black, marking the first time both awards went to African-American players since 1984.
Williams hopes that their accomplishments will help inspire a new generation of young players as the game works on becoming more diverse.
"Representation is always important," Williams said. "One of the No. 1 things that I've always said is you need someone who looks like you to show you that it's possible. Growing up, I had Derek Jeter and other bi-racial and other Black players who just kind of opened the door to that possibility for me. When you don't see anyone who looks like you, it doesn't feel like it's attainable in a way."
A St. Louis native who graduated from Hazelwood West High School, Williams had committed to play at the University of Missouri before the Brewers selected him in the second round of the 2013 MLB Draft (54th overall). His path to the major leagues was delayed by Tommy John surgery during spring training in 2017, but he put together a breakout year last season, going 7-2 with a 2.21 ERA in 34 appearances between Class AA Biloxi and AAA San Antonio.
Williams earned his first big league call-up last September and made a strong first impression, posting a 3.95 ERA in 13 appearances.
Monday night, he credited his success to his mother, Angela, who raised Williams and his two sisters as a single parent.
"It's never necessarily been easy for (us)," Williams said. "Just seeing the way she handled adversity, that really just kind of set the tone for the way I live my life."
Williams joins 1992 American League winner Pat Listach and 2007 NL winner Ryan Braun as the only Brewers players to win the award after earning 14 first-place votes and finishing with 95 points.
Bohm got nine first-place votes and finished with 74 points along with Cronenworth, who got six first place votes.
Dodgers pitcher Tony Gonsolin also received a first-place vote and finished third with 11 points.