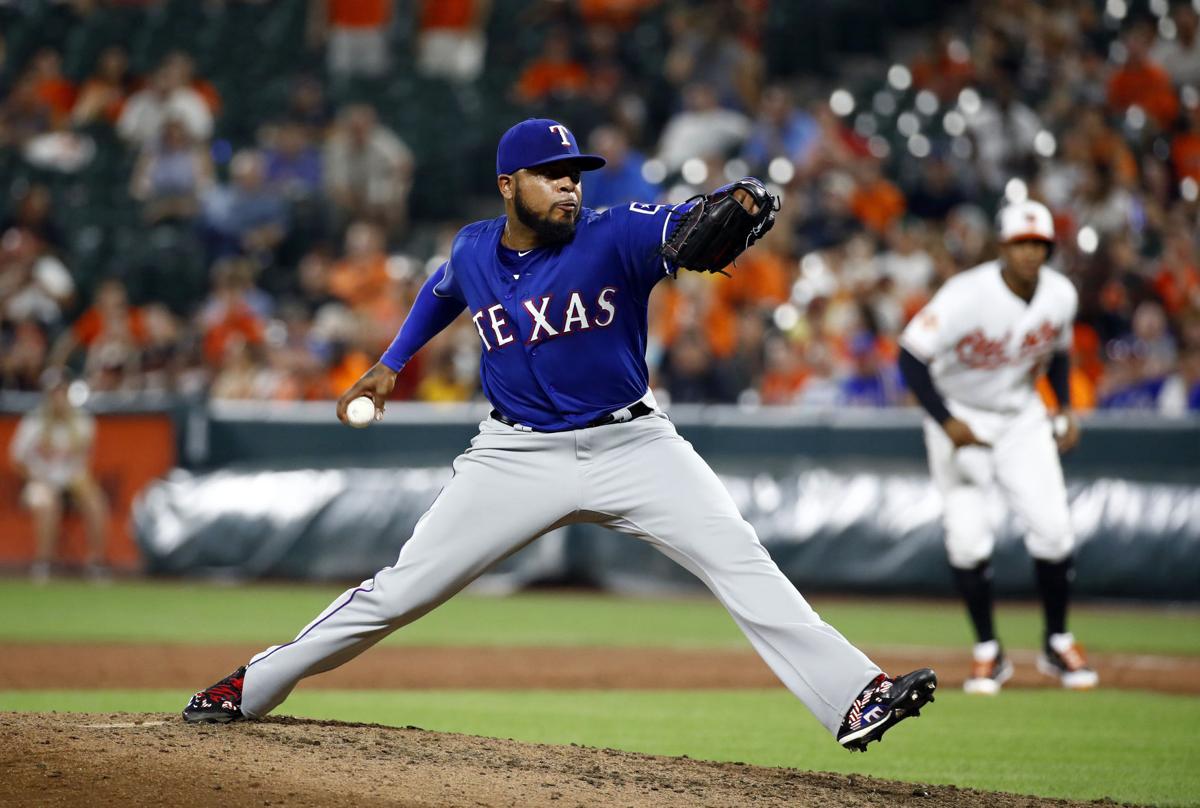 MILWAUKEE — Who says you can't rewrite history?
A year after he shipped closer Jeremy Jeffress to the Texas Rangers, Milwaukee Brewers general manager David Stearns re-acquired the right-hander Monday in a potential low-risk, high-reward deal ahead of baseball's annual non-waiver trade deadline.
Jeffress, acquired in exchange for minor league right-hander Tayler Scott, had been struggling this season, going 1-2 with a 5.31 ERA in 39 appearances for the Rangers. But Stearns thinks a change of scenery could help him regain the form he showed last season, when he saved 27 games and posted a 2.22 ERA in 47 appearances before he was sent to Texas along with catcher Jonathan Lucroy.
"Things have not gone as well for (Jeffress) since we traded him last year to Texas, but the arm strength is still there," Stearns said. "He's still the same guy. We still think he can get big outs and the goal here is to get him back to a comfortable setting and a place where he's performed well and get that level of performance back."
Stearns said the deal was all he could muster at the trade deadline Monday afternoon.
"It was active," Stearns said. "I can say we were quite literally exchanging names down to the last 10 minutes with other players involved.
"At this point, weren't able to get anything else across the finish line, but that's sometimes how it goes at deadlines."
That doesn't mean the Brewers are done dealing. They could still be active players over the next month as the waiver-trade deadline approaches.
It's common practice for teams to put a number of their pricier veteran players on waivers in August.
That was the case last season when the Brewers and Dodgers negotiated a potential deal for Ryan Braun, only for it to fall apart in the final minutes prior to the deadline.
"I think there may be more (August trades) than perhaps we're accustomed to," Stearns said. "Whether or not we're involved with one, I don't really know.
"I think there were likely some deals that didn't quite happen right before the deadline that potentially can be picked up throughout the industry over the coming weeks."
Jeffress appeared in just 12 games for the Rangers last season and missed nearly a month because of a stay at a rehabilitation facility after a drunk driving arrest.
Substance-abuse issues nearly derailed his career before it got started. Jeffress, Milwaukee's first-round pick in the 2006 draft, was suspended twice for marijuana use while in the minors. But he turned things around and made his big league debut in 2010, then was traded to Kansas City in the deal that brought Zack Greinke to Milwaukee.
After two lackluster seasons with the Royals, Jeffress landed in Toronto but was released after posting a 10.80 ERA in three games. He returned to the Brewers after that, signing a minor league deal, and made quite an impression when he returned to the big leagues late in the 2014 season with a 1.88 ERA in 29 appearances.
A year later, he became a dominant late-inning option with a 2.65 ERA in 75 appearances and became Milwaukee's closer late in camp last season when Will Smith went down with an injury.
"Familiarity does help," Stearns said. "I think Jeremy recognizes that the (drunk driving) incident last year was unacceptable. He's taken ownership of it, he's apologized for it and has behaved very appropriately since then, so we have confidence that that will continue, and are looking forward to bringing him back."
To bring Jeffress back, Stearns parted with Scott, a seven-year veteran who was 4-6 with a 2.34 ERA in 42 appearances for Class AA Biloxi this season. The team designated for assignment outfielder Kirk Nieuwenhuis to open a roster spot.
The move was Stearns' second bullpen-bolstering move of the month. Last week, he acquired Anthony Swarzak from the Chicago White Sox for outfielder Ryan Cordell, who also was part of the Lucroy-Jeffress deal a year ago.
Get the latest baseball news delivered to you!
Sign up to receive professional baseball news in your inbox every week.