PHILADELPHIA — Andrew McCutchen hit a pair of solo homers and Brad Miller slammed a three-run shot to back Aaron Nola, helping the Philadelphia Phillies beat the Milwaukee Brewers 6-5 on Tuesday night.
Nola (3-1) struck out 10 and allowed one run and five hits in six gritty innings as the Phillies held on to earn consecutive wins for the first time since they started the season 4-0.
"Having the results I had, it felt good," said McCutchen, who entered the game batting .176. "Still more work to be done. I'll look at the positives and take those into the next game."
Phillies reliever Enyel De Los Santos, called up from the minors earlier in the day, came out of the bullpen to pitch the seventh but was denied entry by umpires because he didn't appear on their lineup card.
"It's ultimately my fault because I didn't catch it," Phillies manager Joe Girardi said.
The Brewers took advantage, scoring four runs off David Hale and JoJo Romero. Hale lasted three batters, exiting after Luis Urías' RBI single. Jackie Bradley Jr. hit a two-run homer to center off Romero to cut the deficit to 6-5. Center fielder Odubel Herrera got his foot stuck in the padding halfway up the wall and needed help from right fielder Miller to get untangled.
Sam Coonrod got five outs for his second save. He retired Bradley on a fly ball to left with runners on first and third to end it.
"Nola gave us a gutsy performance. We knew our bullpen was short and Coonrod did a tremendous job," Girardi said.
Brewers starter Eric Lauer (1-1) gave up six runs — two earned — and eight hits in six innings, striking out seven.
McCutchen led off the bottom of the first with a drive into Philadelphia's bullpen to tie it at 1. He connected to left-center to ignite a five-run third that put the Phillies ahead 6-1. After a fielding error by third baseman Travis Shaw on J.T. Realmuto's grounder with two outs kept the inning going, Didi Gregorius had an RBI single before Miller launched one into the second deck just inside the right-field foul pole.
Daniel Vogelbach's RBI single in the first gave Milwaukee a 1-0 lead.
Nola retired 12 in a row during one stretch before running into a bases-loaded jam in the sixth. He struck out Jacob Nottingham on his 114th and final pitch to end the threat.
"They got the big hit. We had chances," Brewers manager Craig Counsell said. "I think we can be better than we've been (offensively). There's definitely room for improvement. You feel a bunch of guys are gonna get going. I'm still confident in that."
The Phillies have played six straight one-run games for the first time since 2000.
"Just finding a way," Miller said. "I feel like every game has been like this. It was a good ending."
Yelich back on the IL
Brewers outfielder Christian Yelich is going back on the injured list just one day after getting activated.
The Brewers announced Tuesday that Yelich was returning to the IL due to the lower back strain that has bothered the 2018 NL MVP for the last three weeks. The Brewers recalled outfielder Tyrone Taylor from Class AAA Nashville.
Yelich went 2-for-4 on Monday night in his first game since April 11. He is batting .353 with a .463 on-base percentage, no homers and one RBI in just 10 games.
Trainers room
Phillies right fielder Bryce Harper wasn't in the lineup for the second straight game because of a sore left wrist. ... Center fielder Roman Quinn needed nine stitches for a cut on his right index finger. He was hit on the hand while offering to bunt during an at-bat in the second inning. He stayed in, hit a single and then left the game after the inning.
Up next
Right-hander Freddy Peralta (3-0, 2.25 ERA) starts for Milwaukee and righty Chase Anderson (1-3, 5.40) goes for the Phillies on Wednesday night. Anderson was 38-27 with a 3.83 ERA in four seasons with the Brewers from 2016-19.
Early returns: 5 things we've learned about the Brewers over the first month of the season
DEPTH MATTERS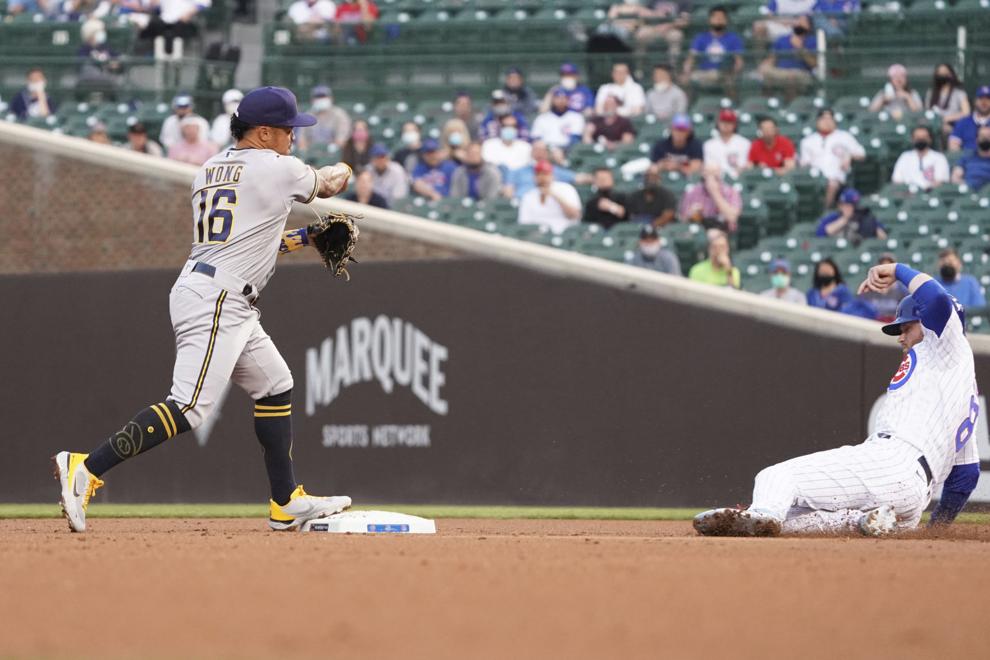 Each and every year, president of baseball operations David Stearns and manager Craig Counsell are peppered with questions about a perceived surplus or logjam at one position or another and each and every time they're asked, both remind the intrepid reporters asking those questions that it is a long season, injuries happen and depth is a key to success for any team.
In the future, Stearns and Counsell can respond to those questions by referencing April 2021.
Since April 10, when second baseman Kolten Wong (above) went on the injured list with a strained oblique, the Brewers have put 10 players on the IL — including starting outfielders Lorenzo Cain and Christian Yelich, both of their starting catchers and two starting pitchers.
As a result, all but one of the players on Milwaukee's 40-man roster have been used so far this season.
"We talk about depth all the time," Stearns said. "We didn't anticipate needing to go through this many layers of depth this early. It's given a number of guys some really great opportunities and through all of their credits, they've taken advantage of them."
STARTERS ARE REALLY, REALLY GOOD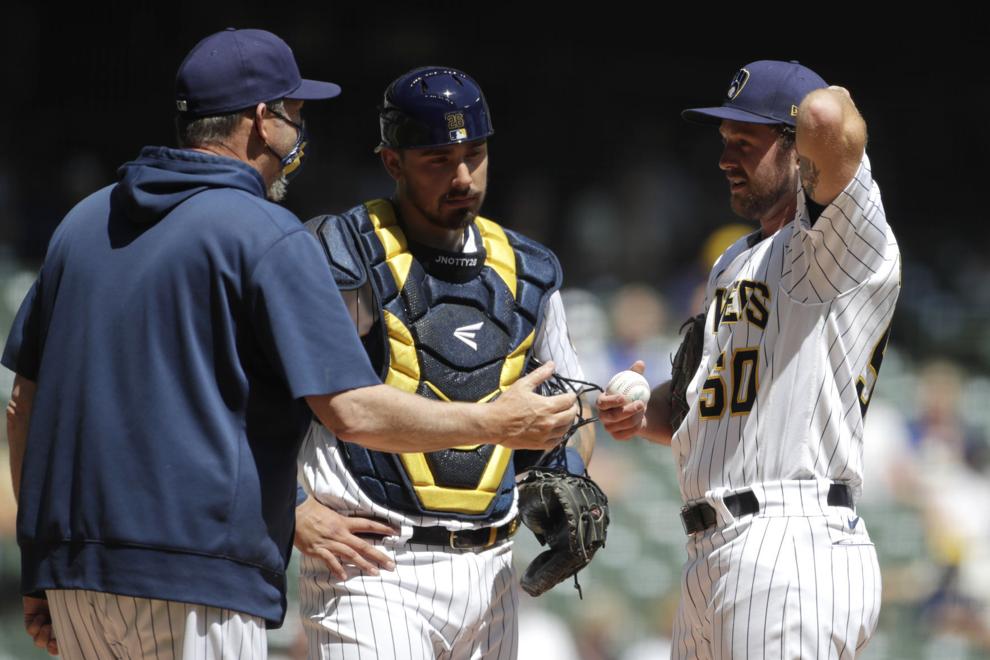 Anyone who's watched the team this year already knows this, but Milwaukee's rotation has been so good so far that it's worth repeating. Prior to Sunday, when Alec Bettinger's MLB debut (above) turned into a nightmare with a five-run first inning, the Brewers' starters combined for a 2.57 ERA, second only to the San Francisco Giants in all of baseball. After Bettinger's 11-run performance, Milwaukee's rotation still owns a 3.18, the fifth-best mark in the NL and sixth in MLB.
"Every guy that's in this in this rotation is bringing something and it's fun to watch just from a pitching standpoint," closer Josh Hader said. "It's impressive to see how they attack these lineups, especially going around lineups three times in a row. I know as a starter that's not an easy thing to do and they make it look easy."
OFFENSE IS REALLY, REALLY BAD — BUT EFFECTIVE
On the other end of the spectrum, Milwaukee's offense is still a concern. The Brewers are last in the National League with a .217 batting average and .301 on-base percentage. Their 35 home runs are good for sixth in the NL and help boost their slugging percentage to .373 (11th/NL), while their .674 OPS ranks 13th.
Among qualified players (3.1 plate appearances per team games played), Avisail Garcia (above) is Milwaukee's leading hitter with a .222 average, just ahead of Travis Shaw, who's batting .220 but is among the league leaders in RBIs (21) and has a team-leading five home runs so far.
Still, the Brewers' bats have come through in big moments more often than not, and thanks to the pitchers' efforts, the offense hasn't had to put together too many big innings in order to dig out of a hole.
"We just keep doing it every night, finding ways to get it done," Shaw said. "Seems like however many runs we need, we score that exact amount every single night, whether it's one, whether it's five, six, whatever it is, we'll get it. We've been getting just enough to win."
THINGS AREN'T AS BAD AS THEY SEEM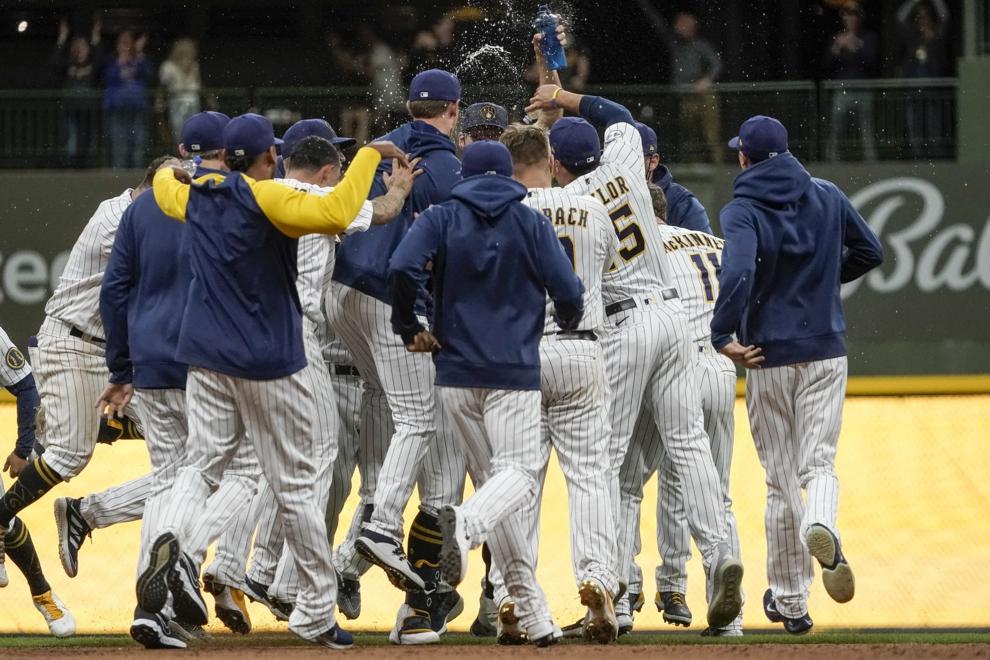 Even with the injuries, the slumps, roster shuffles and their blow-up loss Sunday, the Brewers still woke up Monday atop the National League Central Division, a game up on second-place St. Louis and 3 1/2 ahead of the third-place Reds.
"You take three out of four from the Dodgers and you have to consider that a good series, for sure," Counsell said. "Guys continue to step up. It's going to take more than 26 (players) — I think we've made that pretty clear — and I think we're in that mode right now. It's a good place to be. We continue to pitch very well and I think that's going to continue to serve us well."
THIS TEAM COULD BE FOR REAL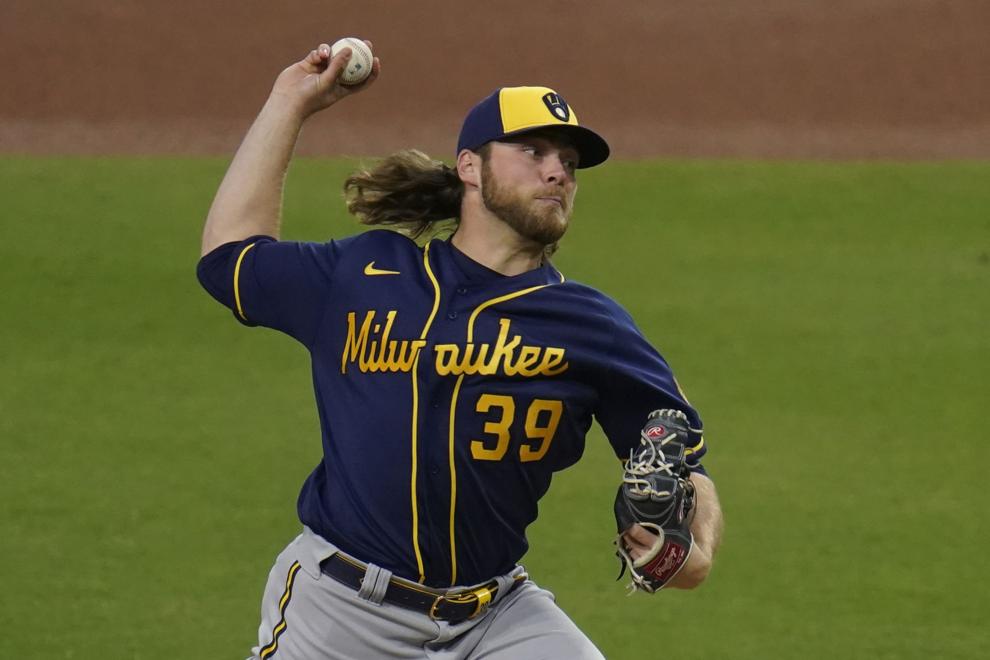 No doubt, there is still way too much baseball left. A lot can happen between now and September and there's plenty of teams in franchise history that saw strong April starts wiped out by May swoons, but that the Brewers have been able to navigate this challenging stretch without losing ground while taking care of business against their divisional rivals is encouraging.
Cain and Yelich are expected to return at some point during the road trip. Manny Piña is eligible to return this weekend and Corbin Burnes (above) could return at some point this month, too.
And just as five more months of games leaves plenty of time for the Brewers to tumble out of first, the schedule also provides plenty of time for those who slumped out of the gate to snap out of their funks and get on a hot streak.
"We're really being tested right here in April, but we've come through better than I think anybody could expect," Shaw said. "Our pitching's been unbelievable. Offensively, we've struggled but I don't think that'll be the case all year. But right now, our pitching is carrying this team and offensively we're getting healthier and hopefully we'll get swinging the bats a little better here as we get into May."