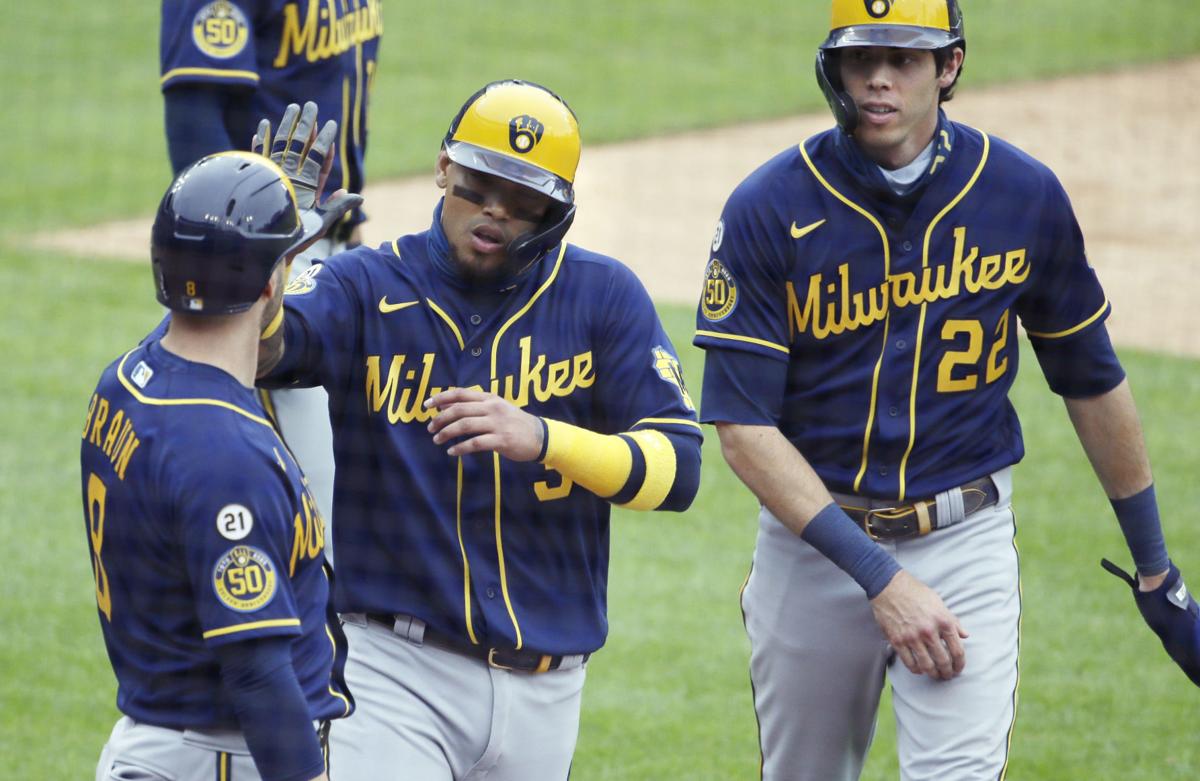 MILWAUKEE — A week from now, the Milwaukee Brewers will likely know whether or not they're heading to the playoffs for a franchise-record third consecutive season.
Following a 19-0 rout of the Tigers on Wednesday in Detroit, the Brewers (19-22) returned home for a day off Thursday before their final homestand of the season. It begins Friday with three games against the NL Central-leading Chicago Cubs and continues with five games in three days against the second-place St. Louis Cardinals.
"The last couple of weeks are going to be crazy," said right-hander Brandon Woodruff, who is scheduled to start Friday night. "We've been battling with these guys for the last few years so it's going to be fun."
Milwaukee has played its best baseball in each of the past three Septembers, going 56-34 over the final month in those seasons — including 20-7 marks in each of the past two seasons as the Brewers surged into the postseason.
Much of their success has come at the expense of NL Central foes. The Brewers are 34-17 against their divisional rivals during the past three Septembers, with a 25-7 mark in those game the past two years. While a number of those victories came against Cincinnati and Pittsburgh teams that were looking toward the future, the Brewers also went 20-7 against the Cubs and Cardinals, including a 6-1 mark against those teams last September.
"I don't know what it was, but it was kind of like when they started sniffing out playoffs, man, they could smell that blood and just went for it," said Brewers infielder Jedd Gyorko, who played against Milwaukee in those games as a member of the Cardinals in 2017 and '18.
"That's kind of where we've got to be at now. We're right there in it. So it's time buckle down, lock it in and get going."
Under the expanded postseason format in place for the 2020 season, the top two teams in each division will qualify for the playoffs, with the two remaining teams with the best winning percentage earning wild card spots in each league.
"We've got 13 of 19 games against the teams that are ahead of us and so we know we've got to win games," Brewers manager Craig Counsell said. "We don't have to be perfect, but it's going to take a good effort."
Especially from the Brewers' offense, which scored just seven runs and went 8-for-32 with runners in scoring position during the three-game losing streak that preceded their blowout victory Wednesday.
There are reasons for optimism, however.
Two-time NL batting champion Christian Yelich is hitting just .213 with nine home runs and 19 RBIs but he's reached base in 28 consecutive games with 21 walks and six home runs during that stretch.
Veteran outfielder Ryan Braun had three hits Wednesday and is 6-for-12 in September, with a triple, home run and four RBIs. Keston Hiura has four home runs and nine RBIs in his last nine games.
"It's encouraging," Braun said. "We're not where we want to be. We haven't swung the bats close to as well as we hoped to as a group but sometimes, all it takes is one good day. ... You just have to lock in for a week or, ideally, three weeks through the end of the regular season and hopefully ride the momentum."
Be the first to know
Get local news delivered to your inbox!