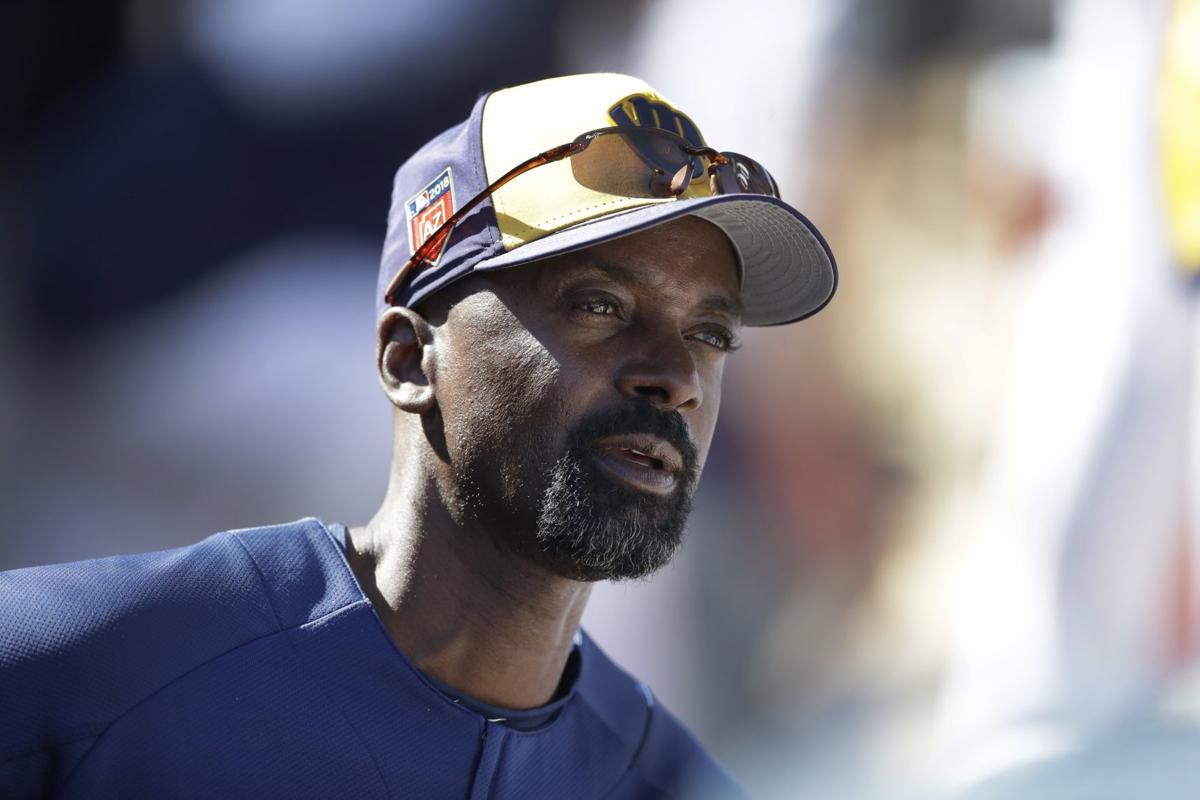 MILWAUKEE — Just a few days removed from their longest postseason run since 1982, the Milwaukee Brewers shook up their coaching staff Thursday, parting ways with hitting coach Darnell Coles, bullpen coach Lee Tunnell and head athletic trainer Dan Wright.
Coles, 56, worked in Milwaukee's minor league system from 2011-2013 then spent a year as the Tigers' assistant hitting coach. He joined Ron Roenicke's coaching staff following the Brewers' late-season collapse in 2014. He stayed on when Craig Counsell was hired to replace Roenicke in May 2015 and has been with the team since.
"We've had a great run with DC," general manager David Stearns said. "Obviously his time here predates me, and we're very appreciative of his contributions."
Coles oversaw an offensive unit that finished second in the National League with 218 home runs, third in total bases (2,352) and fourth in with a .747 OPS this season but seventh in the league with 754 runs while struggling with runners in scoring position (.246, 11th).
Those deficiencies were in the spotlight during the NLCS, when Milwaukee managed seven total runs in its four losses to the Dodgers. Stearns said the Coles decision wasn't based on any sort of frustration.
"Everyone goes through frustrations in their jobs but I think Darnell cared about the players and he certainly cares about the Brewers," Stearns said. "He got to the point where it was time for him to pursue a different opportunity."
You have free articles remaining.
Stearns said the team would look at internal and external candidates to fill the position with assistant hitting coach Jason Lane among the group of potential in-house candidates.
Stearns said there would be an emphasis on teaching when evaluating candidates, a trait highly valued in pitching coach Derek Johnson, who held the same role at Vanderbilt University before a two-year stint as the Cubs' minor league pitching coordinator and ultimately joining the Brewers.
"You want someone who has the ability to teach and communicate with players and help them grow," Stearns said. "Coaches can do that in a variety of different ways. At the major league level, there isn't necessarily a cookie-cutter approach so we're going to go into this with an open mind and talk to a variety of different candidates who could maybe come from slightly different backgrounds and see what we think is the best fit."
Tunnell helped mold Milwaukee's relief corps into one of the game's best in 2018. The Brewers finished second in the National League with a 3.47 ERA during the regular season and were dominant over the final month, posting a league-leading 1.98 mark in September.
"There was a really solid group effort from that unit as a whole," Stearns said. "As we've moved forward, we just felt that it was time to get a new voice on the coaching staff."
The moves mark the first significant changes since Stearns took over for Doug Melvin following the 2015 season.
"Coaching staffs evolve," Stearns said. "We've been fortunate to have a very stable staff here the last three years. These are the first changes that we've made since I first came aboard. I think it's natural over a period of time to inject some different thoughts and a different voice into the (coaching) staff."
Wright had been with the Brewers for 17 seasons, serving as the team's lead trainer for the past seven. The remainder of Milwaukee's medical staff will return for 2019 as will Johnson, bench coach Pat Murphy, first base coach Carlos Subero and third base coach Ed Sedar.