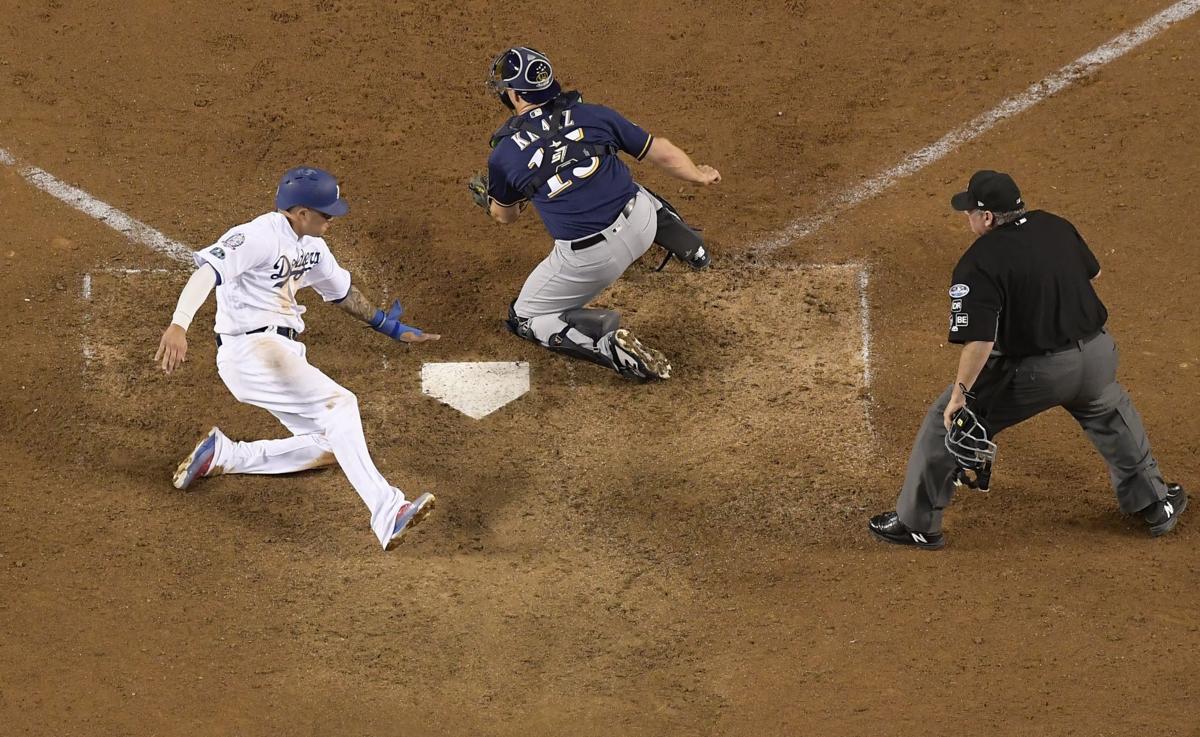 LOS ANGELES — The Milwaukee Brewers' last three road trips have all ended the same way; with plastic draped over lockers while champagne and beer flowed freely.
That streak came to an end Tuesday night when the Brewers' offense all but disappeared in a 13-inning, 2-1 loss to the Dodgers in Game 4 of the National League Championship Series at Dodger Stadium.
Milwaukee hadn't scored fewer than two runs in a game since Pittsburgh blanked the Brewers on Sept. 22, and while they haven't pounded the ball with the proficiency of Boston or Houston, the Brewers entered the game leading the playoffs with a .265 team batting average.
The Brewers had a chance to take a commanding lead in the best-of-seven series, but while the bullpen struck out 17 batters over 11 consecutive scoreless innings, Milwaukee's offense went hitless in eight at-bats with runners in scoring position and stranded 10 runners total against nine Dodgers pitchers.
Ryan Braun had three hits on the night, but the rest of the team combined for just five with just one of them coming from top-of-the-order stalwarts Lorenzo Cain and Christian Yelich, both of whom are having a quiet series so far.
Tuesday was especially painful for the duo. Cain went 0-for-6 with three strikeouts, stranding a pair of runners along the way, while Yelich had just a walk and an infield single to show for his six plate appearances.
"There's a bunch of guys we need offense from," manager Craig Counsell said. "We've got good contributions from guys at the bottom, but a bunch of guys are not really on it right now."
That inability to cash in squandered what had been a magnificent performance from Milwaukee's bullpen, which had to work overtime after Gio Gonzalez left with an ankle injury one batter into the second inning.
The Milwaukee Brewers lost to the Los Angeles Dodgers 2-1 in 13 innings in Game 4 of the National League Championship Series at Dodger Stadium…
Gonzalez wasn't expected to work too deep into the game in the first place, but Counsell had to get his bullpen going earlier than expected thanks to a 25-pitch opening inning that resulted in a 1-0 Los Angeles lead.
Gonzalez came back out for the second but rolled his ankle trying to field Yasiel Puig's leadoff single. He stayed in the game after Counsell and athletic trainer Dan Wright checked him out only to get the hook after delivering one pitch to Austin Barnes.
Counsell said Gonzalez might have to be replaced on the roster.
Freddy Peralta took over and worked out of a bases-loaded jam by striking out pinch-hitter Max Muncy. It was one of six he'd record over three innings of work − his first action of the postseason − and one of 17 strikeouts recorded by Brewers relievers, setting a new MLB postseason single-game record.
"We got some incredible pitching performances tonight," Counsell said.
It was still a 1-0 Dodgers lead when Corbin Burnes took over for the fifth. The rookie right-hander bounced back from a frustrating outing in Game 2 by striking out three over two innings. He'd thrown only 22 pitches when his spot in the order came up with one out and Orlando Arcia on base in the fifth, but Counsell's decision to send up pinch-hitter Domingo Santana paid off when Santana ripped a double to right, sending Arcia home with the game-tying run.
It became a stalemate from that point. The Brewers stranded the leadoff batter in each of the next three innings then failed to advance Manny Pina after he drew a one-out walk in the ninth.
The bright side was Los Angeles couldn't do anything with its few opportunities, either. The Dodgers put their leadoff batters on in the sixth, seventh and eighth innings only to come up empty and got one last chance in regulation when Chris Taylor worked Corey Knebel for a two-out walk in the ninth.
Knebel ended the inning by getting Justin Turner to fly out to center, and Junior Guerra took over, extending the scoreless streak by three more innings. He'd retired 10 straight batters when Manny Machado reached on a broken-bat single to left with one out in the 13th. Machado moved to second on a wild pitch to Brian Dozier, who popped out to third base for the second out.
With first base open and slumping Yasmani Grandal on deck followed by the pitcher's spot, the Brewers chose to pitch to Bellinger — and it cost them.
"I thought it was worth the risk of trying to expand to Bellinger, and if the at-bat goes to Grandal, we walk Grandal," Counsell said.
Bellinger worked Guerra full before pushing a hanging slider past a diving Jesus Aguilar into right. Machado scored easily on the play then joined his teammates as they chased Bellinger into the outfield to celebrate the victory.
"Honestly, I didn't think he was going to throw me a strike," Bellinger said. "And then once I noticed he was attacking me, I just tried to put the ball in play and hopefully find a hole this time. I was just kind of in grind mode."
With celebratory plans on hold, the Brewers will now try to reclaim the series lead Wednesday before returning to Milwaukee for Game 6, set for Friday night at Miller Park.
Doing so will be no easy task. The late rally bolstered the Dodgers' confidence, and with ace left-hander Clayton Kershaw on the mound for Game 5, they feel like momentum is on their side. 
"Definitely," Bellinger said. "We have Kershaw on the mound tomorrow, so we like our chances. It's going to be another fun game."
Wade Miley will go for the Brewers on Wednesday.
Bellinger, who entered as a pinch hitter in the sixth, also had the defensive play of the game. He made a diving catch on his belly of a ball hit by Lorenzo Cain leading off the 10th, spreading his arms out and sliding like a snow angel in right field.
"I haven't been out there much," Bellinger said. "But I played right field in the minor leagues a little bit, so it was kind of second nature to me, and I just saw it up in the air, so I just tried to run and grab it."
The sellout crowd of 53,764 was considerably noisier than on Monday, when Enrique Hernandez criticized Dodgers fans for being too quiet. Joc Pederson and Bellinger waved blue rally towels in the dugout.
---
The Associated Press contributed to this report.