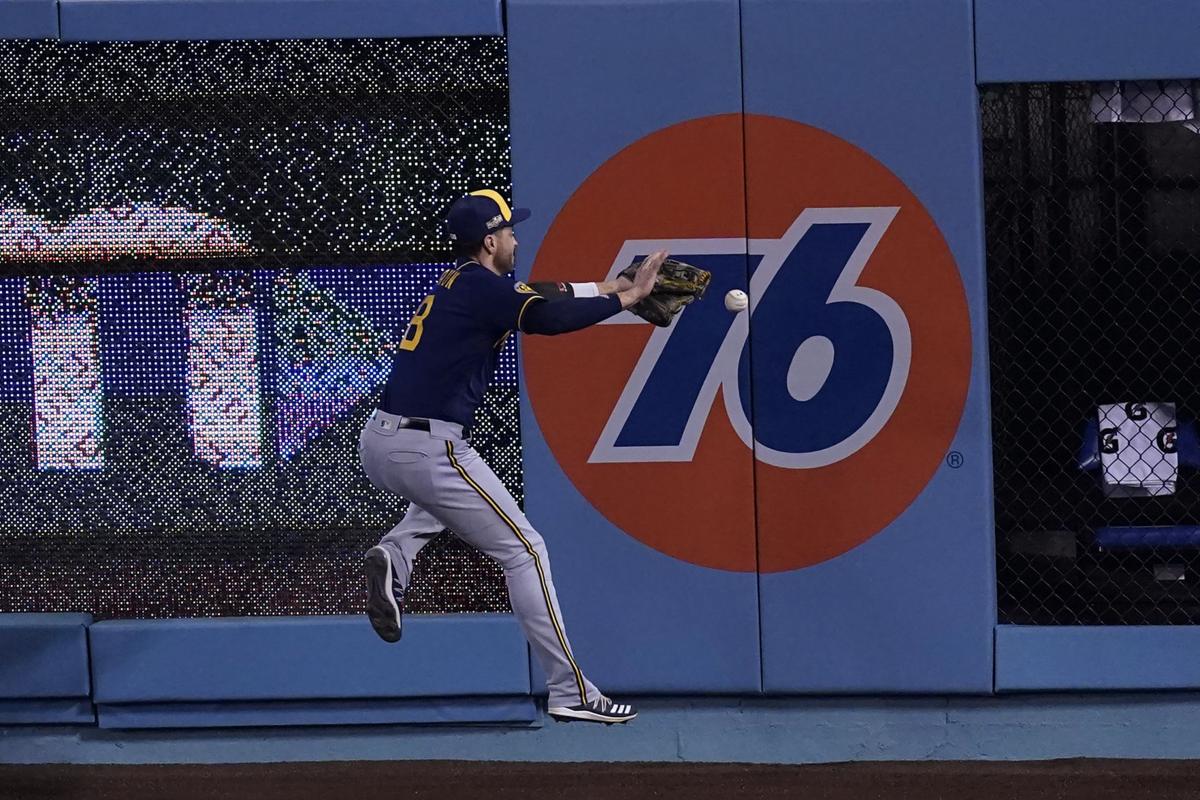 LOS ANGELES — Ryan Braun will watch at least a majority of what could be the final game of his career from the dugout.
Braun was held out of the Milwaukee Brewers' lineup for Game 2 of their National League wild card Series against the Los Angeles Dodgers because of a strained left oblique he suffered last Sunday during the regular-season finale at St. Louis.
He tried to play through the injury in the series opener Wednesday, batting second and playing right field to start the game. But after crashing into the wall to make plays twice in the opening innings, he was replaced by Tyrone Taylor in the fifth.
"I was in pretty extreme pain," Braun said Thursday evening. "Swinging, throwing, running, everything kind of hurt. (Manager Craig Counsell) recognized that I was pretty significantly compromised yesterday and made the decision to take me out of the game."
Braun has been battling injuries throughout the shortened season, starting with an oblique strain that kept him out of the entire series of intrasquad games during summer camp and two of the Brewers' first three regular-season games.
He later spent time on the injured list for an infected finger and batted just .170 (9-for-53) with 10 strikeouts before he was sidelined again with back tightness to start September. Upon returning Sept. 4, Braun heated up and hit .400 (16-for-40) with five home runs, 16 RBIs and a 1.307 OPS over his next 13 games. But was just 2-for-23 over Milwaukee's final seven games, including an 0-for-3 showing with two strikeouts in the season-ending loss to the Cardinals.
It was during that game that Braun suffered his latest injury. He was chasing a Dexter Fowler fly ball toward the Cardinals bullpen when he reached and felt something pull. He felt it again throwing to second when Paul Goldschmidt hit a ball to the wall later in the game.
"I knew that it wasn't great," Braun said. "But with where we were at in the season, I wanted to try to do everything I could to try and play and try to contribute."
After getting two days of rest and treatment between that game and the series opener Wednesday night, Braun tried to play through it but was in obvious pain when he came out after the fourth inning.
"When we took him out of the game, it was pretty clear that we were going to be really limited with what today could offer," Counsell said.
Counsell wouldn't rule out using Braun as a pinch hitter Thursday if the situation warranted and Braun was well enough to do so. Braun said he planned to do some tests before the game to try to stay loose to be available if he was needed.
"If given the chance tonight, I'll do the best with where I'm at," Braun said. "At this point in the season, I'm not worried or concerned about hurting it worse or anything like that. It's not like we're worried about having to play games in a few weeks or a month form now because our whole season obviously comes down to tonight so I'll do everything I can to be able to play if given the opportunity."
Entering the final guaranteed season of a $105 million contract extension he signed back in 2011, Braun hinted in January and again during spring training that this could be his final season. He backed off of that stance after returning from the coronavirus hiatus but as the regular season neared an end, the topic came up again, and Braun admitted that there were a lot of emotions at play when the Brewers wrapped up the home portion of their schedule.
His contract includes a $15 million mutual option for next season but Braun plans to take some time before making a decision. The possibility of Thursday being the end is again on Braun's mind but he's focusing on the Brewers' efforts to keep their season alive.
"We're still in a unique position," Braun said. "We're still in a postseason series and in a place where we just have to win two games to advance to the next round against the best team in baseball. The focus is on the team and trying to put ourselves in the best position to win tonight but obviously, I'm aware of where I'm at individually but again, that takes a back seat to what we're trying to accomplish."
Get the latest baseball news delivered to you!
Sign up to receive professional baseball news in your inbox every week.