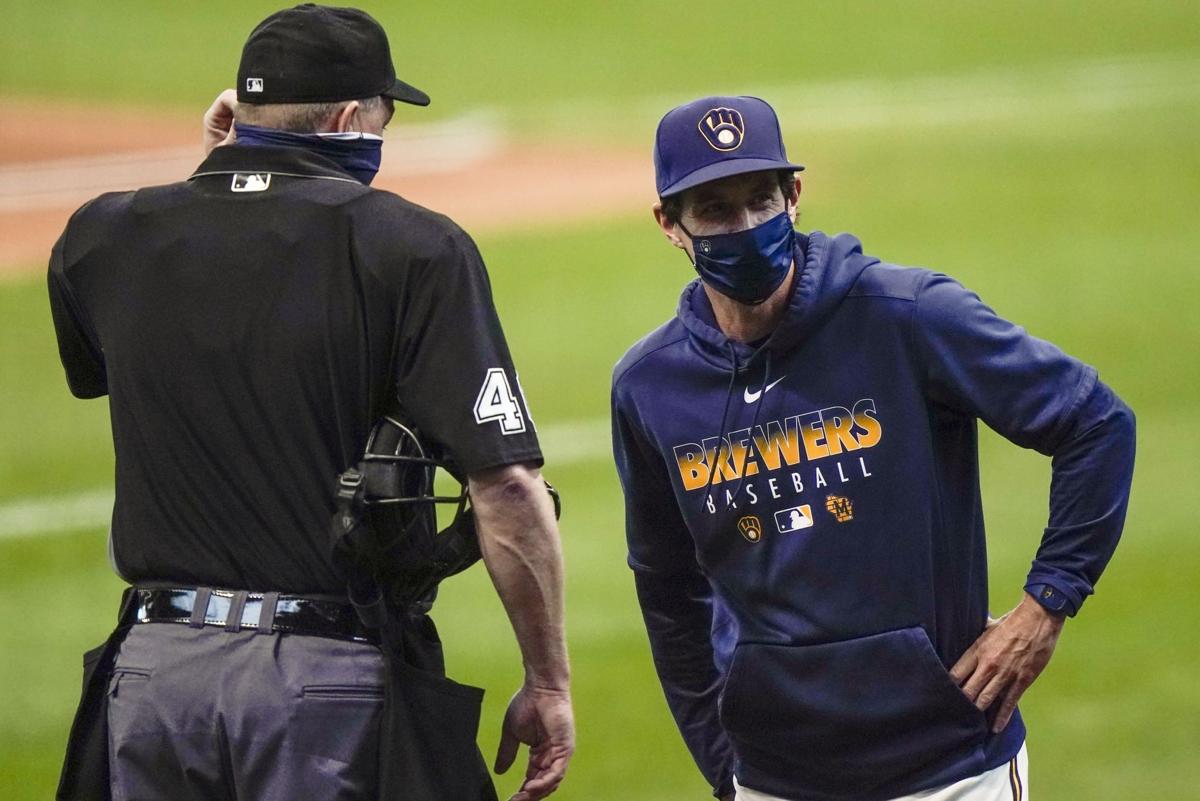 MILWAUKEE — Exactly two months away from the first scheduled workout of spring training, Milwaukee Brewers manager Craig Counsell still doesn't know who will be on his roster, what rule changes will be in place or if the ongoing COVID-19 pandemic will even allow spring training to start on time.
But just as he has with every other unknown he and the game have faced since the coronavirus upended normal life, Counsell is moving forward and expecting the unexpected.
"You can plan a lot and I think we are," Counsell said Thursday during a video conference with reporters. "You have to be ready to go when we're scheduled to go and when you get more information, that's when you make adjustments."
That means Counsell, his staff and the front office are moving forward as if the season will begin as planned. Counsell and the coaches are developing plans for the first workouts and evaluating the players while president of baseball operations David Stearns and recently promoted general manager Matt Arnold are focused on filling the remaining holes on the roster.
It's been a quiet winter for transactions throughout baseball but especially with the Brewers, whose most significant moves have been to sign catcher Luke Maile and trade reliever Corey Knebel.
Milwaukee isn't unique in that regard. Teams are still trying to figure out how the pandemic will influence things moving forward.
"It gets a little slower every year, so we've been prepared for this a little bit," Counsell said. "But there's no question that the pandemic and the uncertainty it's created has changed the winter for players."
Finding players at first and third base are the Brewers' biggest needs, but how to address those needs will depend in part on whether or not the designated hitter will return to the National League in 2021; no decision has been reached. Major League Baseball instituted a universal DH last season, helping protect pitchers from injury during the shortened, 60-game campaign, but was announced as a one-year rule change.
"They've told us to plan without it, but I still think there's a decent chance they have it so I think we have to prepare for both right now," Counsell said. "Like with a lot of things, we don't have a lot of final answers to questions right now so you have to prepare for what the rule is right now, but still have in the back of your mind or in your back pocket a plan for whatever the alternative is."
The universal DH was one of several significant rule changes implemented last year. Along with keeping pitchers out of the batters' box, relievers were required to face three batters (unless they recorded the final out of an inning) and extra innings began with a runner on second base. The playoff field was expanded by three teams in each league, bringing the total field to 16.
Teams also faced a long list of rules, regulations and protocols to protect players, coaches and staff from contracting and spreading COVID-19. Unlike the NBA and NHL, which resumed their seasons in a controlled bubble setting, MLB had teams play games in their home parks — without fans — and travel to other cities.
Although there were some serious outbreaks along the way, notably with the Miami Marlins and St. Louis Cardinals, the league made it through the season without having to shut down.
Whether those measures are still in effect adds yet another layer of uncertainty to the offseason. News of a vaccine has provided optimism, but will distribution be widespread enough to protect players before camps open?
Even if it is, how the pandemic plays out over these next two months could create more problems and if the situation isn't under control, it's unlikely the governments and populations of Arizona and Florida would want 30 teams bringing an average of 125 players, coaches and staff to their states if the virus isn't under control.
Pitchers and catchers are required to report to camp on Feb. 17, ahead of the first workout a day later.
"Nothing says that we can't start at that time right now, so that's when we're planning on starting and that's what we've been instructed to do," Counsell said. "If information becomes available that says that's not possible, then we'll adjust."
---
Fave 5: Online sports editor Chris Doyle shares most memorable moments of 2020
Fave 5: Online sports editor Chris Doyle shares most memorable moments of 2020
We are sharing Wisconsin State Journal staffers' favorite work from 2020. From online sports editor Chris Doyle: The Wisconsin sports world saw some highs and lows during this unprecedented year, and while the cancelations and missed opportunities were beyond frustrating, the jaw-dropping athletic performances and leadership shown in the community have been inspiring. 
From the University of Wisconsin men's basketball team stunning Indiana to earn a share of the Big Ten title just days before COVID-19 shut down the sports world, to Milwaukee Brewers fans being so ready for the return of baseball that they (largely) forgave a loss to the Chicago Cubs in the long-delayed opener, to Badgers QB Graham Mertz drawing rave reviews with his magnificent starting debut, here are a few sports moments that lifted our spirits during a difficult year: