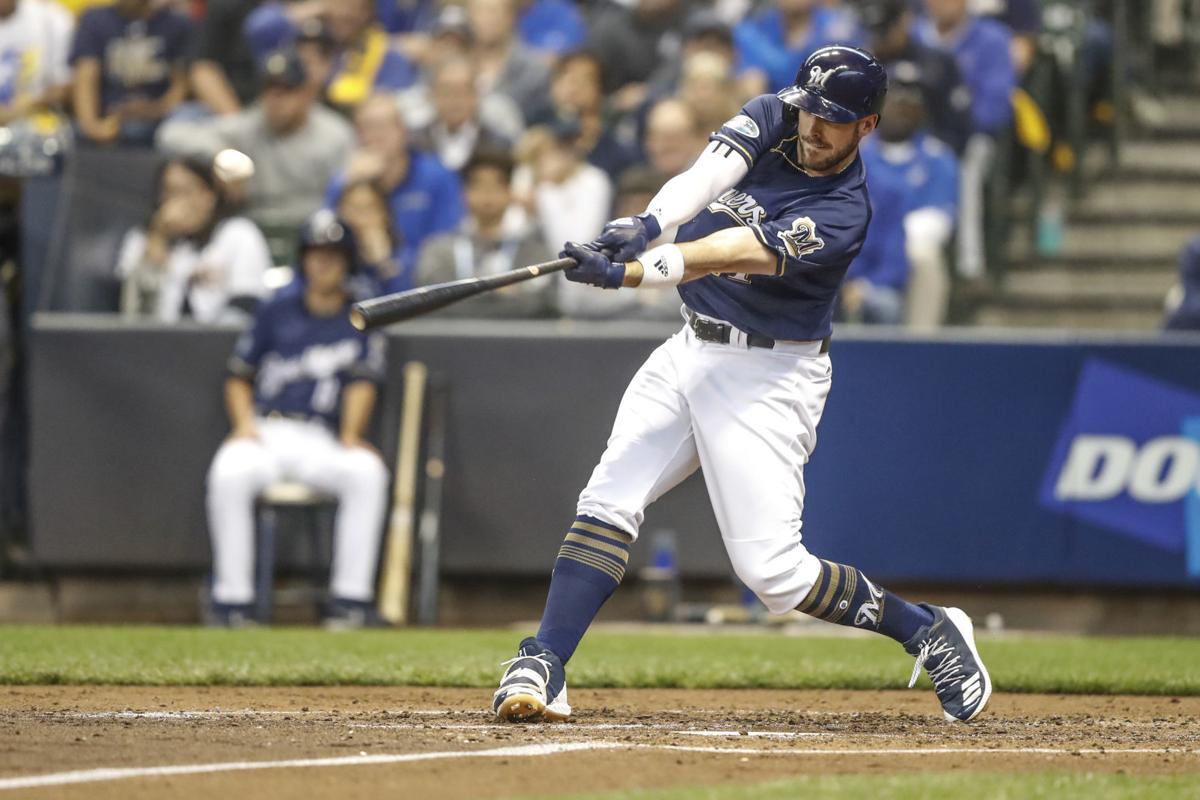 MILWAUKEE — In the wake of his heroics in the first two games of the National League Division Series, no one could question the wisdom of the Milwaukee Brewers in acquiring third baseman Mike Moustakas at the July trading deadline.
So what if Travis Shaw, the incumbent at that position, had already established himself as one of the team's most productive hitters. Just shift him over to second base, a position he'd never played, and everything would work out just dandy.
And that's pretty much the way things have turned out, even as that formula was further complicated with the last-minute addition of a true second baseman, Jonathan Schoop.
The presence of three All-Star caliber players for two positions could have created an awkward situation fraught with bruised egos and simmering discontent.
That such problems never emerged can be attributed to the team's success on the field, some sacrifices by the players affected and effective communication by manager Craig Counsell.
The ability to avoid any of the possible pitfalls has been a key factor as the Brewers charged to the best record in the NL and then jumped out to a 2-0 lead over the Colorado Rockies, with a chance to advance with a victory today in Denver.
"I think everybody knew once they made those acquisitions that there were going to have to be some sacrifices," Shaw said. "Everybody that they picked up is an everyday player, but there just wasn't enough spots.
"(Counsell) did a good job of kind of communicating that with us as soon as it happened, that it's going to be a little bit of a learning curve and there's some days you're not going to play. But I think everybody realized that it made us a deeper lineup, a better team.
"Internally there was no grumbling. Nobody was upset. Just if you're in there, do what you can. And if you're not in there, you're probably going to get in there at some point so just be ready."
Counsell credited Shaw's willingness to embrace the challenge of playing a new position with making things go so smoothly.
"When we acquired Moose, Travis said, 'I'm happy to play second base, let's go, I want to do it. Let's get out there and start working right now,'" Counsell said. "That makes it easier for everybody, as an example for everybody to follow."
That precedent, of course, was set during the offseason when the Brewers added Christian Yelich and Lorenzo Cain to what seemed to be an already crowded outfield. Their arrival created a ripple effect on the playing roles for Ryan Braun, Domingo Santana, Keon Broxton, Eric Thames and Jesus Aguilar.
That depth worked out well for the Brewers but not so much for Santana and Thames, who hit a combined 61 home runs in 2017, only to be squeezed out of the lineup much of the season. Santana got off to a slow start and spent much of the season at Class AAA Colorado Springs before returning in September to emerge as an effective pinch hitter. Thames was injured early, lost his first base job to Aguilar and was left off the NLDS roster. Broxton, who hit 20 home runs and stole 21 bases last season, joined Santana in Colorado Springs.
Likewise, Schoop struggled upon his arrival from Baltimore and saw his playing time diminish. But he did contribute one of the biggest hits of the season, a grand slam to beat the San Francisco Giants.
"I think as we've gone along here, we've asked guys to make some playing-time sacrifices," Counsell said. "And in some cases it's been significant. But it's been a little bit of sacrifice for everybody. It's been shared."