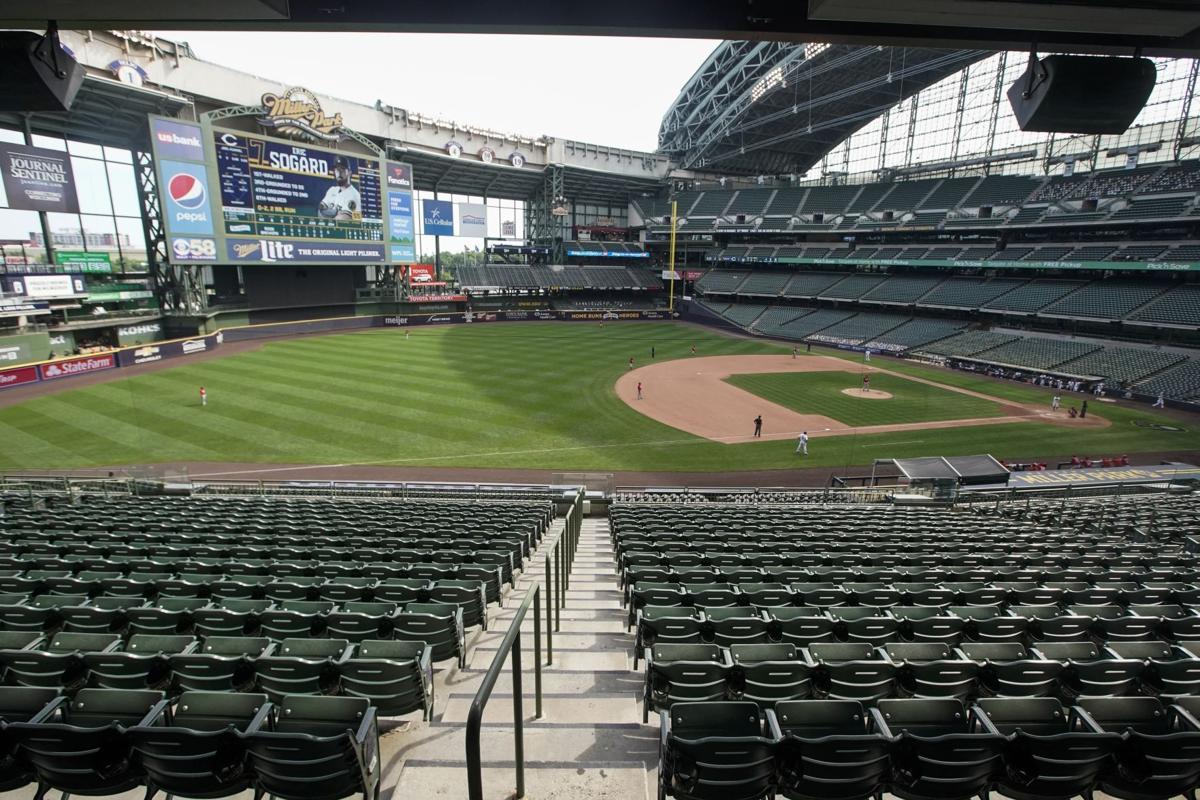 MILWAUKEE — Christian Yelich was walking into Miller Park, where the Milwaukee Brewers were scheduled to host the Cincinnati Reds on Wednesday night, when he learned the Milwaukee Bucks decided to boycott their playoff game against the Orlando Magic earlier in the afternoon.
"As soon as we got in the locker room, we started having discussions as a team," Yelich said. "We had a team meeting shortly after and came to the decision we did."
That decision was to sit out their own game in solidarity with the Bucks, joining the call for justice in the wake of Jacob Blake's shooting last Sunday by a member of the Kenosha Police Department.
The incident comes just months after George Floyd was killed while being taken into custody by a Minneapolis police officer, which sparked protests demonstrations and riots across the country. The Brewers, along with the rest of Major League Baseball, reported for the start of their summer training camps as those demonstrations were taking place and have since been wearing t-shirts in support of efforts for change.
But after the Blake shooting, which took place less than an hour from Miller Park, and after seeing what the Bucks did earlier in the day, Yelich and the Brewers knew they needed to do more than wear shirts or make a statement on social media.
"We've been wearing these shirts throughout the year but there comes a time where you have to live it, you have to step up," Yelich said. "That's what you saw here today, us coming here collectively as a group and making a stand, making a statement for change, for making the world a better place, for equality, for doing the right thing and we did that as a group. It was a unanimous vote. Everyone was in favor of not playing, and sending a message and making a statement."
Yelich was a regular fixture at Bucks games during their run to the Eastern Conference finals last season and struck up a close friendship with Bucks guard Pat Connaughton, who brought Yelich to Chicago to assist him in the All-Star dunk contest earlier this year. The two exchanged messages throughout the day as both teams came to their decisions.
"We wanted to be united with them in what they started," Yelich said. "Coming together for the city and just wanted to provide a better place, a better environment for everybody to be included, and change."
Ryan Braun, one of several players to speak during the team meeting, said the conversations between players on the two teams go back months with everyone trying to find ways to make a positive impact on the community, both in terms of healing and moving forward.
"This is about us supporting our community and our country that's in pain," Braun saids. "I think that being that Kenosha is essentially an extension of Milwaukee, this one hits close to home and I think that it obviously impacted them (Bucks) deeply just as it has us."
The Reds supported the decision not to play. A group of players, including Braun, Yelich and team players' union representative Brent Suter, met with Reds players and coaches behind home plate to discuss the situation.
"We've had some great conversations with guys on their team," Braun said. "I think part of this is continuing to have difficult and uncomfortable conversations and their group and their team is very supportive of this decision."
Manager Craig Counsell opened his traditional pregame media session Monday by expressing his frustration with what happened in Kenosha the day before and struggled with finding ways for himself and the team to be leaders in the fight for equality.
Wednesday's decision was entirely the players'. Two other games were postponed Wednesday night and several players chose to sit their games out as well.
"The Bucks led here," Counsell said. "The NBA led here. But our players, they went first in Major League Baseball and I'm still very proud of them for that."