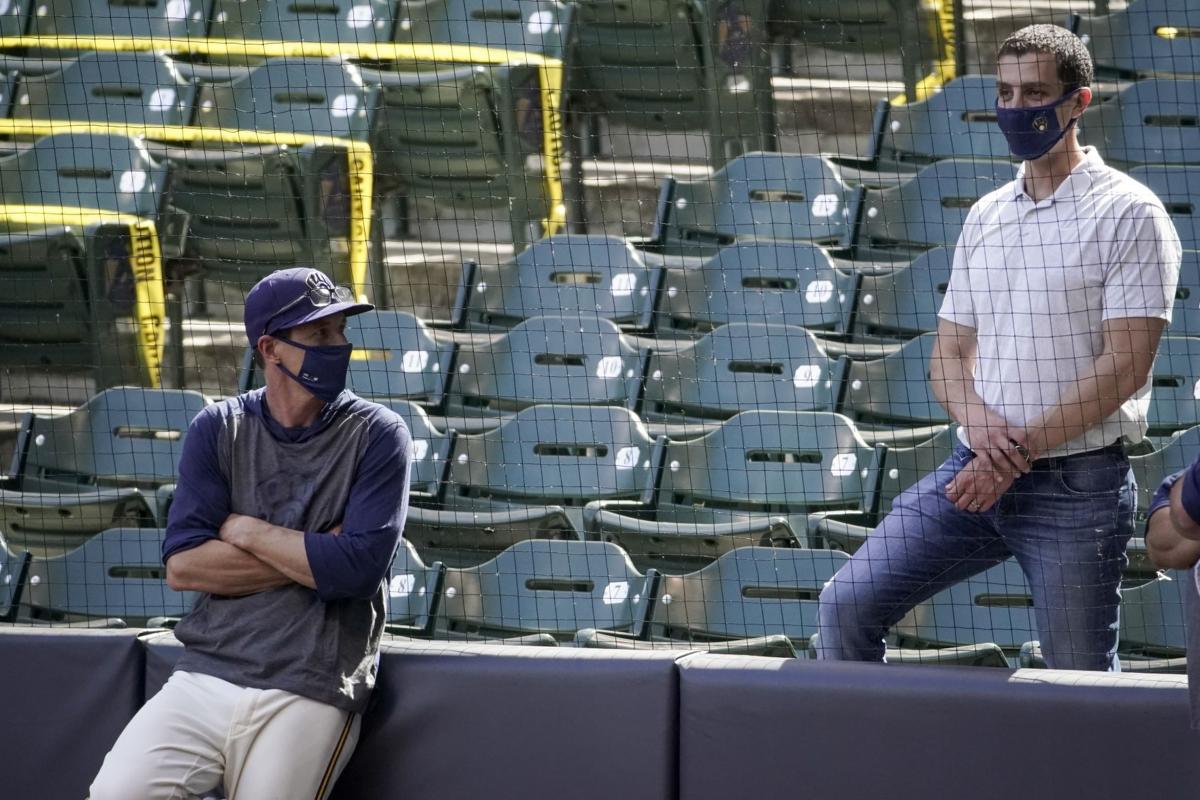 MILWAUKEE — David Stearns will have much to do this offseason as he begins to build the 2021 version of the Milwaukee Brewers. But before does that, though, the team's president of baseball operations needs to figure out what went wrong in 2020.
The answer to that question is actually easy: Milwaukee's offense was abhorrent. The Brewers finished at or near the bottom of the National League in almost every major statistical category, including total runs (247), runs per game (4.12), strikeouts (582), batting average (.223) and OPS (.702).
"It wasn't good enough," Stearns said Monday during his annual end-of-season media availability.
Stearns' challenge now is to figure out why Milwaukee's offense struggled. One or two players having a bad stretch or season isn't uncommon, which was part of the impetus behind Stearns' approach last offseason when he eschewed a big-ticket acquisition for a series of smaller moves designed to give manager Craig Counsell versatility and options, as well as insurance against slumps or injuries.
So, why didn't it work? Stearns is as flummoxed as anyone but there are a number of factors that make it difficult to come up with a definitive answer. First and foremost is the length of the season: Teams played 60-game schedules in 2020 on the heels of an expedited, three-week summer camp following the three-month coronavirus hiatus. In a normal 162-game season, 60 games would put a player around mid-May with plenty of time to swing his way out of a cold start.
The lack of in-game video might have been an issue, too. Access to video rooms, where many players would retreat after an at-bat, was restricted during games as MLB tried to maintain social distancing and adhere to health and safety protocols — the same reason that fans were not allowed at games, which Stearns also thinks played a part in some players' struggles.
Also part of the equation was the schedule itself. To limit travel, teams played schedules against their divisional opponents and teams from the correlating geographical division in the opposite league. With 40 games against NL Central foes — who happened to have some of the best pitching in the league this year — familiarity added to the challenge.
All of that put together makes a definitive evaluation difficult.
"We have to recognize that there are so many aspects of our game this year that were different, that ascribing too much weight to this particular season has dangers," Stearns said.
Rectifying those issues will be even more difficult. There's no guarantee that baseball will "return to normal" in 2021, so the possibility that some of the same challenges in place this season will be in place again. Stearns will also have to navigate an uncertain offseason from an industry standpoint, as other teams try to identify their strengths and weaknesses while figuring out a course of action, and will almost certainly be limited by budget constraints.
Prior to the March shutdown, Milwaukee was projected to begin the season with an Opening Day payroll of $104.8 million, a significant drop from the franchise-record $127 million the Brewers opened with in 2019.
The number will almost certainly drop next season due to the loss of revenue generated by ticket sales and other game-day spending. But until the actual number is set — not to mention, baseball's plans for the winter and next season become more clear — Stearns and his staff are trying to operate as they normally would.
"I don't know what this offseason is going to look like," Stearns said. "I don't think anyone does. There is tremendous uncertainty right now. It's certainly true for every live entertainment business in the world right now and we're right in the middle of that. We have to recognize that."
For all the offensive woes, Stearns did find reasons for optimism in the 2020 Brewers. Milwaukee's pitching performed well above expectations and has two potential rotation anchors in Corbin Burnes and Brandon Woodruff while Devin Williams put together an historic season out of the bullpen.
Rookies like Drew Rasmussen, Justin Topa and Eric Yardley also made strong impressions and helped the Brewers make the playoffs for a third consecutive season while most importantly, the Brewers made it through the entire season without harming the health and safety of their players, coaches, staff and their families.
"Everything about this season, everything about this year has been messy," Stearns said. "It's been unusual, it's been inelegant but there are some things we did as an organization this year of which I'm extremely proud."
Williams honored
Devin Williams was named Major League Baseball's Relief Pitcher of the Year by Baseball Digest on Monday.
Williams received 12 of 17 first-place votes and 39 points overall, seven ahead of Oakland right-hander Liam Hendriks, who had four and 32, respectively.
The rookie right-hander put together one of the most dominant seasons in MLB history, going 4-1 with an 0.33 ERA after allowing just one earned run over 27 innings. He struck out 53 of 100 batters and finished with 17.67 strikeouts per nine innings.
Opposing batters hit .090 against Williams, who posted a 0.63 WHIP and tossed 24⅔ scoreless innings after allowing his lone earned run of the season — a solo home run by the Pirates' Colin Moran — on July 27 in his second outing of the season.
He made nine appearances in September and struck out 24 batters over 11 innings but was left off Milwaukee's roster for the NL wild card series against the Los Angeles Dodgers because of soreness in his right shoulder.
Williams, 26, was the Brewers' second-round pick in the 2013 MLB draft. He made his big-league debut Aug. 7 last season and appeared in 13 games, posting a 3.95 ERA with 14 strikeouts in 13⅔ innings.
Atlanta first baseman Freddie Freeman was named Player of the Year and Cleveland right-hander Shane Bieber was a unanimous selection for Pitcher of the Year by Baseball Digest's panel of 17 baseball writers and broadcasters, former players, managers and executives.
Concerned about COVID-19?
Sign up now to get the most recent coronavirus headlines and other important local and national news sent to your email inbox daily.