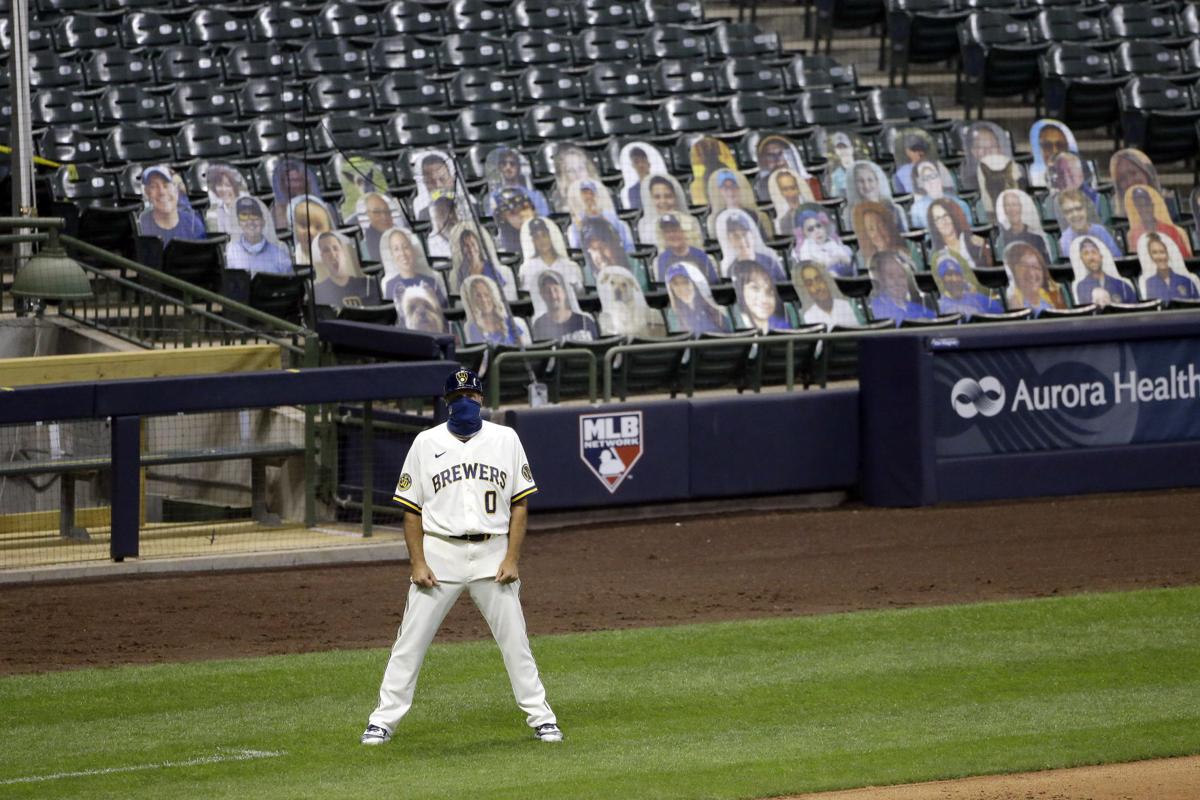 MILWAUKEE — Two longtime members of the Milwaukee Brewers coaching staff won't be in their familiar roles when the team opens the 2021 Major League Baseball season.
Third base coach Ed Sedar and bullpen catcher Marcus Hanel won't be part of the mix next season, Brewers president of baseball operations David Stearns announced Wednesday.
Sedar, who filled the third-base role since 2011 and had been with the organization since 1992, will transition into an advisory role while Hanel, a native of Racine who'd worked in Milwaukee's bullpen for 21 seasons, did not have his contract renewed by the team.
"Eddie's a great Brewer and we're thrilled that he's still going to be a member of our organization and around our major league team going forward," Stearns said. "Eddie's still going to have the responsibilities of helping us down in spring training, he'll be around the major league team, in uniform before home games, and really just continue to serve as a resource for Craig and the rest of our staff.
"Eddie's got a wealth of experience. He's obviously contributed to our organization for a very long time. Our ability to continue to make use of that experience and for him to continue to have a role on our team is really important to us."
He'll be replaced on the staff by Quintin Berry, who had been the Brewers' minor-league outfield and base-running coordinator for the last two seasons after concluding his 13-year playing career serving as a player/coach with Class AAA Colorado Springs in 2018.
"Quinten's a really talented coach," Stearns said. "From the time we had him here as a player, we recognized that he was going to be a major league coach some day. It happened really fast but he deserves this and we believe he has a really bright future as a major league coach with us and in this game."
Néstor Corredor and Adam Weisenburger will replace Hanel and Robinson Diaz as the team's bullpen catchers.
Corredor, who spent 10 years managing the Brewers' Rookie-level affiliate and was slated to join the coaching staff at Class AA Biloxi in 2020, will also serve as a catching instructor.
Weisenburger joins the staff after catching in the Brewers' minor league system from 2011-2017.
"Marcus was certainly an important part of us for a long, long time," Brewers manager Craig Counsell said. "This is a physical job. It's largely a physical job. And so it was time for just someone new to do it.
"Nester Corredor has been with the Brewers for 10 years, 11 years as a coach and another six or seven as a player, so close to 20 years. And Adam Weisenburger was also a Brewer for a long time and was an amateur scout at this time. I feel great about our adds there. I feel like there's some other places where those guys are going to help and be huge assets to us. Although it's sad to see Marcus go, I think we're in a really good place moving forward."
The rest of Counsell's staff will remain intact moving forward, including hitting coaches Andy Haines and Jacob Cruz who will be tasked with helping the Brewers' offense bounce back from a disastrous performance in 2020.
Milwaukee finished near the bottom of the National League in several major statistical categories last season including 13th with a .702 OPS, 12th with a .223 batting average and 11th with a .389 slugging percentage while striking out 582 times to lead all NL teams.
In evaluating that performance, as well as the work of Haines and Cruz, Stearns had to take into account the changes brought about by the COVID-19 coronavirus pandemic, which reduced the season to 60 games and limited the amount of work players could do on the field and in the video room.
"This was a strange year," Stearns said. "It's really tough to draw too many conclusions about the effectiveness of any one particular coach over the course of a very unusual 60-game season.
"We know the effort they put in. We know the process they're using and we believe in it. Sometimes, the results aren't always going to line up perfectly, but the work behind the scenes is there."
Bench coach Pat Murphy will return after missing a majority of last season recovering from a heart attack he suffered during an early season workout at Miller Park. He returned for the final week of games and traveled with the team to Los Angeles for the playoffs and Counsell said he expects Murphy to be at full-strength when spring training opens next February.