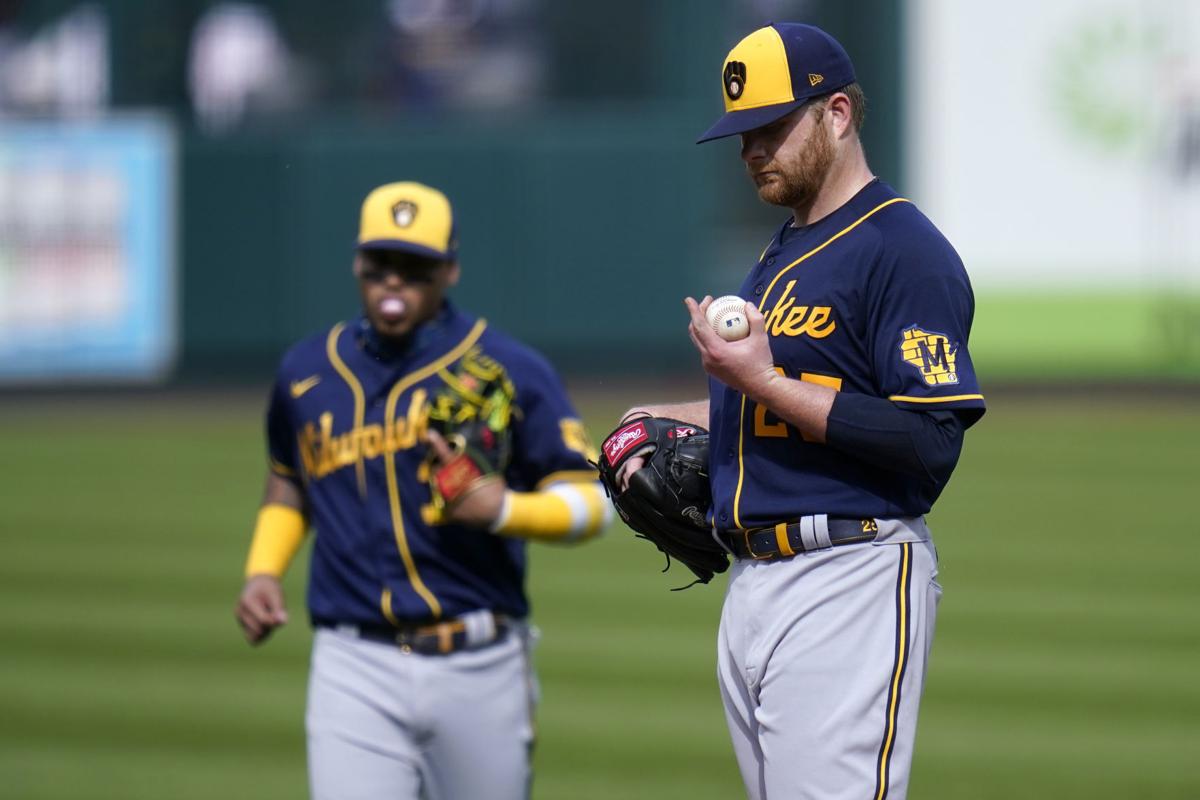 ST. LOUIS — In a performance fittingly emblematic of their 2020 season, the Milwaukee Brewers lost their starter after two innings and squandered multiple scoring opportunities in a 5-2 loss to the St. Louis Cardinals on Sunday afternoon at Busch Stadium.
But in a result that's also emblematic of the unpredictable nature that has been baseball in 2020, the Brewers are still heading to the postseason for a franchise-record third consecutive season.
Losses by the San Francisco Giants and Philadelphia Phillies on Sunday bailed out the Brewers, who will be the No. 8 seed in the National League and face the top-seeded Los Angeles Dodgers in a best-of-three wild card series starting Wednesday at Dodger Stadium.
"Weird (is) probably the only way to describe it," outfielder Christian Yelich said. "But it's fitting for 2020 and everything that we went through. This year was unique. There were so many challenges that we had to deal with on a daily basis, behind the scenes things that you don't deal with in a normal year. It wasn't pretty. We took a beating sometimes, we had our ups and downs, but we were able to find a way to sneak in."
At 29-31, Milwaukee and Houston go into the expanded postseason with a losing record. At no time during the course of the 60-game season were the Brewers ever above .500; they made it to .500 on eight occasions.
Part of that can be attributed to disappointing performances from key members of the offense, including Yelich. The two-time-defending NL batting champ's average plummeted to .205 with 12 home runs and 22 RBIs.
Competition was another factor. Under the scheduling format this season, teams played primarily opponents from their own division. In the Brewers' case, that meant 40 of their 60 games came against teams from the NL Central, which produced exactly half of this year's playoff field (Brewers, Cubs, Cardinals and Reds).
"It was tough," Yelich said. "We beat each other up. All four teams played tight series all year."
The Phillies owned the tiebreaker over the Brewers and only needed to match Milwaukee to get in, but they finished a game back at 28-32. The Giants matched the Brewers at 29-31, but lost the tiebreaker because they were 18-22 against the NL West. The Brewers were 19-21 against the NL Central.
The day started on an optimistic note as Brewers left-hander Brett Anderson breezed through the first two innings. After allowing a triple to Harrison Bader and a walk to Tyler O'Neill to lead off the third, Anderson left the game because of a blister on his throwing hand.
Milwaukee turned to Freddy Peralta to get out of the inning but pitching for the first time in a week, the right-hander gave up a two-run single to Kolten Wong, who took third on Peralta's throwing error.
Peralta struck out Tommy Edman. Paul Goldschmidt followed with an RBI single and after striking out Dylan Carlson, Peralta walked Yadier Molina which led to another run when Paul DeJong singled to left for a 4-0 lead.
"I don't think Freddy pitched that poorly, really," manager Craig Counsell said. "I don't know if he was rusty. I give them credit; they put a couple of good swings on a couple of good pitches."
If there was a bright side to Anderson's injury and Peralta's struggles, the long inning seemed to cool off Cardinals starter Austin Gomber.
The right-hander allowed only two baserunners and faced one batter over the minimum through his first two innings. His first pitch of the fourth was a strike to Yelich but he missed the zone on his next eight, resulting in back-to-back walks to Yelich and Ryan Braun.
A 10-pitch at-bat by Jedd Gyorko ended in a strikeout and after Yelich scored on Daniel Vogelbach's ground out, Gomber escaped further damage by striking out Keston Hiura.
Bader restored the Cardinals' four-run lead with a home run to lead off the bottom of the inning.
After leaving Gyorko stranded at third in the seventh, Milwaukee put two on with two out in the eighth only to come up empty again when Alex Reyes struck out Braun and Gyorko.
The Brewers' defense bailed out Adrian Houser in the eighth, turning a triple play. Jacob Nottingham scored Arcia with an RBI single in the ninth before Avisail Garcia grounded out to end the game and the players returned to the clubhouse to watch the final inning of the Giants-Padres game, waiting to learn their fate.
"We didn't pitch poorly today," Counsell said. "We gave up five runs and once in a while you've got to win that game. That's where we need to score some runs. In this type of playoff series, you've just got to find a way to win games and however way that happens, we've got to find a way to win two games."