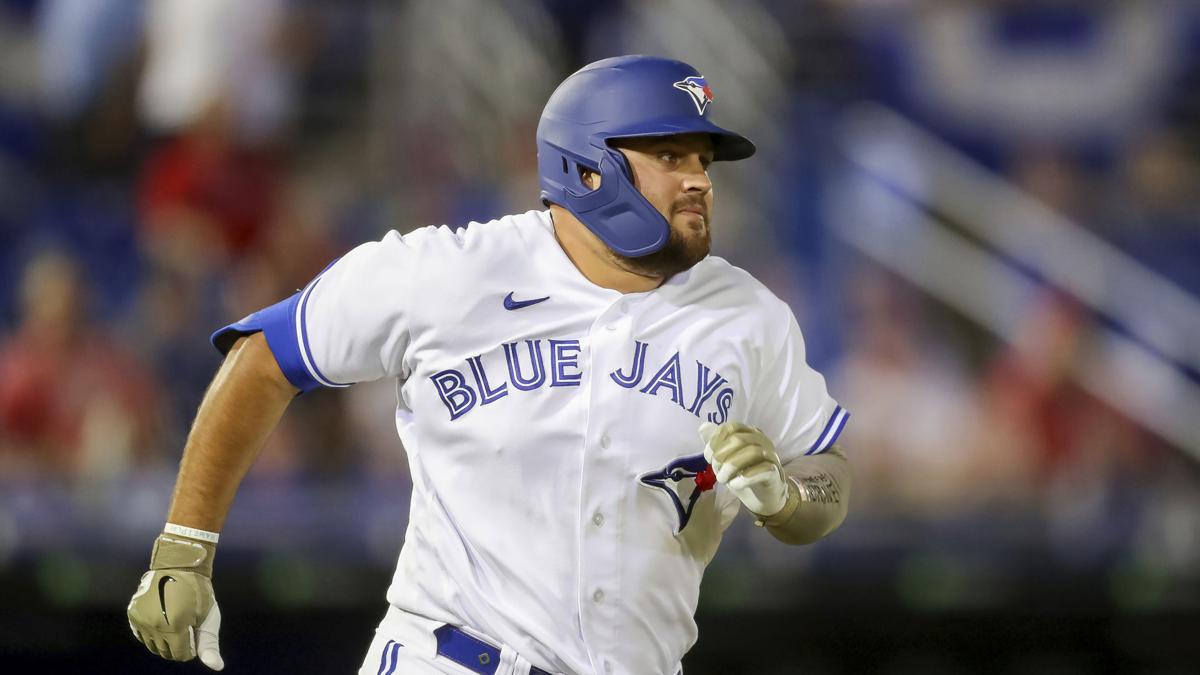 NEW YORK — Milwaukee Brewers president of baseball operations David Stearns addressed a need by trading with a fellow contender for the second time in less than seven weeks.
The National League Central-leading Brewers added a power-hitting first baseman, acquiring left-handed hitting Rowdy Tellez from the Toronto Blue Jays on Tuesday for right-handed pitchers Trevor Richards and Bowden Francis.
Tellez, 26, had been with the Blue Jays' Class AAA Buffalo affiliate after struggling in the majors this season with a .209 batting average, four homers and eight RBIs in 50 games. He hit 21 homers for Toronto in 2019 and had an .886 OPS in 35 games last season.
"This is a player who has consistently put the bat on the ball and he's consistently hit the ball hard — those are two pretty good attributes for major league hitters," Stearns said. "He has a long track record of success in the minor leagues. He got off to a little bit of a slow start this year at the major league level. We think the underlying ingredients are pretty sound. We think he should be able to perform at the major league level. He's going to get a shot."
The Brewers needed some help at first base. Daniel Vogelbach is on the injured list due to a strained left hamstring and isn't expected to return until August.
Keston Hiura, who opened the season as the Brewers' starting first baseman, is batting .161 and already has been sent to the minors twice this season. Hiura showed signs of progress during the Brewers' recent 11-game winning streak, but he has gone 0 for 7 with six strikeouts over his last two games.
Stearns said the search for a Vogelbach replacement was complicated by the calendar. Teams are preparing for the amateur draft, which starts Sunday, while trying to figure out if they are contenders ahead of the July 30 trade deadline.
"We explored a number of different options, a number of different players," Stearns said. "We're certainly pleased we were able to find a match."
While Adames has become a middle-of-the-order staple for the Brewers with a .298 average, eight homers and 29 RBIs, Richards went 3-0 with a 3.20 ERA in 15 games with Milwaukee. He will help out in the bullpen for the Blue Jays, who entered Tuesday four games out of the AL's second wild card spot.
"You can pitch him in some big spots," Brewers manager Craig Counsell said. "He got out of some jams for us. He did a really nice job."
Francis, 25, is 7-3 with a 3.62 ERA in 11 starts at Double-A Biloxi and Class AAA Nashville this season.
One for the ages: Relive every Brewers double-digit winning streak after Pirates halt 11-game run
13 wins: April 6-20, 1987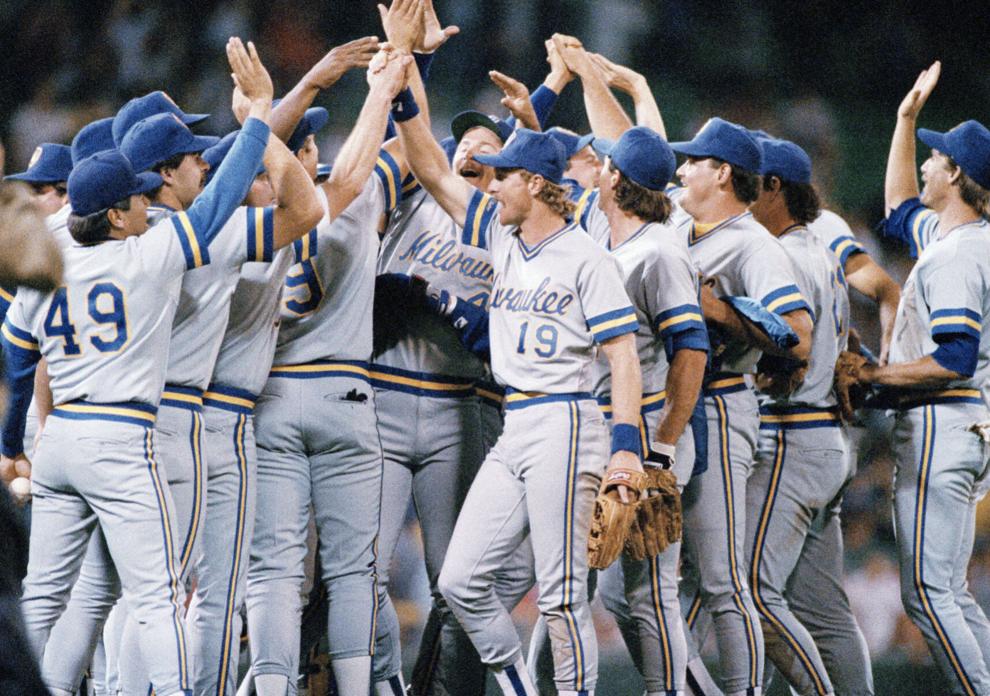 It's a run that is etched into the memory of Brewers fans. The team had been picked to finish at or near the bottom of the AL East by just about every major publication during the preseason but bolted out of the gate with a winning streak, setting an American League record for most consecutive victories to open a season while tying the Braves for the longest season-opening run in MLB history.
Along the way, the Brewers created two of the franchise's most memorable moments. They'd won eight in a row when Juan Nieves took the mound in Baltimore on April 15 and threw what remains the only no-hitter by a Milwaukee pitcher and then, of course, there was the Easter Sunday rally when Rob Deer and Dale Sveum erased a three-run deficit with ninth inning home runs to clinch victory No. 12 — and trigger the first-ever George Webb burger give away.
12 wins: Sept. 23-Oct. 12, 2018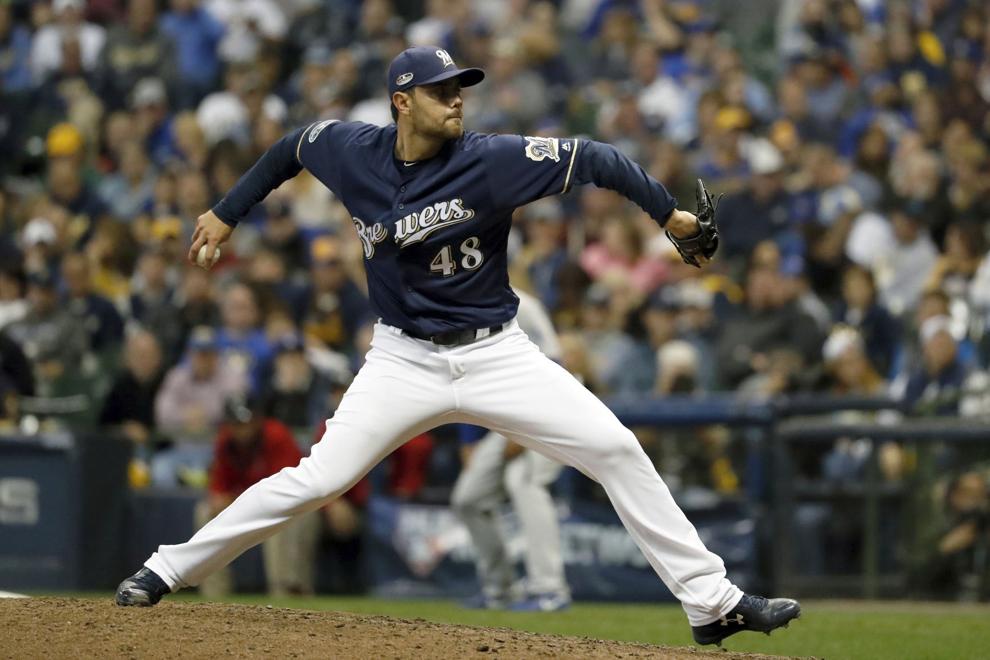 The Brewers began the final month of the 2018 season third in the Central and five games back of the Cubs, but they shaved that deficit in half by going 12-7 over the next three weeks, taking four of six meetings against the Cubs during that stretch.
A 13-6 victory over the Pirates on Sept. 23 sparked a memorable run to the finish. Milwaukee closed the regular season with seven straight victories to tie the Cubs for the NL Central lead on the final day of the season and set up a one-game, winner-take-all playoff to decide the division title the next day at Wrigley Field. The Brewers won that one, 3-1, to make it eight in a row, before extending the streak to 11 with a three-game sweep of the Rockies in the NL Division Series.
In Game 1 of the NL Championship series (above) against the Dodgers, Brandon Woodruff's third-inning home run off Clayton Kershaw tied the game at one and after Milwaukee took a 6-1 lead, the bullpen held off a late Dodgers rally as the Brewers made it 12 in a row — and, clinched free burgers for everyone.
11 wins: June 22-July 3, 2021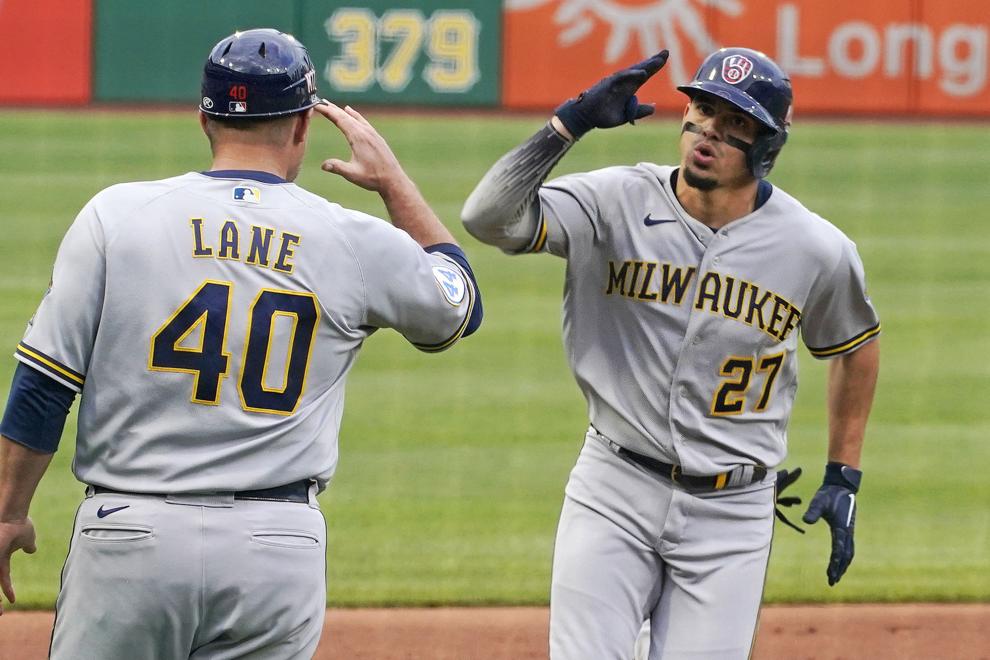 Two days later, the Cubs spoiled Aaron Ashby's debut by scoring five of their seven first-inning runs but managed nothing over the final eight innings as the Brewers, led by shortstop Willy Adames' grand slam, not only rallied back but went on an offensive rampage in a 15-7 victory.
10 wins: Four times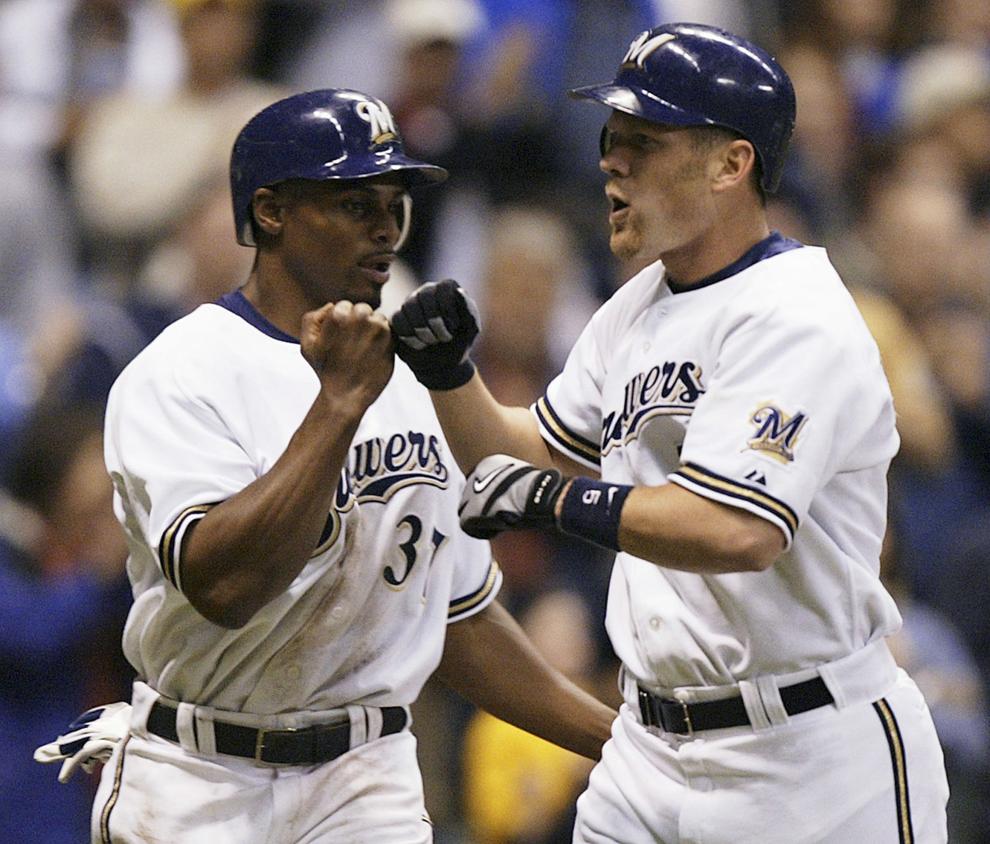 June 8-18, 1973: The Brewers were three seasons removed from relocating from Seattle and still a long ways from being contenders when Jerry Bell held the Angels to two runs in a complete-game victory on June 8, 1973, to kick off the first 10-game winning streak in franchise history. By the time it finally ended with an 8-4 loss to the Red Sox in Game 1 of a double header on June 19, the fledgling Brewers held a 1/2-game lead in the AL East. They'd finish the season 74-88, 23 games out of first place.
June 9-17, 1978: Mike Caldwell pitched all 10 innings and Ben Oglivie drove in the winning run with a walk-off single to start the Brewers' second 10-game streak, which featured two more extra-inning victories, a walk-off home run by Robin Yount and two double-header sweeps.
July 11-22, 1979: Fresh off their first-ever winning season, the Brewers had their sights set on their first playoff appearance and made their case for it with a 10-game streak that included two walk-off victories and three games in which they scored at least 10 runs. Milwaukee would go on to win 95 games that season but it still wasn't enough to get past the Baltimore Orioles, who cruised to the East Division title with 102 victories.
Aug. 19-28, 2003: Manager Ned Yost's first team was not a good one by any stretch of the imagination but for a short stretch in late August, his Brewers were the hottest team in baseball. That streak included back-to-back walk-off victories over the Pirates, five saves by closer Dan Kolb and a four-game home run streak by Geoff Jenkins (above), who suffered a season-ending thumb injury in the final game of the streak.