CINCINNATI — Avisail Garcia homered and singled home another run and the streaking Milwaukee Brewers beat the Cincinnati Reds 5-1 on Tuesday night for their fifth straight win.
The NL Central-leading Brewers were coming off a four-game sweep of Arizona and have won 10 of their last 11.
Cincinnati lost after completing a four-game sweep in St. Louis over the weekend.
Adrian Houser (4-5) pitched 5⅓ innings of one-run ball, and the Brewers bullpen shut down Cincinnati the rest of the way.
Houser stranded four Reds runners in the first three innings, then gave up only an infield single and a walk before departing with one out in the sixth.
"I didn't have the best command of the fastball and sinker early on," he said. "I got a couple big outs with guys on base and was able to settle in and get some of the command back."
Reds starter Sonny Gray sailed through three innings, giving up two hits and striking out five, before experiencing groin tightness warming up for the fourth. He will have an MRI on Wednesday to determine the extent of the groin injury.
"I've never felt this before," he said. "I don't think it's bad, bad, bad."
Sean Doolittle relieved Gray, and Garcia hit his second pitch into the left-field seats for his 12th homer.
"When Gray goes out of the game, we caught a break — no question," Milwaukee manager Craig Counsell said. "He's a tough customer. The guy who comes in the game, he's unprepared. No one can be prepared for that. Avi got him right away."
The Brewers pushed across another run in the fifth when Luis Urias walked, advanced to third on a pair of wild pitches by Ryan Hendrix (2-1) and scored on a double-play grounder.
Garcia drove in another run with a bases-loaded infield single in the seventh. Travis Shaw — who was hitting .191 — added to the lead with a two-run double in the ninth.
"It felt good to see that ball hit the ground — finally," Shaw said.
Shogo Akiyama drove in the Reds' only run with a second-inning single.
Hiura out, Peterson in
Struggling at the plate, infielder Keston Hiura was demoted to Class AAA Nashville for the second time this season. Infielder/outfielder Jace Peterson took his place on the roster.
Joey's back
Joey Votto was activated from the injured list just before the game and started at first base for the Reds. He missed 28 games after breaking his left thumb when he was hit by a pitch May 5. He was 0-for-2 and walked twice.
Stat of the day
The Brewers are 29-15 this season when hitting at least one home run. Without a long ball, they are 5-11.
From the infirmary
Brewers second baseman Kolten Wong (strained left oblique) is throwing but has yet to start swinging the bat again, manager Craig Counsell said. Wong left Thursday's game and was put on the 10-day injured list the next day. "As we get to the end of the week, we'll probably have a little better idea of where we're at," Counsell said. ... Reds center fielder Tyler Naquin, who exited Sunday's game with a tight left hamstring, didn't start but entered in the fifth as part of a double-switch replacing Akiyama. ... Reds right-hander Michael Feliz (right elbow) went on the 10-day injured list retroactive to Monday. ... Reds right-hander Michael Lorenzen (shoulder), who hasn't pitched this season, says he could be back by the end of June.
Up next
Left-hander Brett Anderson (2-3) goes for the Brewers against Reds right-hander Vladimir Gutierrez (1-1) on Wednesday night. Anderson allowed three earned runs on eight hits in 4⅓ innings Thursday in a no-decision against the Diamondbacks. Gutierrez earned his first big league win on Thursday, allowing two earned runs in five innings against the Cardinals.
Something brewing: 3 takeaways from Milwaukee Brewers' recent surge
OFFENSE HEATING UP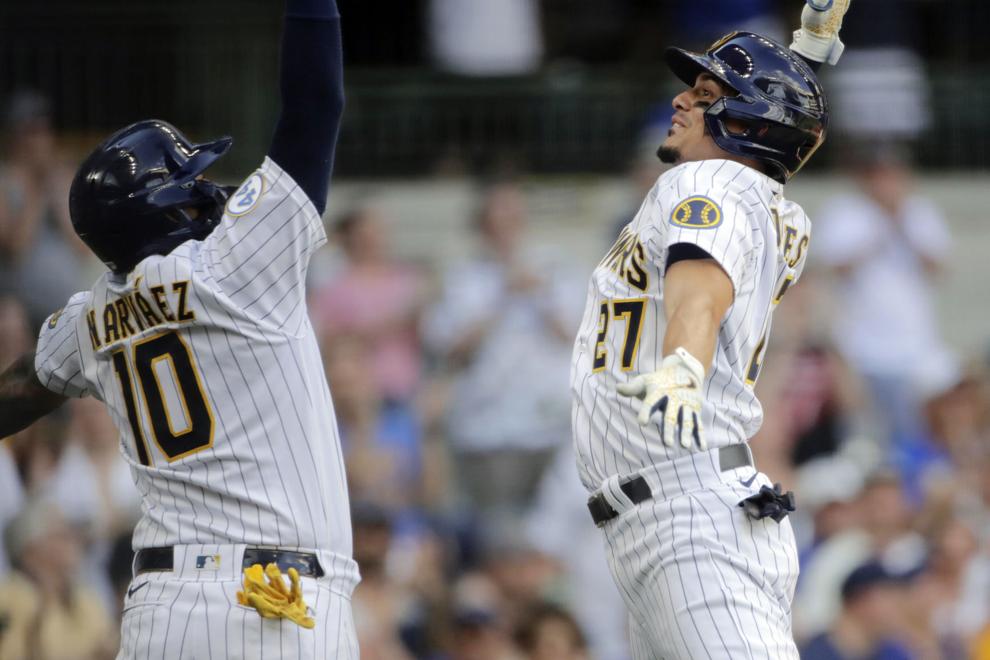 Unseasonably warm weather moved into the area over the last week and temperatures that climbed into the mid-90s seemed to be just the remedy for the Brewers' ice-cold offense.
Heading into their series finale against the Padres on May 27, the Brewers ranked near the bottom of the National League in just about every major statistical category and were especially futile with runners in scoring position.
Since then, though, Milwaukee's .226 team average ranks 10th in the NL (up from .209), and the Brewers' .471 slugging percentage — a number powered by a league-leading 21 home runs during that stretch — is second only to the San Francisco Giants with a .778 OPS that is good for third.
"It's been a pretty good run here," hitting coach Andy Haines said. "It's just been nice to put some runs on the board for our pitching because they've kind of been carrying us."
STARTERS KEEP DEALING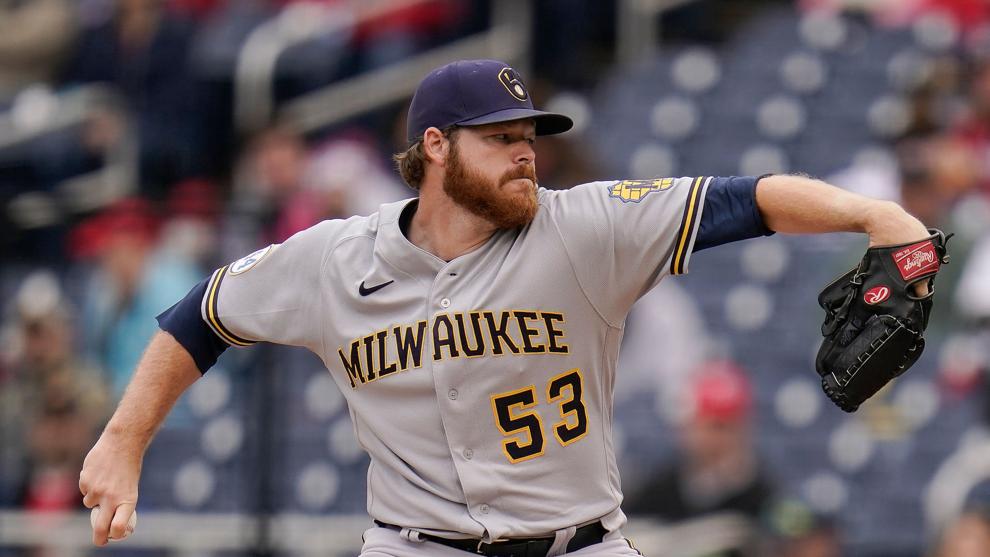 The recent offensive surge has been a welcome relief to Milwaukee's starting rotation, which continues to put up eye-popping numbers.
With Brandon Woodruff (above) — 2 starts, 1.50 ERA, 19 Ks, 12 IP — and Corbin Burnes — 2 starts, 0.69 ERA, 20 Ks, 13 IP — setting the tone, the Brewers' starters have a combined 3.13 ERA over the last 10 games with a league-leading 7.1 WAR, according to FanGraphs.com. Milwaukee's starters have struck out 363 batters during that stretch, second among all NL teams, and are second with 10.5 strikeouts per nine innings.
"I remember talking to you (reporters) maybe the first week of May and you asked 'What are you guys going through right now with this tough stretch?'," Burnes said. "And I think I basically said, 'Just hang in there.' It's one of those things in baseball — it's going to come around. I think the last two weeks have kind of shown that."
JOSH HADER: STILL GOOD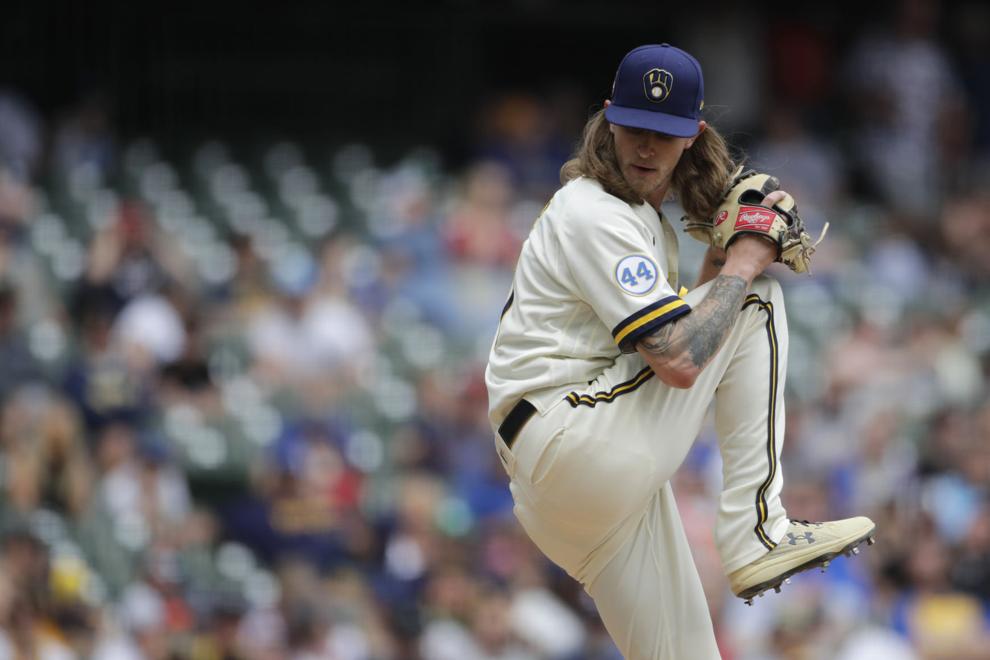 An offense that gives starting pitchers a lead means little if the bullpen can't protect it and despite having lost two key options when right-handers Drew Rasmussen and J.P. Feyereisen were dealt to Tampa for shortstop Willy Adames, the Brewers' relievers have not let their teammates' efforts go to waste.
Closer Josh Hader (above) has been the biggest reason for that success. In five appearances during Milwaukee's recent hot streak, he hasn't allowed a single run while striking out seven of 17 batters faced and notching three more saves to give him 14 for the season.
"It seems like it's kind of the Brewers' formula when we win: we hit some homers and then get Hader into the game," Haines said. "I'm all-in on that."
Hader leads all NL relievers in strikeouts (41), strikeouts/nine innings (15.59), and save percentage (100%); ranks third in total saves and ERA (0.76); fourth in opponents slugging percentage (.163) and fifth in opponents' batting average (.125).
"He's just becoming more of an overall pitcher, and I think when you take that stuff and all the things that Josh brings, the unique delivery, the slot, all those things, and now the guy can throw three pitches at any time for a strike," pitching coach Chris Hook said. "I think that's a formidable foe."