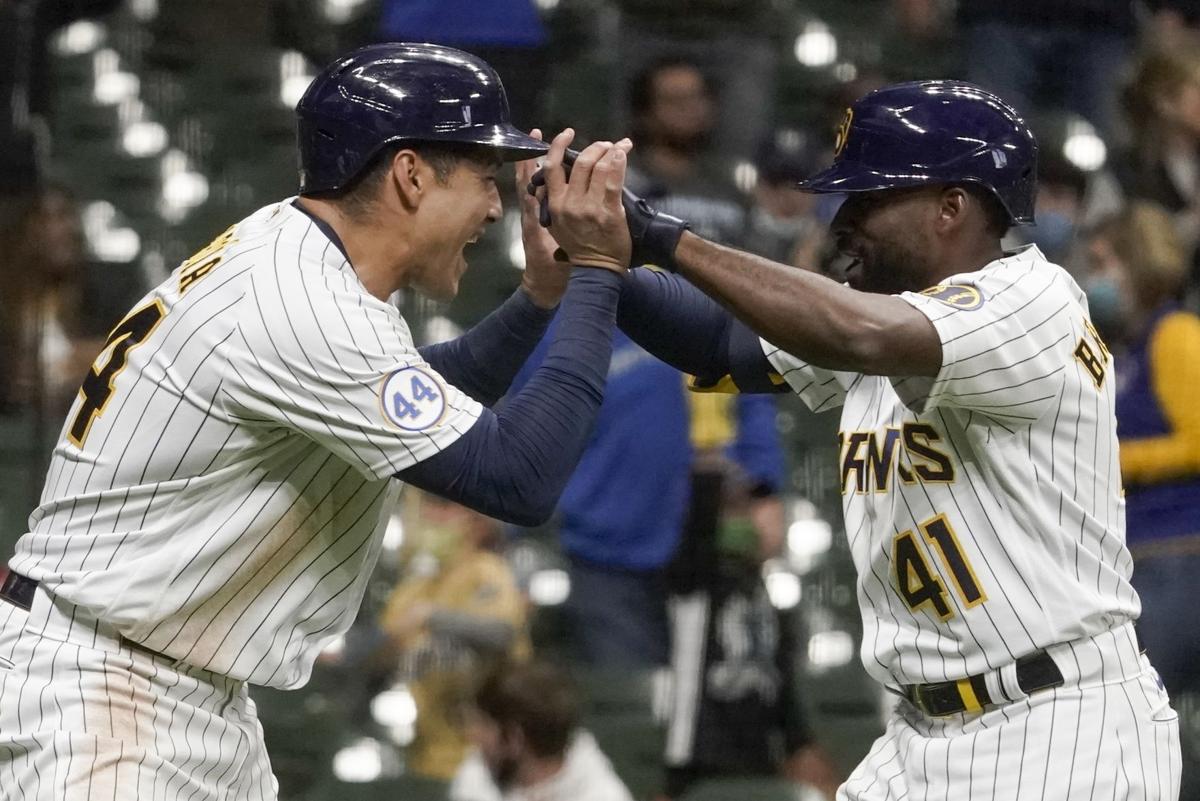 Outfielder Avisaíl Garcia has informed the Milwaukee Brewers he will decline his half of a mutual option and become a free agent, while outfielder Jackie Bradley Jr. has informed the team he will exercise his player option and return for 2022, MLB Network reported Thursday.
García, 30, signed a two-year deal with the Brewers that had a club option for 2022, but per the terms of the deal, it converted to a mutual option by virtue of his plate appearances over the past two seasons. García earned those plate appearances while hitting a team-best and career-high 29 home runs in 2021 with a career-high 86 RBIs.
Bradley, a finalist for another Rawlings Gold Glove Award, hit .163 during his first season in Milwaukee, making it almost a lock that he would pick up the $9.5 million option for 2022 rather than take a $6.5 million buyout and go back into free agency.
Swinging away: Brewers maintain aggressive approach to roster building despite past strikeouts
January 2018: Signed Matt Albers to 2-year, $5 million contract
Albers was coming off a career-best season in which he went 7-2 with a 1.62 ERA in 63 appearances for the Nationals when Stearns signed him to help bolster a young bullpen.
Early on, the move looked brilliant as Albers posted a 1.93 ERA through his first 24 appearances. He got knocked around hard his next time out, allowing five earned runs in a loss to the Cubs that resulted in a stint on the injured list. He returned six weeks later but made only one appearance, allowing three runs, before landing back on the IL and posting a whopping 23.63 ERA in eight appearances after he returned in August.
Things didn't go much better in 2019, either. Albers posted a 5.13 in 67 games and became a free agent after the season but hasn't pitched in the big leagues since.
June 2018: Traded JiMan Choi for Brad Miller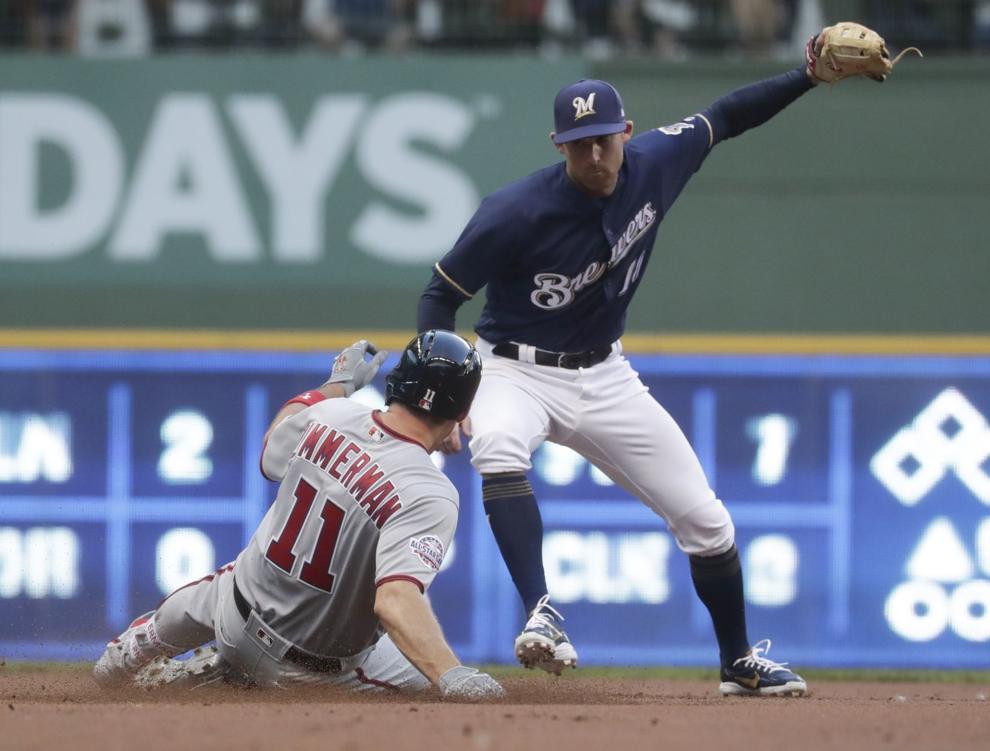 Milwaukee signed Choi to a minor league deal to provide depth at first base and he forced his way onto the Opening Day roster by batting .409 with three home runs, 10 RBIs and a 1.245 OPS in 27 Cactus League games.
He became expendable when Jesus Aguilar, who also played his way onto the roster with a mammoth spring, seized the starting job at first after Eric Thames' injury. So Stearns dealt Choi to Tampa for Miller, who was hitting .256 with five home runs and 21 RBIs while playing both first base and the outfield.
"At this point we thought that the positional versatility and the infield experience that Miller brings would be helpful," Stearns said. "He will head to Triple A, and when we have a need, I'm sure he will be ready to contribute."
Miller appeared in just 27 games and batted .230 with two home runs and a .666 OPS before he was designated for assignment on July 28.
July 31, 2018: Traded for Jonathan Schoop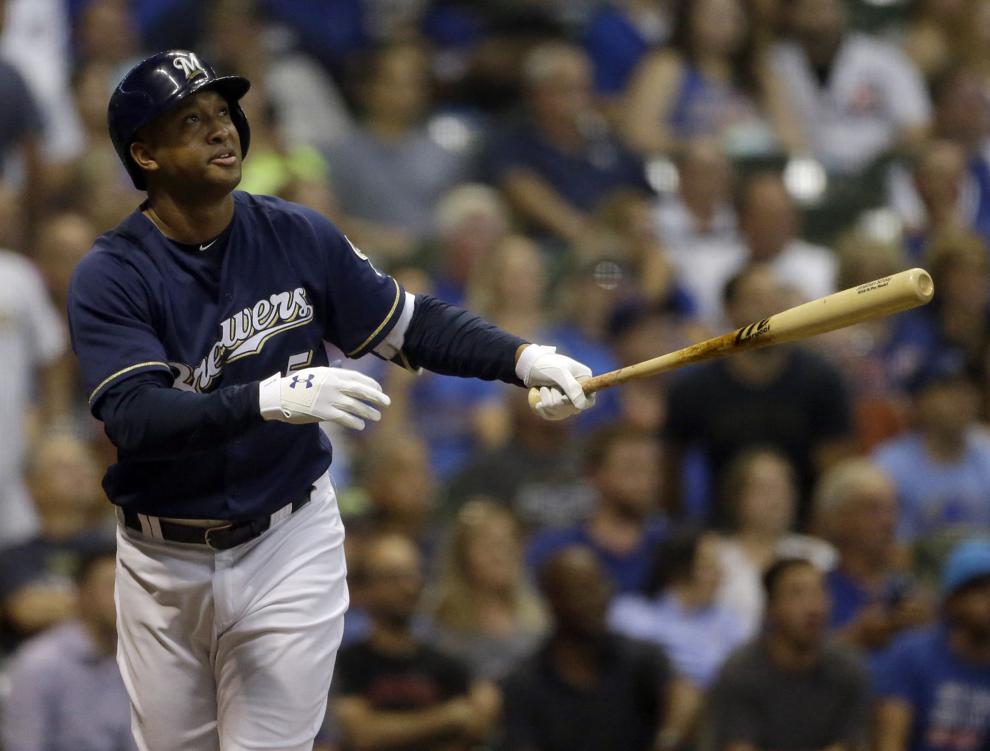 Stearns was reminded of one of his biggest busts Monday when Tigers infielder Jonathan Schoop put Milwaukee in a 1-0 hole with an RBI single off Corbin Burnes.
Stearns sent infielder Jonathan Villar and two prospects to Baltimore for Schoop at the trade deadline in 2018, despite having planned to shift Travis Shaw to second after Milwaukee acquired third baseman Mike Moustakas in an earlier deal.
By pairing the right-handed Schoop, who was hitting .244 with 17 home runs at the time of the deal, with Shaw, a left-handed slugger, Stearns thought he had the makings of a formidable tandem.
"Really, what it comes down to for us is we think we're getting better and we think we're adding to our overall depth," Stearns said at the time.
The move backfired as Schoop hit .202 with four homers and 21 RBIs in 46 games then went 0-for-8 in the playoffs leading Stearns to non-tender him after the season.
"Look, it was a bad deal, and that's on me," Stearns said. "We made a trade for a player we thought was going to be here for basically a year and a half, and I was wrong."
As for the players Stearns gave up in the deal, only Villar is in the big leagues this season. After batting .270 with 61 stolen bases and a .777 OPS in 216 games for the Orioles, he was traded to Miami in December 2019 and then to the Blue Jays at the deadline in 2020.
He signed with the Mets in February and is batting .231 in 41 games this season.
Dec. 20, 2019: Signed Justin Smoak to 1-year deal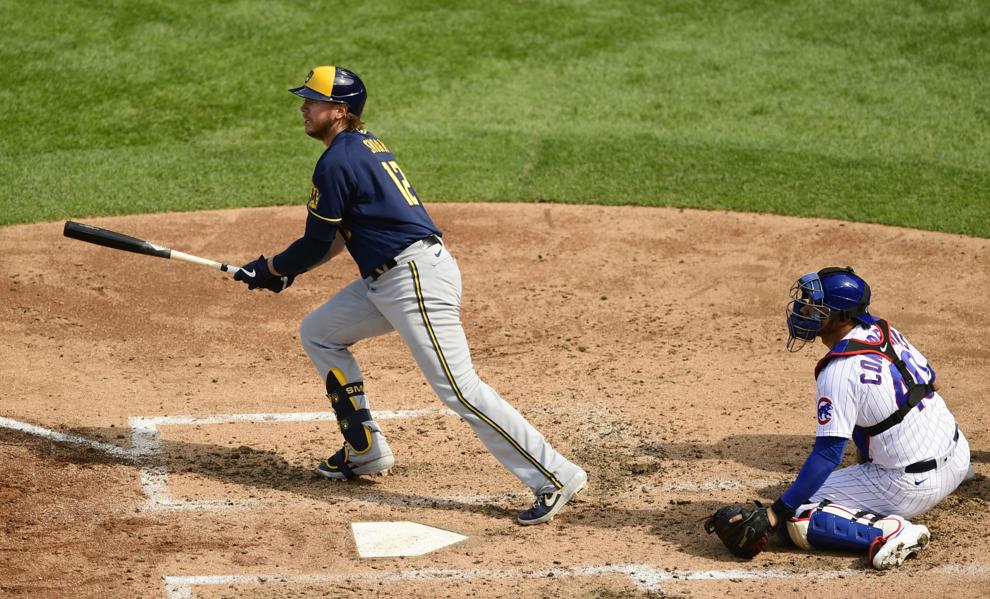 Stearns opted against picking up a $7.5 million option to bring back Eric Thames and instead took a chance on switch-hitting first baseman Justin Smoak, whose power from the left side projected to play well at American Family Field, with the idea of him sharing time at first base with Ryan Braun.
The COVID-19 pandemic thwarted those plans, though. When the Brewers returned from their hiatus, Braun was shifted into the designated hitter role leaving first base to Smoak, who never got his bat going and was designated for assignment after batting .186 with five home runs and a .642 OPS in 33 games.
"You never completely know when it is the right time, especially in a season like this," Stearns said at the time. "There is some feel involved in this.
"Determining whether and the likelihood of a player snapping out of a slump is always a really tough judgment call. In this case, with the volume of playing time that Justin had to try to get this going and where we are in the season, we felt like it was the right time."
Smoak's release came just weeks after Stearns cut ties with utility man Brock Holt, who signed his own one-year deal early in Spring Training but was let go after he hit .100 in just 16 games.