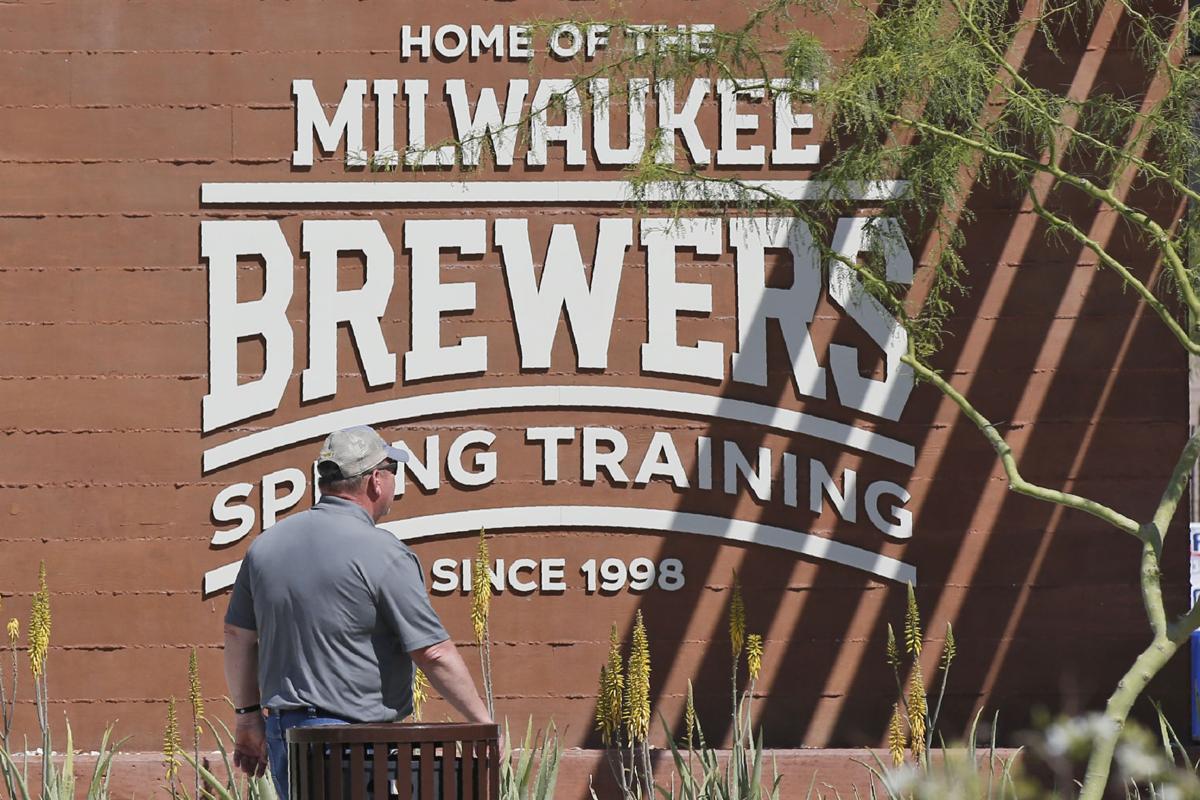 MILWAUKEE — For the first time in nearly a year, Milwaukee Brewers fans will get a chance to watch the team in person.
They'll just have to travel to Arizona to do it ... though, considering the forecast, it might not be the worst idea.
The city of Phoenix has permitted the Brewers to open the gates of American Family Field for up to 2,248 fans — representing 23% of capacity at the 10,000-seat facility, which opened in 1998 and underwent a massive renovation ahead of the 2019 season.
"We have worked closely with the City of Phoenix, Major League Baseball and health experts to safely welcome fans back into the stands at American Family Fields of Phoenix," Brewers president of business operations Rick Schlesinger said in a statement released by the team Friday morning. "This is an exciting development for all of us, and we will be limiting capacity to 2,300 fans per game to allow for proper social distancing."
Fans will be seated in pods of up to six people, with at least six feet of space separating groups with the seats in between marked off as unavailable. The popular lawn seating on the outfield berm will be marked, as well, to maintain social distancing.
Fans age two or older who attend games will be required to wear a face mask that covers their mouth and nose at all times, except while eating or drinking, and hand sanitizer stations will be installed throughout the facility.
Those who feel ill, have had close contact with someone who has tested positive for COVID-19 or are waiting test results are not permitted to enter the stadium and to further minimize touch points, fans are not allowed to bring in bags other than medical bags, diaper bags and purses not exceeding 5-by-9 inches in size.
The Brewers last played in front of their own fans on March 9 of last season, a 2-1 victory over the Mariners. The Brewers' next two Cactus League games were played on the road and their split-squad contests on March 12, which included a home game against the Rockies, were cancelled by rain.
Major League Baseball suspended spring training the next morning and when play finally resumed in July, fans were not permitted in ballparks.
"We know that fans are looking forward to the return of the ballpark experience, and we know that our players look forward to the energy fans bring to the environment," Schlesinger said.
The Brewers are the only Cactus League team to hold spring training inside the city of Phoenix. The other 14 teams train in municipalities in the greater Phoenix area, and will allow limited numbers of fans, as well, with similar restrictions on seating and health and safety protocols.
The news comes just weeks after Cactus League officials requested a one-month delay to allow more time for vaccination and other mitigation efforts.
That request was denied by the MLB players union and as a result, camps will open as scheduled next week with pitchers and catchers holding their first official workouts, followed by the first full-squad workouts on Feb. 24 with Cactus League games getting underway on Feb. 28.
To help further mitigate the spread of COVID-19 among players and staff, Major League Baseball also adjusted spring training game schedules for both Cactus League and Grapefruit League teams. Gone are split-squad contests, including the Brewers' originally-scheduled opening games against the White Sox and Athletics.
Instead, the Brewers will face the White Sox at Camelback Ranch in their first game, followed by a trip across the Valley to face the Diamondbacks before opening the home portion of their exhibition schedule on Tuesday, March 2 against Oakland.
Tickets for the Brewers' 15 spring training home games will go on sale at 10 a.m. on Feb. 18.
BREWERS 2021 SPRING TRAINING SCHEDULE
February: 28 — @ Chicago White Sox. March: 1 — at Diamondbacks; 2 — vs. Athletics.; 3 — at Padres; 4 — vs. Cleveland.; 5 — at Rockies; 6 — vs Cubs; 7 — OFF; 8 — vs. Angels; 9 — vs. Giants; 10 — at Athletics; 11 — vs. Royals; 12 — at Cubs; 13 — vs. Rangers; 14 — at Mariners; 15 — vs. Padres; 16 — at Dodgers; 17 — OFF DAY; 18 — at Angels; 19 — vs. Diamondbacks; 20 — at Reds (7 p.m.); 21 — vs. Mariners; 22 — vs Cleveland; 23 — vs. Dodgers; 25 — at Giants (8 p.m.); 26 — vs. White Sox; 27 — at Royals; 28 — at Reds; 29 — vs. Rangers (Arlington, Texas); 30 — vs. Rangers (Arlington, Texas).
(NOTE: Unless otherwise noted, all games start at 2:10 p.m. local time prior to March 14 and 3:10 p.m. after, due to Arizona not observing Daylight Savings Time)