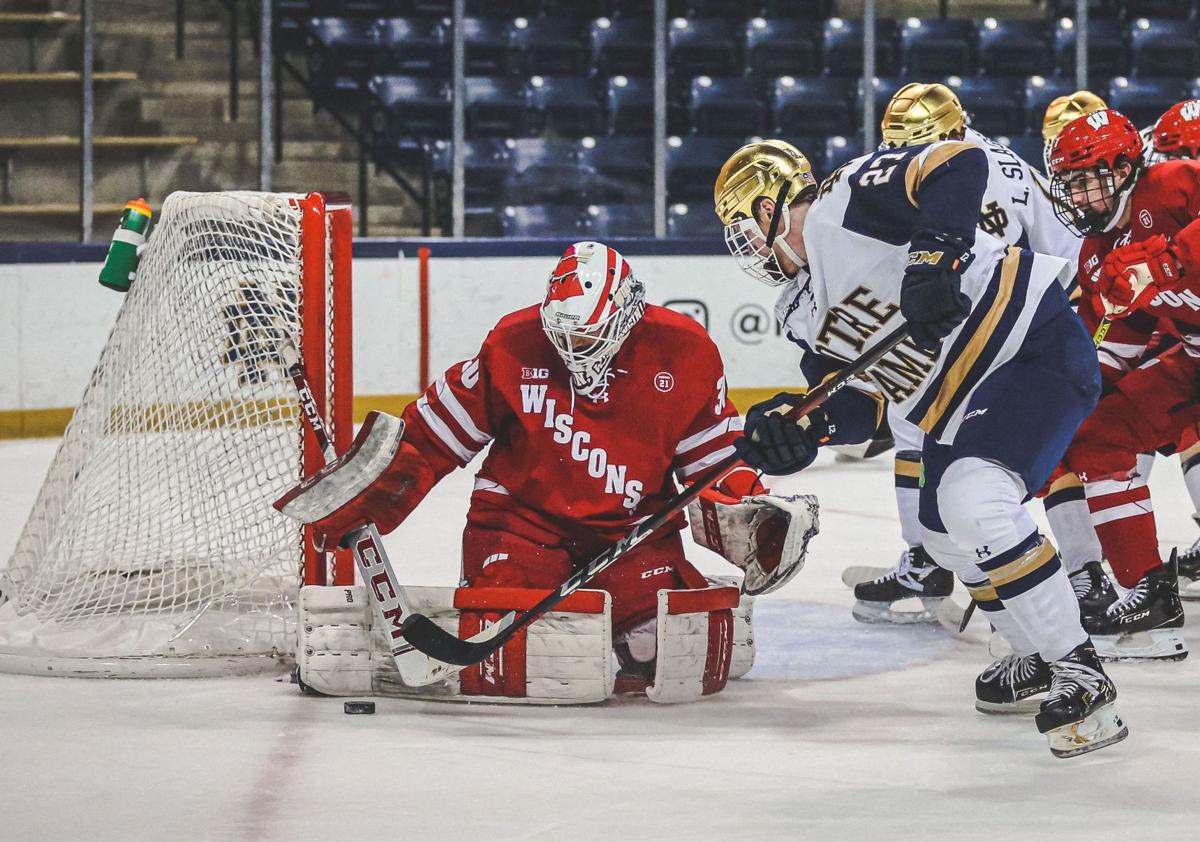 Robbie Beydoun was correct in his feeling that a promotion to the second tier of North American pro hockey was going to be a brief one.
Here's what the former University of Wisconsin goalie didn't know ahead of time:
• The ECHL team that loaned him out for a weekend series in the American Hockey League wanted him back Sunday to play a second game less than 18 hours after the first one ended.
• There weren't any available hotel rooms where he looked to stop off overnight for a few hours on his drive to game No. 2.
• His game back in the ECHL with Fort Wayne on Sunday was going to end up in overtime.
All of it added to what is becoming a compelling tale of Beydoun's first few weeks in pro hockey.
"It'll be a story that I'll be telling for the rest of my life," he said Monday.
Beydoun won his AHL debut with the Iowa Wild on Saturday night, making 25 saves in a 5-2 victory against the host Chicago Wolves to earn first-star honors. He backed up another former UW netminder, Joel Rumpel, in Friday's game after finishing a three-day quarantine after his call-up from the ECHL's Fort Wayne Komets.
Goalies are a valuable commodity in minor league hockey but they have to be willing to pick up and move quickly when and where the next opportunity comes calling. That was late Saturday night in Chicago for Beydoun, who found out that his time in the top minor league AHL was over and the Komets were hoping he could play in a game at Indianapolis that was scheduled to start at 4:05 p.m. Eastern on Sunday.
"I said, 'You know what, I'll start driving over there,'" Beydoun said. "I figured it would add to the cool story it's been so far playing pro. It was wild."
One of the Komets coaches told him to drive part of the way, find a hotel for a few hours and then finish the drive Sunday morning. None of the hotels at which Beydoun stopped had an open room, so he pushed on and got to the team hotel around 4:30 a.m.
He was on the ice again less than 12 hours later with pads that barely had time to dry from the night before. He gave up four goals but Fort Wayne rallied from a two-goal deficit to win six minutes into a seven-minute overtime session.
"It was a really cool experience and something that I'll be cherishing for a while, playing in two different leagues in less than 24 hours," Beydoun said. "Luckily, I was able to get a couple wins. It'll be a really cool memory, for sure."
Beydoun's travels and results were part of a memorable weekend for former Badgers players.
Cole Caufield scored his first NHL goal in overtime to give the Montreal Canadiens a 3-2 home victory against Ottawa on Saturday.
The Hobey Baker Award winner was the 66th former UW skater to score an NHL goal but only the second to get his first in overtime. The other was defenseman Jamie McBain, who scored for Carolina on March 20, 2010, to defeat Marc-Andre Fleury and Pittsburgh.
"(Your first NHL goal) is something you always dream about as a kid," Caufield told reporters after the game, "but to have a moment like that, it's pretty unbelievable."
Caufield joined former Badgers players K'Andre Miller, Trent Frederic and Wyatt Kalynuk in scoring for the first time in the NHL this season. It's only the third time that four former UW players recorded NHL goal No. 1 in the same season. The others were 1979-80 (Craig Norwich, Mike Eaves, Steve Alley, Mark Johnson) and 2007-08 (Andy Wozniewski, Jake Dowell, Jack Skille, Adam Burish).
Former Madison La Follette and Badgers forward Craig Smith scored his second NHL hat trick Saturday in Boston's 6-2 victory against the Don Granato-coached Buffalo Sabres.
"It was cool seeing the hats flying," Smith told reporters. "I don't see it very often for myself."
Beydoun is 5-0 in his five pro starts with a .930 save percentage and a 1.97 goals-against average. He opened his pro career with a shutout for Fort Wayne, just like he did for the Badgers last November after he arrived as a graduate transfer from Michigan Tech.
The market for pro goaltenders is difficult to crack with veterans and newcomers jousting for a limited number of openings. Making a good first impression like Beydoun is doing can be helpful.
"I'm just trying to prove that I can lead a team at this level, no matter what league it's in," he said. "I just want to prove that I can give a team a chance to win every single night. I'm just going to keep having fun doing that. That's been my No. 1 priority this whole time I've been playing pro, realizing that having a job where you play a game and stop pucks, it's a privilege. I'm really lucky to be doing it."
Look back on State Journal coverage of Badgers men's hockey games in the 2020-21 season
Read stories from University of Wisconsin men's hockey games in the 2020-21 season.