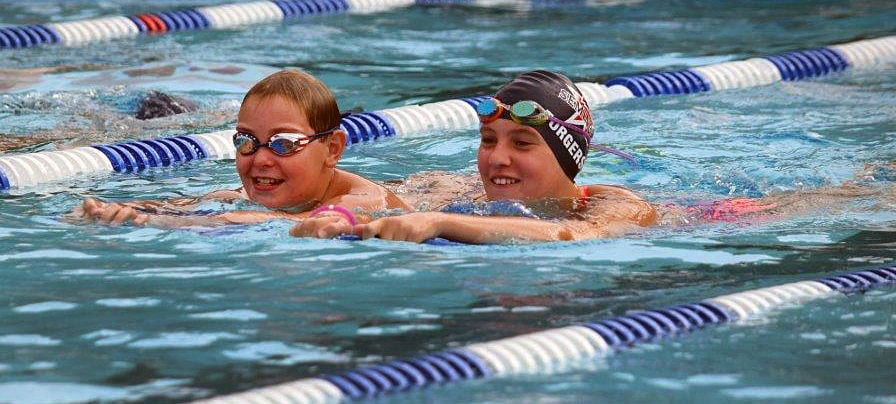 Hopping into a chilly pool on a warm summer morning to swim lap after lap is a common act on weekday mornings for the members of the Seminole Pool swim team.
Last Wednesday, however, those seemingly monotonous laps had a purpose other than preparing for the All-City Swim Meet, which begins Thursday at Seminole.
Swimmers of all ages, from pre-kindergarten to high school, participated that morning in the Kids Swimming for Kids event through the Shelley Glover Foundation. Madison's Shelley Glover lost her life in a skiing accident while training with the U.S. Development Team in 2004. Two years later, her parents, Carmella and Rich, created the charity foundation.
"Shelly's dream was that all kids had access to sports," said Carmella Glover, who serves as SGF's president. "At a very young age, she was aware of the disparity of the different populations of children. When we lost Shelley, we started the foundation to provide for underprivileged kids."
The foundation partnered with the Boys & Girls Club of Dane County three years ago, when Carmella approached the organization with the goal of providing subsidized swimming lessons for kids in their program. The money would come from events such as Kids Swimming for Kids, in which swimmers can pledge to swim a certain number of laps per dollar raised or could contribute a donation of any amount they chose.
Michael Johnson, CEO of the Boys and Girls Club of Dane County, said he immediately liked the idea. A few years ago, he read a Center for Disease Control report that determined low-income kids of color — the same socioeconomic group that mostly comprises Boys & Girls Club programs — had the highest rate of drowning.
"I think it's a lifesaver for some of our kids," Johnson said. "Last year, close to 200 of our kids learned how to swim through their partnership."
Since the partnership began, Johnson estimates, about 600 area youths have learned how to swim. Were it not for the foundation, those kids likely would not have had that opportunity. And in a community virtually surrounded by lakes, the ability to swim is a valuable skill.
"The swimming program has been, in my opinion, the most impactful program I have been a part of in over 15 years," said A.J. Kriha, Senior Director of Programs for the Boys and Girls Club. "Access to pools and quality instruction is something that many take for granted, and we are very appreciative of the opportunity we have here in Madison."
What started at Shorewood Hills, Shelley Glover's home pool, Kids Swimming for Kids held events at 10 of the 13 All-City teams' pools this summer, as well as Goodman Pool. The goal this year is to raise $25,000. In addition to donations from swimmers, the Children's Dental Center will donate $1 for every swimmer who participates in the All-City Swim Meet.
Between purchasing suits and goggles, swimming is an expensive sport. Seminole coach Sam Jekel said that's why the charity venture is so important. Jekel said he enjoys watching his swimmers compete with one another to see who can swim the most laps and raise the most money.
"Some of them really, really try hard to just rack up laps like crazy," Jekel said. "That's good to see."
The kids have fun with it, too, Jekel said. Instead of swimming laps nonstop, they can grab a kickboard and chat with a buddy for a few lengths if they so desire.
Seminole swimmer Brayden Atkisson, 12, swam 58 laps and raised $112. The overall goal of indoctrinating kids with a sense of giving back to those not as fortunate isn't lost on the youngster.
"If people want to swim, they definitely should be able to," Atkisson said. "My experience so far on the swim team, and just being able to swim in general, has just been an awesome experience. I would love other people to be able to have that experience, as well."
Donations from the general public will be accepted through the close of the All-City Swim meet, which will run from Thursday to Saturday. The foundation will staff a tent at the meet to answer questions and accept contributions. Donation information also is available at www.shelleygloverfoundation.org.