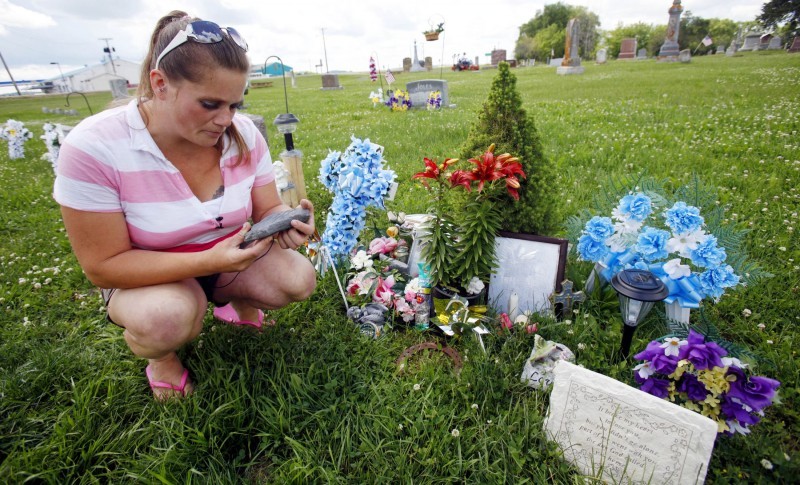 This story first appeared in the Sunday edition of the Wisconsin State Journal newspaper.
Misty Schramm's addiction to painkillers nearly killed her and left her in a fog during her son's early years — but treatment helped her give up pills.
Shortly after her brother got on a waiting list for treatment, he died from a drug overdose, leaving three children behind.
"He wanted help so bad, but you can't always get help when you need it," said Schramm, 31, who lives between Arena and Spring Green.
Treatment for addiction can be hard to find in rural parts of Wisconsin and the country, where drug abuse takes a heavy toll.
Overdose deaths from drug abuse in rural America are outpacing the deaths in urban areas, according to the Office of National Drug Control Policy. But just 9 percent of treatment programs for opiate addiction nationally are in rural areas, the Maine Rural Health Research Center found, and 82 percent of rural residents live in a county with no detox provider.
Drug abuse overall is lower in rural places than in metropolitan areas, federal surveys show. But rural youth use more alcohol, methamphetamine and prescription painkillers, drugs that are cheap and easy to get.
"Rural America is facing a number of unique challenges related to the use and abuse of alcohol and drugs," R. Gil Kerlikowske, the country's "drug czar," told Congress this spring.
Dr. John Ewing, a family physician in Lake Delton, tries to help addicts turn their lives around with Suboxone, a drug replacement therapy more widely available than other treatments in rural areas. But the government limits him and other providers to 100 patients at a time.
His waiting list has more than 70 names. Early this year, one of those names was Bennie Joles, Schramm's brother, who died shortly after his 38th birthday.
"I feel bad that he had to overdose and die," Ewing said. "But I have to wait for people to graduate or drop out."
For years, medical treatment for addiction to opiates such as heroin and the prescription painkillers OxyContin and Vicodin was limited mostly to clinics offering methadone, a replacement drug that prevents withdrawal symptoms and reduces highs.
Methadone clinics generally are located in larger cities and initially require daily visits, making it hard for many rural addicts to access them.
In 2002, the government approved Suboxone as an alternative to methadone. Doctors who receive addiction training can prescribe the drug in their offices, with patients visiting every few weeks.
The development greatly expanded treatment options. More than 11,000 doctors across the country now provide Suboxone.
More than 130 doctors can prescribe the drug in Wisconsin. Many are in small cities and towns, including Antigo, Baraboo, Boscobel, Eagle River, Grantsburg, Hillsboro, Hurley, Minocqua and Sturgeon Bay.
None of the state's 13 methadone clinics is in a rural area; the clinic in Wausau is the only one in the central or northern part of the state.
Suboxone, taken under the tongue a few times a day, is two drugs in one pill. One drug blocks withdrawal from opiates. The other causes withdrawal symptoms if the drug is injected, helping to prevent abuse that way.
Suboxone is considered less risky than methadone but also less powerful, so it can be less effective for addicts with high levels of opiate dependence, according to the federal Substance Abuse and Mental Health Services Administration.
But David Friedman, director of the addiction studies program at Wake Forest University in North Carolina, said Suboxone has improved access to treatment in rural areas.
"The idea was to mainstream addiction treatment," he said. "Having an alternative to methadone is a real good thing."
Ewing has been prescribing Suboxone at the Dean Health System clinic in Lake Delton for more than three years.
The medication has helped many of his patients replace the misery and manipulation of drug addiction with health and happiness, he said.
"It's really gratifying to provide that," Ewing said.
You have free articles remaining.
Schramm, who owns a handyman and seal-coating business with her husband, Sean, said she became addicted to painkillers in her early 20s.
Doctors gave her Vicodin for dental pain and soon, she said, "I needed more and more and more."
Peer pressure contributed to the problem. "It's hard when every friend you have is on drugs," Schramm said. In her circles, "half the world is addicted to pills."
She started taking OxyContin and then added morphine. She and a friend drove hundreds of miles to emergency rooms as far away as Milwaukee, making up symptoms to get pain pills. She also bought drugs off the street.
"I'd get a bottle of 30 pills, and it would be gone by that night," she said.
Her addiction continued after her son, Shay, was born. "I missed out on so much with him," she said. "I was drugged up all of the time."
Schramm overdosed on a mix of drugs three years ago, when Shay was 4. Doctors didn't know if she'd survive, said her mother, Sue Joles. But after three days in intensive care, she recovered.
The episode scared Schramm into action. Her friend went to Madison for addiction treatment several days a week, but that didn't appeal to her. She heard about Ewing and started seeing him.
The Suboxone he has given her for nearly three years has made her feel normal, even after she stopped taking other pills.
"I feel better now than I've ever felt," she said.
While Schramm was confronting her addiction, Joles was starting his.
He hadn't used drugs other than marijuana until about three years ago, when he started associating with people who abused painkillers, Schramm said.
He started chewing fentanyl patches, she said, getting a quick high from medication meant to be released through the skin over three days.
Schramm considered Joles, who lived in Sauk City and worked as a handyman, to be her best friend. His second daughter was born last year, and he also had a son and seven stepchildren. He and Schramm talked in person or by phone several times a day, and she frequently took care of his daughters.
More than a year ago, she convinced him to make an appointment with Ewing. He did but said he got a flat tire on the drive up. She thinks he "chickened out."
A few months later, after saying he really wanted to stop abusing drugs, Joles tried to make another appointment. But Ewing was already treating the 100 patients the government will allow.
Ewing put Joles on his waiting list.
On the morning of Jan. 28 this year, Schramm got a call from Joles' 20-year-old son. He found his dad unconscious, and medics were taking him to Sauk Prairie Memorial Hospital in Sauk City.
Schramm rushed to the hospital, where doctors were unable to revive her brother. The coroner said he died from a toxic mix of drugs, including fentanyl, oxycodone and benzodiazapene, a sedative.
Despite the overdose, Schramm said she thinks her brother had reached the point she did three years earlier - when the will to live grows strong enough to beat back the power of pills, as long as treatment is available.
"'I'm done,'" she said he told her. "'I need to raise my kids. This isn't my life.'"
Overcoming addiction is the hardest thing Schramm has done, she said, but it has given her more self-esteem.
"We're not bad people," she said. "You just got to get that good person in you to come out."