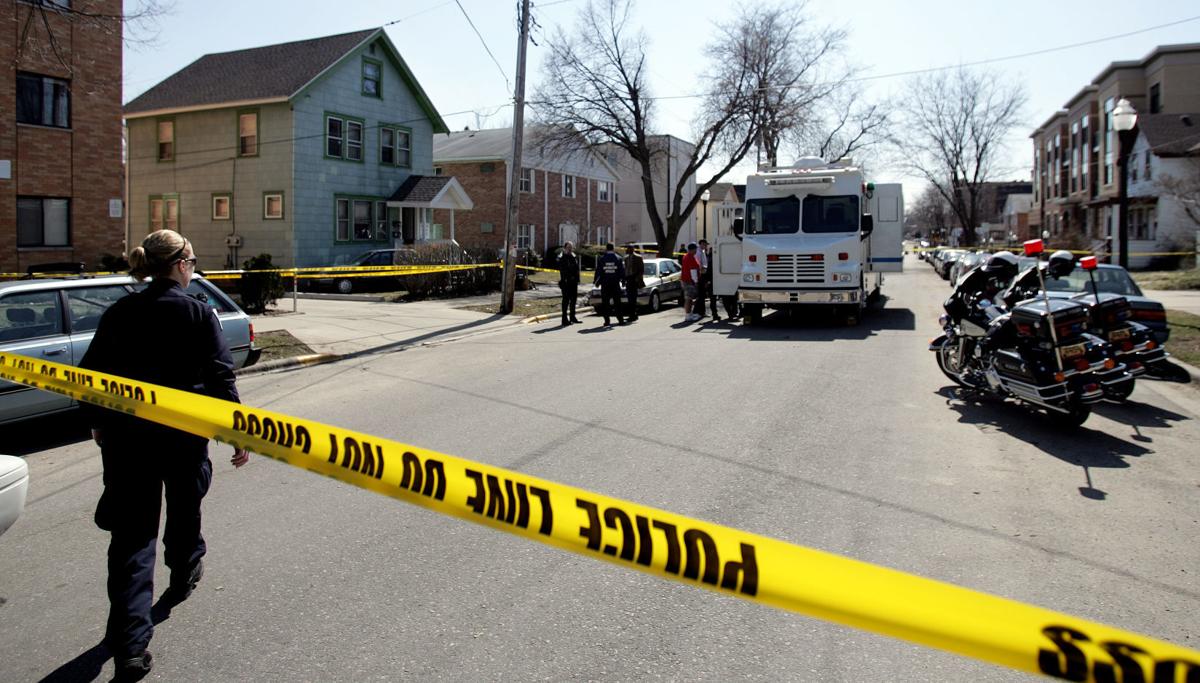 The notorious 911 call from Brittany Zimmermann's cell phone the day she died carried the sounds of a woman's screams and a struggle, according to long-sealed search warrants obtained by the Wisconsin State Journal.
Madison police and Dane County officials have for months refused to disclose the content of the call, which has been at the center of a public controversy over operations, management and staffing at the county 911 center.
The case has drawn intense public interest because police said a stranger with an unknown motive may have killed Zimmermann and because the center mishandled the call, significantly delaying the police response.
On April 2, when Zimmermann's fiance found her at their West Doty Street apartment, she was cold and lifeless and she had been stabbed in the heart so many times that he thought she had been shot in the chest, one of the warrants revealed.
The six search warrants unsealed in Dane County Circuit Court give the public glimpses for the first time into secrets long held by investigators who have been trying - without success - to find Zimmermann's killer.
The warrants include police statements describing the 911 call from the UW-Madison student's phone.
"The disconnect call started with the sound of a woman screaming and the line remains active and open picking up the background sounds of a struggle for a short period of time," according to a description of the call by Madison Police Detective Marion Morgan.
An autopsy report in one of the warrants said that Zimmermann died from "complex homicidal violence including multiple stab wounds and strangulation." Reports in other warrants noted she had also been beaten, and nearly half of the knife wounds that killed Zimmermann were to her heart.
The stab wounds were inflicted with a knife that was 2 to 5 inches long with a width of about three-quarters of an inch. The weapon had not been found as of the April 10 search warrant.
The warrants also detail the gathering of evidence, including DNA, from potential suspects who have since been ruled out.
The warrants, most of them filed in April with one in June, have been sealed and resealed by judges at the request of police and Dane County prosecutors. The latest seal on all of the warrants, however, expired last week and no request was made to extend them.
Police and prosecutors didn't intend to unseal the warrants and intended to seek a judge's order to extend the seals, District Attorney Brian Blanchard said. The failure to request an extension was an "oversight," he said.
Neither Blanchard nor Madison Police Central District Capt. Mary Schauf would say if the police or the district attorney's office was at fault for the oversight, but Blanchard said it's a "collaborative process with shared responsibilities."
Blanchard said he would not seek to have the records resealed.
"I don't know what the point would be of that," he said.
Schauf said the unsealing of the warrants would have little impact on the investigation.
"These are old search warrants," Schauf said. "They aren't going to have any long-term effect on where we are going in the case.
"We continue to actively look at different leads in the case," Schauf said. "We are still moving forward."
The warrants state that Jordan Gonnering last saw his fiancee about 11:30 a.m. on April 2. As he talked to her by cell phone, he said, he could see her below him from the balcony where he stood at Van Hise Hall on the UW-Madison campus.
The 911 call from Zimmermann's phone came at 12:20 p.m., the search warrants state. Court documents don't state at what time Gonnering called 911 to report finding Zimmermann, but police were sent at 1:08 p.m.
Detective Morgan found Gonnering crying, trembling and in shock.
"His face was blanched and his eyes were fixed and forward," Morgan observed.
"She was the nicest person ever. Who would do this?" he said to Morgan.
Gonnering was quickly ruled out as a suspect.
At the direction of a 911 dispatcher, Gonnering said he was to look into her mouth to see if anything was obstructing her breathing. He said she was cold to the touch and her fingers were stiff. There was blood on her face, he said.
Zimmermann was pronounced dead at 1:34 p.m. by Deputy Coroner Jeff Sholtz.
From Zimmermann's apartment police gathered a long list of potential evidence that included clothing, kitchen knives, computer equipment, bedding and other items.
Among the things they took were bloody women's slippers, a paper towel with an "unknown red substance," a sheet of computer paper with suspected blood drops and 18 blood samples.
Investigators also took 23 swabs for DNA and 10 fingerprints. They also took nine partial footwear prints from the apartment and two sink traps and their contents.
Gonnering told police he didn't have time to notice whether anything was missing from the apartment, but said their computers were still there. Among the valuables in the list of items taken by police was also a backpack, a purse, a digital camera, an iPod and a diamond ring.
Besides a phone charger, the only reference to a cell phone in the apartment, according to the inventory, was "cell phone parts."
Along with the public, members of the Zimmermann family had been kept in the dark about details of the homicide, including how Brittany was killed, and had been bracing themselves for when they would learn more.
A State Journal reporter called Kim Heeg, Zimmermann's aunt, Monday afternoon after the search warrants had been released and at her request shared some of the details they contained - news Heeg said Zimmermann's parents had expected to hear from detectives before it was made public.
Schauf said detectives called the Zimmermann family after the State Journal call.
Zimmermann family members didn't respond to a request for comment Monday night.
In October, Jean Zimmermann, Brittany's mother, said she missed a call from her daughter at 11:57 a.m. the day she was killed, about the time she believes her daughter would have been getting home from campus.
She said that when she learned how her daughter was killed, it would be as if she died all over again. "It's finally going to seem like it's actually real," she said.
"Until we have justice for Brittany, there is absolutely no healing that can start," Jean Zimmermann said.
As police started their investigation, they took DNA from at least three men, all of them homeless, who had come to their attention. All were ultimately cleared, Schauf said.
The three included Thomas Cosgrove, 51, a British man who was arrested March 23 at a UW-Madison building.
Jeffrey D. Ball, 49, was arrested on April 2, about nine hours after Zimmermann's death, while police were trying to remove him from a Butler Street building.
A third man, Chauncey A. Mack, 53, was arrested on May 5 after getting into a fight with another man on State Street. Mack was convicted in August of disorderly conduct and sentenced to four days in jail.
All three were ruled out as suspects, according to court records.
Shauf said police have still not identified a suspect and are "looking at leads and tips."
She would not say whether police have identified a motive or what they think might be a motive.
In October, Schauf said police believed the killer was a stranger to Zimmermann, and detectives "have a working hypothesis" about what led to the murder.
Schauf would not comment on details or evidence cited in the search warrants.
Newly uncovered court documents reveal:
* Screaming and a struggle could be heard during a 911 call made from Brittany Zimmermann's cell phone before she was found dead.
* Forty-eight minutes elapsed from the time of the mishandled 911 cell-phone call until the time police were sent to Zimmermann's apartment.
* Zimmermann had been stabbed in the heart repeatedly, beaten and strangled.
* Police did not find a weapon at the scene.
* Valuables were left behind in her apartment, calling into question whether robbery could be a motive.
Be the first to know
Get local news delivered to your inbox!