$83.5 billion over two years. If you double the budget for this year, that's an increase of $6.2 billion over two years.
71,991 total full-time equivalent positions in 2021, an increase of 701 positions.
$82.1 million for 2 percent raises for state employees over each of the next two years.
$551 million net tax increase, mostly on capital gains and manufacturers. Includes an $834 million income tax cut, saving an average recipient $217.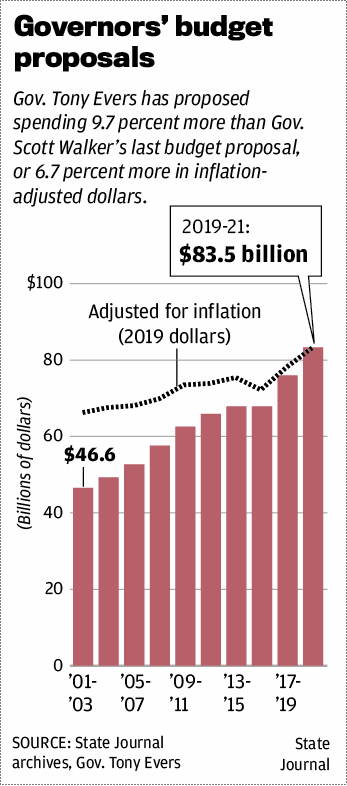 Transportation
Raise gas tax by 8 cents a gallon, partially offset by eliminating the state's minimum markup on motor fuel.
Index the gas tax to inflation starting in 2020.
Increase heavy truck registration fees and title fee on original or transfer vehicle titles.
Finish the Zoo Interchange project in Milwaukee and start the expansion of Interstate 43 from two lanes to three in both direction in Milwaukee and Ozaukee counties.
K-12 education
Establish "Fair Funding" formula that would provide districts with at least $3,000 per student, with additional aid weighted toward poorer districts.
Require teachers receive 45 minutes or a single class period each day for preparation.
Freeze enrollment in Milwaukee, Racine and statewide voucher programs at 2020-21 levels and phase out program for students with disabilities.
Add $606 million in special education funding.
Eliminate restrictions on the number of referendums districts may hold in a calendar year.
Repeal program that allows teachers to be licensed without having in-classroom teaching time.
Health services
Expand Medicaid to cover 82,000 more low-income people, saving $325 million over two years by bringing in additional federal money.
$580 million for hospitals, nursing homes and mental health services.
Legalize medical marijuana and allow CBD oil without doctor certification.
$43 million more for dental care, primarily through Medicaid incentive payments.
$28 million for women's and infant health, primary by extending Medicaid coverage for women after birth from 60 days to a year. Restore funding to Planned Parenthood that was blocked by former Gov. Scott Walker.
Natural resources
Create a plan for finding out where drinking water is contaminated by toxic chemicals known as PFAS.
Add five full-time positions to oversee permitting, inspection and enforcement of concentrated animal feeding operations (CAFO), and increase fees paid by CAFOs.
Create a Bureau of Natural Resources Science with a director who reports to the DNR secretary and five scientists who would research areas related to water quality and contamination, all funded by grants.
Up to $40 million to help homeowners replace lead pipes.
$25 million to remove PCBs, DDT and heavy metals from sediment in five river basins.
$10.9 million to municipalities to manage stormwater.
$4 million in grants to control pollution around impaired waters and add four full-time DNR positions to coordinate efforts.
Add $1.6 million to a fund that helps people build new wells or take other steps when their drinking water is contaminated.
Criminal justice
Decriminalize having 25 grams or less of marijuana for recreational use and expunge previous convictions for that offense.
Raise the age of adult jurisdiction to 18 by 2021.
Push juvenile prison closure date back indefinitely.
Increase reimbursement rate for lawyers who offer public defender services to $70 per hour by 2020.
Add about 20 assistant district attorney positions.
Roll back lame-duck law preventing Attorney General from settling/withdrawing from lawsuits.
Higher education
Freeze University of Wisconsin System tuition for a seventh and eighth straight year.
Allow Wisconsin residents living in the country illegally to pay in-state tuition at both UW System and Wisconsin Technical College System schools.
Add about $110 million in funding to expand programming in high-demand fields, help fund the tuition freeze, provide a UW-Extension agricultural agent in every county that wants one and help nurse educators repay loans if they commit to teaching in a Wisconsin nursing program for three years.
$18 million more for the technical college system.
You have free articles remaining.
Register for more free articles
Stay logged in to skip the surveys
Children and families
Expand W-2 program lifetime limit to 60 months, up from 48 months, and for infants from 8 weeks to 12 weeks.
$23 million more per year for Shares, a subsidized child care program, and $15 million more for children and families in crisis.
Elections
Automatic voter registration coordinated with Department of Transportation.
Require universities and technical colleges to issue students IDs that are compliant with voter ID law.
Have nonpartisan Legislative Reference Bureau redraw legislative boundaries along with a five-member redistricting commission.
Economic development
Require Wisconsin Economic Development Corp. to post all final contracts online within 30 days of each contract's execution, including amendments.
Businesses getting state incentives for economic development projects have to disclose major changes to their plans and could not use state dollars to move jobs out of state.
Provide an additional 5 percent tax credit incentive for businesses to invest in renewable energy generation or energy efficient projects.
Direct WEDC to grant at least $1 million a year to regional economic development organizations.
Parks and tourism
Add an automatic renewal option for hunting, fishing and trapping licenses to reduce time the public spends on paperwork.
$600,000 for an Office of Outdoor Recreation to promote and improve economic benefits by attracting more tourists.
Add $1.4 million in spending on state park operations from park user fees to increase staffing at busy times and pay for supplies and costs of campsites with electrical hookups.
$5 million for out-of-state tourism marketing and $800,000 for promotional videos.
Agriculture
$1.4 million per year to replace UW-Extension ag agents cut by the UW System.
$300,000 and three positions to boost the state's fledgling industrial hemp program.
Transfer $200,000 for grants to help farmers switch to a potentially more profitable organic dairy or beef operation. Also, add an organic and grazing specialist.
$100,000 annually to provide mental health assistance to farmers and their families.
Local government
Allow counties and municipalities to raise tax levies by up to 2 percent, regardless of growth.
Increase funding for municipal aids by 2 percent starting in 2020.
Allow a levy limit adjustment to local governments for shared emergency dispatch centers and create a new levy limit exclusion for new or expanded transit systems that cross municipal or county boundaries.
Close the "dark store" loophole for property tax assessments.
Limit the percentage of a tax incremental financing (TIF) district's project costs that can go to cash grants to developers to 20 percent.
$1.9 million increase for local road improvements.
10 percent increase in general transit aids for a total $11 million annually.
$3 million increase each year for specialized transportation for seniors and those with disabilities.
Utilities
Require all electricity generation in the state to be carbon-free by 2050.
$75 million for energy conservation projects and lift funding cap for Focus on Energy.
Create a state Office of Sustainability and Clean Energy.
Use $10 million of Volkswagen settlement funds for electric vehicle charging stations.
Other
Increase minimum wage to $8.25 on Jan. 1, 2020, and to $9 on Jan. 1, 2021, with additional 75-cent annual increases in 2022 and 2023. A task force would study ways to work toward a $15 minimum wage.
Tax "brown cigarettes" or "little cigars" as well as e-cigarette and vapor products.
Require online sellers to collect and remit taxes just brick-and-mortar retailers do.
$3.75 million annually to address the state's homeless population.
Restore prevailing wage law for state and local public works projects and eliminate the "right-to-work" law.