On this week's "Center Stage" political podcast, Milfred and Hands pledge to say only nice things about our leaders, including the president, governor, top state lawmakers and Madison's mayor.
It wasn't easy. But they mostly pulled it off.   
Click the purple play button to listen.
Scott Milfred, the State Journal's editorial page editor, and Phil Hands, the paper's cartoonist, credit President Donald Trump for his sense of humor, (autotuned) singing voice and sometimes helpful guidance. He's done more, for example, to teach the public how to pronounce rival Pete Buttigieg's last name than probably anyone else.
You have free articles remaining.
Our editorial board members credit Gov. Tony Evers for just the opposite of Trump -- his boringness, which Evers has turned into an advantage, sort of like a judo master.  
The podcast gives hugs to some of the Democrats seeking the presidency. Madison Mayor Satya Rhodes-Conway earns love for riding the bus, not just talking about bus service.
"Center Stage with Milfred and Hands" is the State Journal's weekly podcast from the sensible center of Wisconsin politics, featuring editorial page editor Scott Milfred and political cartoonist Phil Hands -- "the better-looking half" of the newspaper's editorial board, according to Hands. 
The last straw

Iowa Caucus

Trivia night

Ice fishing for PFAS

New Year's Resolution

Christmas list

Baby Yoda

Hamilton

Shopping

Thanksgiving, with Oscar and Lewis

Holiday Tree

Airport

Winter is coming

Halloween

Favorite time of year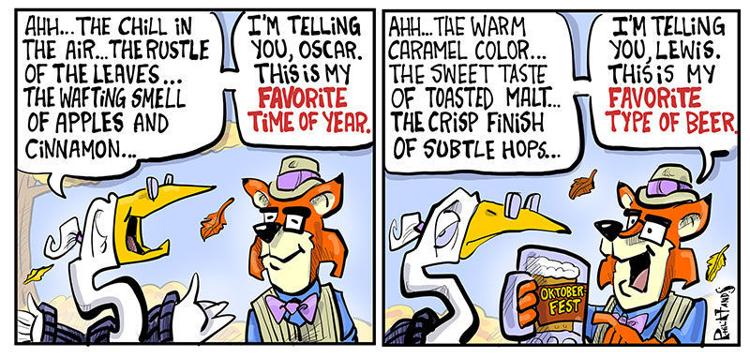 Pumpkin spice madness

F-35s

Yellow Jackets

Bus Rapid Transit

Oktoberfest

Ironman

Taste of Madison

Terrace Sunset

Sketchy

CBD

The last straw

Water Skiing

Heat Wave

Art Fair on the Square
Anyone for golf?

Shaking the lake

Go jump in a lake

Father's Day

Naked Bike Ride

Taco Time

Brat fest

In the garden

Mother's Day

Take a hike

Game of Thrones

Terrace Time

First farmers' market

The rent it too darn high

Mayor's race

Cheese Curds

St. Patrick's Day

Daylight saving time
Winter

Oscars

Februaries

Valentine's Day

Superbowl

Winter Olympics 2022

Majestic creatures

Curling on the lake

A silly Canadian sport

The joy of giving

Protesting

Tree Blasphemy

stuffed

Crazy Uncle

Mumbo Jumbo

Voting

Halloween
Dive Bar

Coffee App

Cycling city
Apple pickin'
Brunch

Downtown development

Craft cocktails

The middle of nowhere

77 square miles

Mendota Marsh