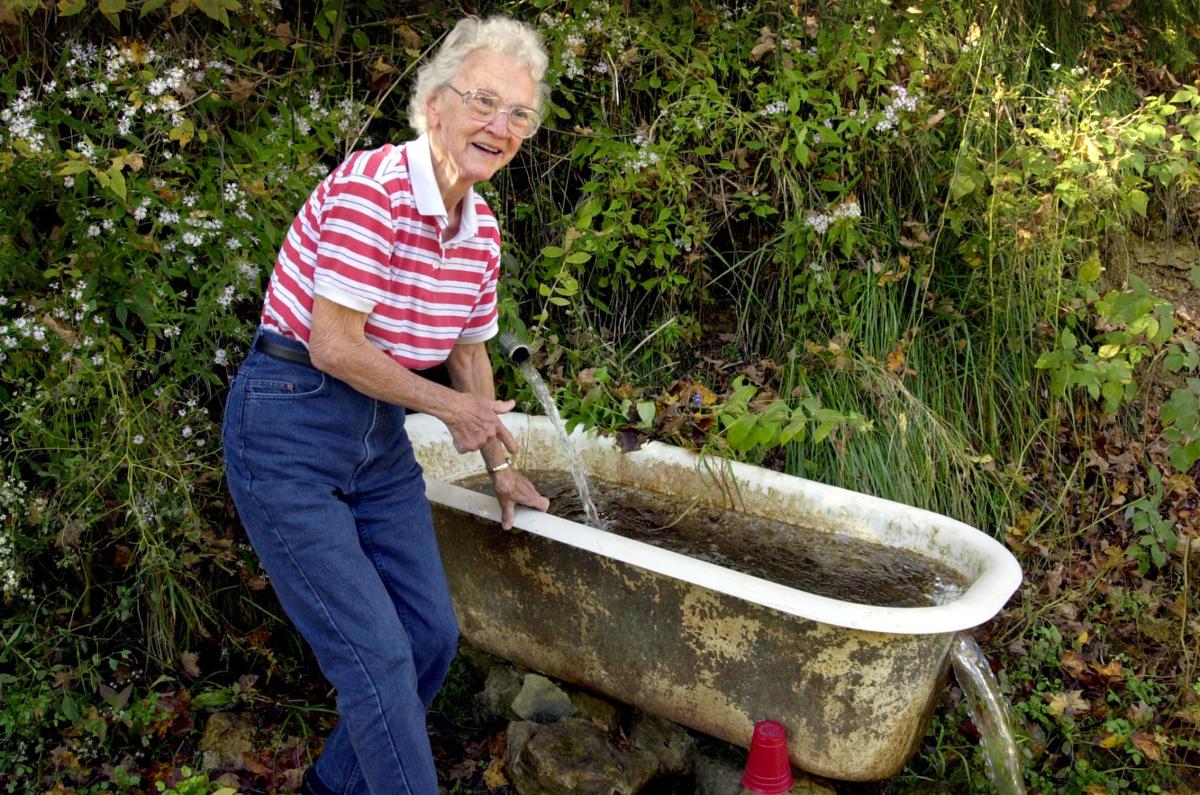 [Editor's note: This story first appeared in the Wisconsin State Journal on March 21, 2004]
VIROQUA -- Gentlemen, get a firm grip on your overalls, because Pearl Swiggum's retiring. 
She's not retiring from making lefse, a good thing, I think, as I munch on a paper thin sheaf of her potato pastry made from Yukon Gold potatoes.
She's certainly not retiring from mowing the huge lawn out at Stump Ridge Farm. She gave her grandson the farm, but not mowing privileges. This is a woman who's in love with her Dixon riding mower, her just reward after all those years when her late husband, Punk, would ride the mower, while she had to do the edge trimming by hand.
And she's not retiring from fashioning quilts and pillows from old denim pants. She likes the contrast of the striped overall fabric amid all the plain blue denim, but she's dismayed to notice that fewer and fewer farmers wear those kind of overalls. So when she spots one, she's not above asking the surprised old gent if she can have his pants when he's finished with them.
"As you can see, I'm going to be busy," said Pearl, after giving me a whirlwind tour of Pearl World, circa 2004, then sending me on my way with a package of golden brown lefse.
Yes, Pearl's going to be busy, but the rest of us are going to be a little lonelier. You see, Pearl turns 90 this week and she's decided that it's time to retire from writing the Stump Ridge Farm column. She's been writing the weekly column, starting with weekly newspapers in the Kickapoo Valley, for 46 years. She been appearing weekly in the Wisconsin State Journal since 1987.
"I won't miss the deadlines at all," she says, insisting that deciding to end her column was a much less painful decision than the one she and Punk made years ago, when they sold their dairy herd.
Pearl might not missing writing for us, but we'll certainly miss hearing from her. Over the years, the columns have been like letters from our grandmother, our mother, or our sister back on the farm. They were full of amusing tales, and real-life characters. The eccentric Norwegian bachelor farmer neighbors, the loyal dog named Boots, the mysterious barn cats and the annual battles with bees, weeds and wasps.
Readers write back to her, sharing their own memories of life on the farm, and their recipes for bee repellent. On an average day, Pearl gets more cards and letters than I get on my birthday. Her first book of columns sold 6,000 copies, and fans lined up out the door for autographed copies.
Those years when she was on the lecture tour led to a number of amusing columns about Pearl getting lost on the back roads of Wisconsin, finding herself in Monroe when she meant to go Mount Horeb.
But Pearl's decided that 90 sounds like a nice age for retirement. And so the column you read in Monday's newspaper will be her penultimate. She'll turn 90 on Wednesday. You'll see in her Monday column that her family is inviting all Pearl's friends to her 90th birthday party in Viroqua next Sunday.
There will be music, and stories, and dancing. And if you havent been to a dance with Pearl, there are a few things you should know.
First of all, Pearl has never been a wallflower. She still square dances with her club on Monday nights, and still cuts a fine figure around the dance floor.
Second, Pearl has always been a tomboy, so don't expect her to wear a dress. Her mother died when Pearl was a toddler, in the horrible Spanish influenza pandemic of 1918, and her father decided that the Stevenson girls could just as well wear overalls from his general store in Towerville. That suited Pearl fine.
"All the other little girls had to wear dresses," she recalled, gleefully.
She does have a dress. Singular.
"I have one dress, it's red, but it's so old it's turning orange," she said.
It was her trademark in the years she traveled around Wisconsin giving talks. If you've seen Pearl, you've seen the dress. In fact, she remembers stopping in to a truck stop along Highway 14, looking for directions and coffee. The counter lady recognized her, and Pearl guessed it was because she had read the column or had heard her speak.
"No," said the lady, "I recognize the dress."
Pearl loves to tell stories on herself, and her latest one is that her memory is starting to go. So if you come to the party, she'll recognize your face, but you should remind her of your name.
And if you can't make it, well, the last Monday of the month, March 29, we'll print her very last column.
I'm warning you ahead of time so you can treasure these last few letters from Stump Ridge Farm, each as precious as pearls on a strand.
Friends are invited to Pearl Swiggum's 90th birthday party, from 1 to 4 p.m. March 28 at the Viroqua Eagles Club, 216 S. Rock St.
Viroqua is about 90 miles northwest of Madison on Highway 14.
When you get to Viroqua, turn left at the first stoplight, and the Eagles Club will be one block on your left. No gifts, please, says Pearl.