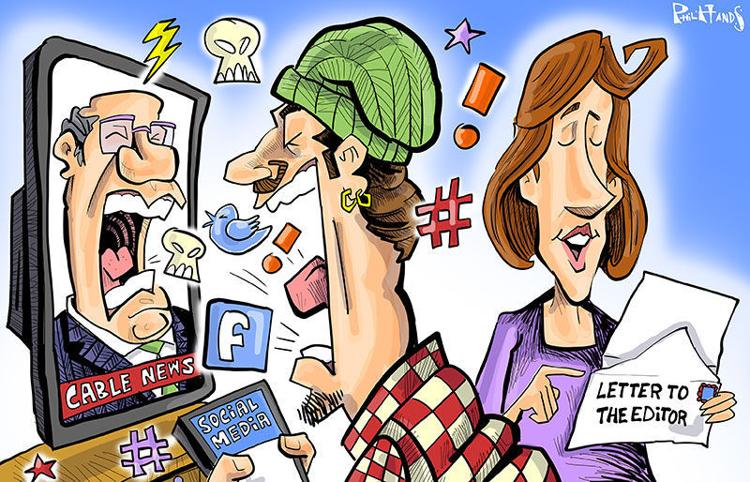 Letters to the editor are as important and influential as ever. They appear prominently in the printed Wisconsin State Journal, just as they have for the last 180 years.
Letters to the editor also are posted on south-central Wisconsin's top news website — madison.com — where they can be read around the globe and shared across countless digital platforms and apps.
In fact, 76.6 percent of adults in the Madison market — more than 400,000 people — have read the State Journal or madison.com during the past week, according to research by Coda Ventures of Nashville, Tenn.
OUR VIEW: This year's list of State Journal guest columnists includes a diverse mix of knowledgeable experts and advocates
Letters to the editor can even influence the outcome of elections. They are a civil exchange of ideas — something we need more of in today's society and politics.
The Wisconsin State Journal receives thousands of submissions from its readers each year, most by email, though some still arrive via the U.S. Postal Service. We look at every one and select a lively and diverse mix to feature every day on the Editorial Page and at go.madison.com/letters.
Today we honor the 1,130 people who sent us the nearly 1,700 letters to the editor we published in print and online during 2019. Thank you to all of our letter writers for your contribution to your newspaper and community. You engaged, challenged and in many cases called for action with your words.
Let's keep the conversation going in 2020. Send your view, 200 words or less, to wsjopine@madison.com, and please include your address and phone number for verification.
You don't need to agree with the views of our State Journal editorial board to have your letter selected. In fact, we give preference to publishing opinions that differ from our own.
Other ways to improve your chances of being publish include being clear and concise. Get right to your point and stick to the word limit. If you include data or other facts that we'll need to check, please include links to your sources. The only editing of letters we do is for length, clarity and accuracy.
Though some readers submit multiple letters a week, we generally limit publication to no more than once every month, which allows for more voices to have their say.
If you haven't written a letter to the editor before, give it a try. And if you are one of our regulars, please keep those emails coming.
Thank you for your involvement and commitment to your community.
A


Muhammad Abdullah, Madison
Mary Berryman Agard, Madison
John Ainsworth, Shawano County supervisor
Dave Alexander, Hillsboro
Douglas Alexander, Madison
Jane M. Allen-Jauch, Madison
Andy Anderson, town of Vermont
Carl (Bill) Anderson, Madison
Janice Antoniewicz-Werner, Madison
Dennis B. Appleton, Madison
Chris Vander Ark, Madison
Robert Auerbach, Middleton
B
Cmdr. Daniel Bach, Fitchburg
Ralph Bailey, Pardeeville
Ald. Samba Baldeh, Madison
Michael D. Barrett, Madison
Mary Bartkowiak, Brookfield
Dave Baskerville, Madison
Jane Batha, Mineral Point
William F. Bauer, Fitchburg
Robert G. "Bob" Beahm, Portage
Peter A. Beatty, Middleton
Roger Beck, Cottage Grove
Joan Ellis Beglinger, Cross Plains
Eva Klaus Bellinger, Sun Prairie
Robert L. Bellman, Richland Center
Daniel D. Bennett, Madison
Allison Bell Bern, Madison
Linda Bernhardt, Platteville
Brian Berninger, Sun Prairie
James Berzowski, Glendale
Bill Bessire, Sun Prairie
David Beyer, Morrisonville
Rabbi Jonathan Biatch, Madison
James Billings, Black Earth
Philip Blackwell, Whitewater
Jim Bolitho, town of Middleton
Dorothy Borchardt, Madison
Jane Breun, town of Springdale
Maria Bries, Naperville, Illinois
Barbara Brochtrup, Madison
Jeffrey L. Brooks, Madison
Richard Brouillard, Waterloo
Bradley Brunker, Mazomanie
Martha Brusegar, Middleton
Barbara Burczyk, Deerfield
Bruce Burnett, Sun Prairie
Steve Busalacchi, Madison
C
Bruce Calhoun, Dodgeville
Robert Capridette, Madison
Art Carlson, Spring Green
Bill Cary, Richland Center
Robert F. Chapman, Middleton
Kristina Coopman, Prairie du Sac
Aaron Curtis, ITC Midwest
D
Marcella Danti, Livingston
Wesley K. Davis, Janesville
Barbara Dearth, Fitchburg
Leighanne Dockerty, Sun Prairie
E
Rich Eggleston, Fitchburg
Michael Elliott, Edgewood High School president
Mollie Elliott, Sub Prairie
Joe Engesser, Red Wing, Minn.
Pat Erickson, Blanchardville
Katherine Esposito, Madison
F
Kay Fijalkiewicz, Stoughton
Terry Finman-Pince, Stoughton
Dr. Ken Finn, Colorado Springs, Colo.
Walter Fitzgerald, Madison
Julie Fitzpatrick, Madison
Steven Fitzsimmons, Madison
Paula Fitzsimmons, Madison
Virginia Foulk, Mazomanie
Ryan Fox, Prairie du Chien
Melanie Foxcroft, Middleton
Chuck Friedrichs, Madison
G
Sandra Gajic, Overture Center
Sharon Gaskill, Black Earth
Lee Gasper-Galvin, Sun Prairie
Phillip Gathright, Madison
Dr. Claire Gervais, Madison
Lucile A. Gibson, Madison
Patricia M. Giesfeldt, Cottage Grove
Allen Gleckner, Saint Paul, Minnesota
James P. Goldschmidt, Verona
Don Golembiewski, Madison
Warren J. Gordon, Madison
Stephen S. Gosch, Madison
Gerald Greenfield, Fitchburg
Jennifer Greenwald, Madison
Gary E. Gundlach, Wauzeka
H
Laurie Talbot Hall, Middleton
Donald Halverson, Stoughton
Bruce Halverson, Mountain
Mark S. Hamel, town of Fulton
Marc F. Hansen, Fitchburg
Patrick Hardyman, Blanchardville
William Hartje, Evansville
Sophia Harvey, Cottage Grove
Patrick Hasburgh, Madison
Dianne Haskins, Mount Horeb
Wayne Haskins, Mount Horeb
Diana Haverberg, Middleton
Linda Hilker, Cross Plains
Paul Hodgson, Mount Horeb
Florence Hoffman, Fitchburg
Robert Holets, Richland Center
Jeffrey Holloway, Madison
Howard Holmburg, Sun Prairie
Gregory Humphrey, Madison
Thomas H. Hurst, Fitchburg
Macklyn Hutchison, Madison
I
Grace Anne Ingham, Madison
J
M.W. "Jake" Jacobs, Watertown
Isabelle Jaeckle, Madison
Linda Jallings, Sun Prairie
Theresa Jensen-Hendricks, Baraboo
Roger Johnson, Prairie du Sac
Christian R. Johnson, Darlington
Michael Johnson, Denver, Colorado
Dr. Ron Johnson, Lodi and Madison
Victor Johnson, Evansville
K
Alex Kalfayan, Pleasant Springs
Jerald Kaminski, Deerfield
Lucetta Kanetzke, Madison
Michael Kauper, Middleton
Ald. Rebecca Kemble, Madison
Brian Kennedy, Richland Center
Patrick J. Kiernan, Colorado Springs, Colorado
Rick Kirkpatrick, Madison
Sanford A. Klein, Madison
Kathryn Klement, McFarland
Chris Klopp, Cross Plains
Martin Knapp-Cordes, Madison
Janice Knapp-Cordes, Madison
Eric Korbitz, Whitefish Bay
Jennifer Kowalkowski, Madison
Gary L. Kriewald, Madison
Jeff Kuchenbecker, Madison
Chris Kunkle, Sun Prairie
Cathie Kwasneski, Brodhead
L
Sharon Larson, South Beloit, Illinois
Nancy Larson, Mineral Point
Chris LaVallee, Brookfield
Merle Lebakken, Stoughton
Michele Leighton, Madison
Joseph T. Leone, Brooklyn
Paul Lindquist, League of Women Voters of Dane County
Thomas E. Lister, Middleton
Bruce Longfield, Middleton
Carmen Lopez, Winnipeg, Canada
Stephanie Lowden, Madison
Samuel Ludke, Wisconsin Rapids
M
You have free articles remaining.
Mike Malesevich, Brownsville
Dr. Daniel Malone, Madison
Kriss Marion, Blanchardville
Sen. Howard Marklein, R-Spring Green
Margaret Marriott, Madison
Kathleen Martens, Fitchburg
Jane McCurry, RENEW Wisconsin
Sister Maureen McDonnell, Madison
Dennis McGilligan, Madison
Terry McGinnity, Middleton
Michael J. McGoff, Brodhead
Natalie McIntire, Jamaica Plain, Massachusetts
Joyce McRoberts, New Glarus
Jonathan Mertzig, Madison
Nicki Vander Meulen, Madison School Board member
Susan Michaud, Black Earth
Jim Mikalson, town of Burke
Bob Milbourne, New Albany, Ohio
Cari Mitchell, Spring Green
Tom Mortenson, Detroit Lakes, Minn.
Stephen D. Morton, Madison
Debora Morton, Spring Green
Charles Mueller, Minnetonka, Minnesota
N
Frederick W. Nagle, Madison
Coreen Nelson, Naalehu, Hawaii
Aileen Nettleton, Madison
Kimberley Neuschel, Madison
Karissa Niederkorn, Madison
Russ Niesen, Cottage Grove
James Nilles, Cross Plains
Mariette Nowak, East Troy
Darlene Nowak, Mount Horeb
Kathleen Nussbaum, Middleton
O
Justin O'Brien, Mineral Point
Christopher O'Brien, Watertown
David Olien, Williamsburg, Va.
Patrick O'Loughlin, Madison
Patrick Osterbrink, Jefferson
P
Patrick L. Patterson, Mount Hope
Catherine Pearson, Madison
Beverly Pestel, Richland Center
Ralph Peters Jr., Fort Atkinson
Mary Peterson-Smith, Richland Center
Merrilee Pickett, Madison
Joanne Piepenburg, Madison
Stephen Piotrowski, Madison
Michael Pomeroy, Poynette
Martin A. Preizler, Madison
Q
R
Dennis Rahkonen, Superior
Elmer Redford, Fort Atkinson
Michael Reichert, Madison
Derek Reisdorf, Middleton
Steven Reusser, Eau Claire
Mary Rose Reynolds, Madison
William Richardson, Middleton
Todd Richmond, Platteville
Richard Riley, Columbus, Ohio
Robert Rittmann, town of Sun Prairie
Laurie Robertson, Madison
Patricia S. Rogeberg, Madison
Charlie Rogers, Cottage Grove
Timothy Rookey, Middleton
Vicky Rosenbaum, Mount Horeb
Roland Rosenkranz, Madison
William M. Rosensteel Jr., Pismo Beach, California
Naomi Rouse-Kugel, Madison
Ellen (Elena) Rulseh, Madison
S
Richard S. Russell, Madison
Diane Sagunsky, Westfield
Christopher Schaefer, Madison
Monsignor Roger J. Scheckel, Richland Center
Elaine Schenborn, Middleton
David Schendlinger, Middleton
Paul W. Schlecht, Madison
Terry Schmeckpeper, Onalaska
Glenn Schmidt, Sun Prairie
Christina Gomez Schmidt, Madison
Linda Schmitt, Sun Prairie
Steve Schmitt, Madison Mallards
Donald Schoechert, Montello
John A. Schrandt, Madison
Allan R. Schroeder, Oregon
Alison Schulenburg, Madison
Dick Schultz, Fort Atkinson
Robert Schultz, Darlington
James Schumacher, Eau Claire
Jared Schumacker, Madison
March Schweitzer, Madison
Karl Schwoerer, Belleville
Linda Serafini, Sun Prairie
Margaret Sherman, Beaver Dam
Daryl K. Sherman, Madison
S. Michael Shivers, Madison
Marilisa Sieczkowski, Madison
George Silverwood, Madison
Carl Sinderbrand, Middleton
Edna Slayback, Richland Center
Connie Palmer Smalley, Madison
Mary Smith, Richland Center
Alan Smithback, Cottage Grove
Myrna Sokolinsky, Madison
David J. Spengler, Madison
Jeff Spitzer-Resnick, Madison
Bill Spofford, Platteville
Larry Gundlach Sr., Cottage Grove
Robert Stanley, Middleton
Joe Stauffacher, Platteville
Mark Stauffer, town of Lisbon
Georgie Stebnitz, Madison
Mark Steingraeber, La Crosse
Michelle Crean Stellner, Madison
Hunter Stephenson, Madison
Lianne Stephenson, Madison
Gerald C. Sternberg, Madison
Terrance Stewart, Madison
Kathleen B. Stilling, lawyer
Chuck Stonecipher, Monona
Mary Subkoviak, Middleton
Gene Summers, Black Earth
Robert Sundquist, Madison
Marilee Sushoreba, Madison
Edith Sylvester, Middleton
Luke Szczykutowicz, Madison
T
Rep. Chris Taylor, Madison
Ellen Taylor-Powell, Madison
Margaret Teeters, Ellicott City, Maryland
David Teiwes, Richland Center
Carol Thiel, North Freedom
Richard Thies, the Villages, Florida
Chuck Thompson, Dairyland Power Cooperative
Donald J. Thompson, Edgerton
Rhiannon Tibbetts, Madison
William H. Tishler, Fitchburg
Mary Beth Tomlinson, Madison
John Torgerson, Wisconsin Dells
Neil Traubenberg, Sun Prairie
Gary Tribbey, Sun Prairie
Rev. Frederick R. Trost, Sheboygan
Diane Michalski Turner, Madison
U
Charles Uphoff, Fitchburg
Marilynn Uselman, DeForest
Rev. Nick Utphall, Madison
V
Jacob Valentine, American Transmission Co.
Katherine van Wormer, Madison
Scott T. VanderSanden, AT&T Wisconsin
Nancy Vedder-Shults, Madison
Taylor Vehlow, Reeseville
Jeff Virchow, Prairie du Sac
Thomas Virgilio, Cross Plains
Nancy (Schumann) Vogt, Sun Prairie
Donna Vukelich-Selva, Madison
W
Sharon Wachholz, Middleton
Kenneth Wade, Blue Mounds
Joyce Hasselman Waldorf, Madison
Ella Wapneski, Sun Prairie
Douglas K. Ward, Middleton
S.A. Welch, Fort Atkinson
Danielle Wendricks, Madison
David R. Westbury, Madison
Sandy Whisler, Lake Mills
Tim White, town of Springdale
Scott Whitney, Platteville
Lt. Col. Frances Wiedenhoeft, Madison
Kyle Wiegand, Sun Prairie
Thomas Willan, Cottage Grove
Dr. Brian Williams, Madison
Bill Windels, Cross Plains
Mark M. Wohlferd, Middleton
Richard Wood, Cottage Grove
Y
Duane Yanna, Mineral Point
Ronald Youngbauer, Boulder Junction
Z
Deborah Zdinak, Belleville
Allegra Zick, North Freedom
Kay Ziegahn, Richland Center
Steven B. Zwickel, Madison