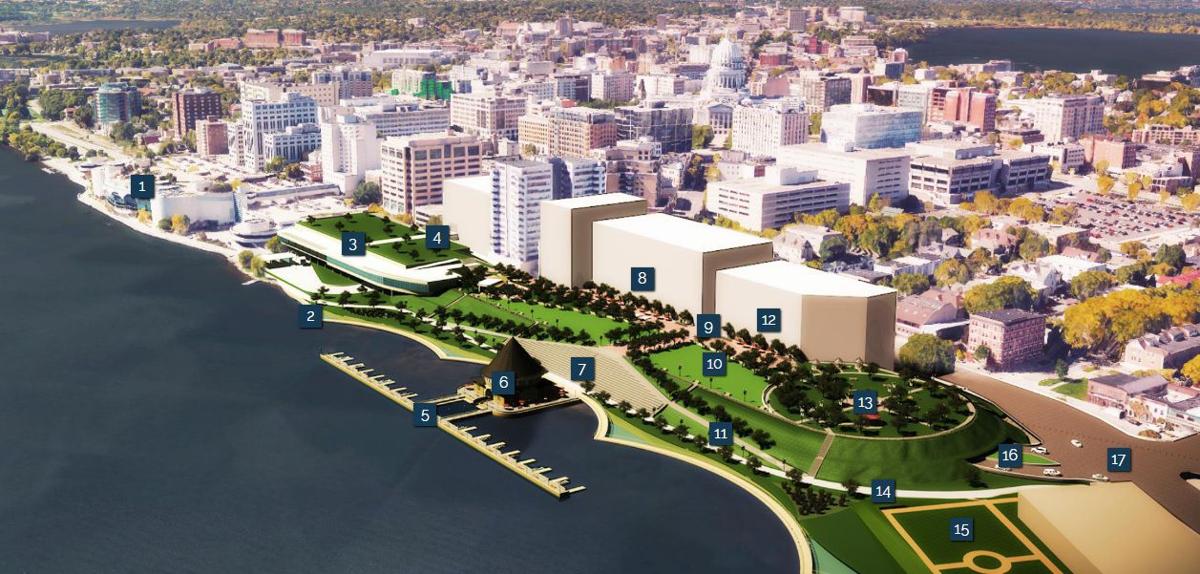 A bold and exciting plan for Downtown Madison's lakefront is getting a boost, with the Madison Community Foundation announcing a $27,500 grant Tuesday to study its feasibility.
The money and momentum for the Nolen Waterfront Plan are most welcome.
A team of Madison design professionals has been working for free on the proposal in recent years, based on the vision of famed city planner John Nolen more than a century ago. The Nolen Waterfront Plan would transform the Lake Monona shoreline from Monona Terrace to Machinery Row into a nine-acre park built over John Nolen Drive, a boardwalk, a Frank Lloyd Wright-designed boathouse, expanded Monona Terrace meeting space, and much better public access to the lake from Downtown.
It would dramatically improve Madison's urban landscape, attracting visitors and improving the city's quality of life that's so important for attracting talented people to contribute to our regional economy. The planners also highlight private development opportunities nearby.
We look forward to the findings of the engineering study, and we urge the public and elected officials to keep their minds open and feedback constructive.
The big questions, of course, will be the proposal's cost and how to pay for it. But for now, dreaming about Madison's future and figuring out if this idea is doable should be the main focus.
The Madison Community Foundation, which manages $218 million in charity funds and awards about $10 million a year, has a long and impressive track record of pushing ahead major civic projects. The foundation gave the first $1 million to help build Monona Terrace. It funded a planning grant for Central Park and helped form the Clean Lakes Alliance, which is improving Madison's lakes.
We hope the Nolen Waterfront Plan, or something like it, becomes another success story.
The foundation's $27,500 award to the Madison Design Professionals Workgroup is the first of several gifts it plans to announce each month as it celebrates its 75th anniversary. Congratulations to the foundation for its longevity and good work.
The design group includes architects Tim Anderson and Doug Kozel, historian David Mollenhoff, civil engineer Fred Klancnik, designer Mark Schmitz and others. If the engineering study suggests their vision is feasible, the group hopes to secure funding "that will not impact Madison taxpayers," according to its website: www.nolenwaterfront.org. Yet the public would benefit from a large new park, concert space, boat docks and other amenities.