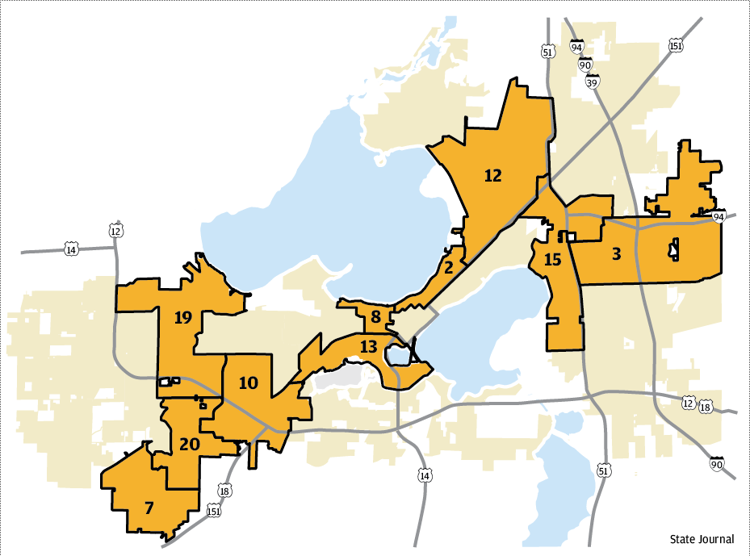 Nearly half of the Madison City Council will turn over this spring, regardless of the outcome of the April 2 election.
That's because nine of 20 incumbents are leaving office, and a 10th incumbent has only been serving a short time after being appointed to the job. So more voters will have a choice in who represents them as the capital city continues to grow and diversify. Pressing concerns include affordable housing, public safety, transportation and racial disparities.
The State Journal editorial board interviewed — in person — nearly 20 candidates for City Council in recent weeks. We recommend the following candidates pictured below. We believe they are best able to serve their districts with distinction.
Patrick Heck A climate and weather researcher at UW-Madison, Heck understands the science and impacts of flooding well. High water threatened his Isthmus neighborhood last summer. He wants to lower lake levels and increase the flow of water out of the Yahara watershed, which makes sense. His disarming personality should help him advocate for more affordable and denser housing while respecting concern for historic neighborhoods. Heck has served on city committees, says he's "into zoning minutiae," and represented the Tenney-Lapham Neighborhood Association on development issues. That's a lot of knowledge and experience. He's not against officers in schools, which we like, and was impressed by the cops he met in the police department's community academy, which he graduated from. Heck's opponent, Jim White, an office manager and UW-Madison student, is energetic and offers strong priorities, too. Like most residents in this district, he's a renter, and like many, he's a millennial. But Heck's broader background, deeper involvement in the district and balanced approach to governing make him the better choice.
This Madison native is running on what she calls a "realistic platform" with "doable ideas." That includes pushing hard to make something happen on the site of the former Sentry grocery store along Cottage Grove Road. She likes a mixed-use development being proposed there. Lemmer also is concerned that roads aren't keeping pace with development in and beyond her Far East Side district, creating heavy and dangerous traffic. She wants to encourage more market-rate and affordable housing. She favors better transit options. Better lighting and more activities and training opportunities for young people could help improve public safety in her district, she said. Lemmer, who has a degree in communications and an MBA, pledges to improve communication with constituents and scrutinize city finances. Her opponent, Michael Cerro, is a Madison native and engineer with solid priorities, too, including better emergency services and enhanced public recreation. But Lemmer is running a more spirited campaign and seems more prepared for the job.
A law firm administrator and community volunteer, Moreland is one of the most impressive candidates we interviewed this election cycle. She has served on city committees, is well-versed on pressing issues, and speaks passionately about her desire to give back to the city where she has found opportunities and success. She wants to prioritize public safety in her Far Southwest Side district, and is a strong advocate for mounting cameras on police officers for greater transparency and accountability, especially given incidents across the country of unarmed black men being shot. "The cameras tell a story," she said, "and if used appropriately, they get us closer to the truth." She's concerned about young professionals and lower-income families being unable to afford housing in Madison. She wants to improve communication with and connect "people who don't feel they have a say in anything" to community resources. Unlike a lot of candidates in Madison, she talks about improving government services and personal responsibility. Her opponent, Badri Lankella, has been out of the country in recent weeks, making it harder for the public to assess his campaign. Moreland is more engaged and an easy choice for election.
This impressive UW-Madison student is majoring in political science and urban planning, and will represent this campus-area district well. He said he pays about $950 a month to share a dorm room and will advocate for more affordable student housing options. He'd like to engage fellow students with a campus neighborhood association. Along with his supporters, he's knocking on thousands of campus-area doors to gauge student concerns and encourage involvement in city issues. Noting that UW-Madison police — unlike officers who work for the city — wear cameras on their uniforms, Mitnick agrees with the goal of greater transparency around government functions. Mitnick is a strong advocate for faster, more efficient bus service for students and other citizens across the city. He pledges to be available to speak with constituents at designated times every week. He'll update his blog, hold quarterly town hall meetings and send twice-weekly emails to constituents about city decisions affecting them. We especially like his open-minded and nonpartisan approach to public service. His opponent, Avra Reddy, may be eager and smart. But Mitnick appears more committed to the job.
District 10
You have free articles remaining.
Register for more free articles
Stay logged in to skip the surveys
This stay-at-home dad is a polished candidate and heavily involved on the West Side, serving his neighborhood association and other community groups. He also has created a popular organization for fathers who primarily care for their children. The father of two boys, whose wife works at UW-Madison, previously was employed in the banking industry, served in the National Guard, volunteered as a firefighter and EMT, and took young people on wilderness trips, which broadens and informs his perspective. Henak would protect parks and open spaces. He wants faster bus service, but also better inter-city transit. He offers creative ways to get more people involved in decisions, such as creating a cheat sheet for citizens showing them how to read city meeting agendas. Henak thinks Westgate is ripe for a tax incremental financing district to spur positive development. He's concerned that many constituents south of the Beltline feel isolated. His opponent, Kristin Johnson, a career consultant and mother of two, is ready to serve, too. She's personable and on top of many issues. But Henak offers more specific goals with lots of ideas on how to achieve them.
This Pakistani immigrant has lived in his North Side district for only a few years, but his community involvement during that time and his enthusiasm for public service are impressive and contagious. An expert in energy-efficiency projects, Abbas makes a convincing case that more efficient buildings can hold down housing costs. Noting that a recent bus ride took him more than an hour to travel 3 miles, he also will prioritize faster, more direct routes that appeal to more people. Abbas has served on public safety and economic development committees, including one that explored the future of the defunct Oscar Mayer plant. He'd like to encourage local businesses to expand or move to the site, with opportunities for food companies and a hotel to serve the nearby airport. A former journalist, Abbas is well-informed and understands the need for open government and clear communication with constituents. He's open to testing body cameras on police officers on the North Side so the public has more ability to see what police are doing. As an immigrant who has lived around the world, he said he's accustomed to taking on challenges without preconceived notions for how problems should be solved. His opponent, Diane Farsetta, is an impressive and involved candidate, too. She'd do a fine job. But Abbas is more driven to find creative solutions and opportunities for the North Side and larger city.
District 13
As president of the Dudgeon-Monroe Neighborhood Association, Hoffert has taken some tough yet noble positions, such as trying to find a reasonable compromise amid the acrimony over Edgewood High School's desire for a lighted football stadium with limited games and hours. Hoffert also brings a sense of urgency to the need for affordable housing, and pledges to build consensus around — and fight for — projects on Monroe Street and elsewhere in his district. More affordable housing will help deter segregation along racial and economic lines. Hoffert offers strong leadership to make Madison the inclusive city it says it wants to be. "If we don't deal with this quickly," he says, "Madison is going to lose its sheen." A technology trainer with degrees in public policy and engineering, this Madison native will bring an open and analytical mind to difficult challenges such as homelessness and transportation. His opponent, Tag Evers, a concert promoter with business smarts and degrees in economics, would make a fine alderman, too. He's thinking big about how to tackle stubborn racial disparities across the city. But Hoffert's passion for pragmatic solutions should give him the edge.
This retired health-information director and bicycle enthusiast is engaging and thoughtful about how best to serve his East Side district. He wants to address neighborhood issues, such as slowing down speeders on residential streets. He also wants to balance concerns about development pressure along Milwaukee Street with the need for more density and affordable housing. The city needs faster, more efficient transit to help handle its growth, he convincingly says. He makes a good point that affordable housing often is misunderstood as being only for the poor or homeless. In fact, he says, many people already living in the district would qualify for affordable units, and Madison needs more places for young professionals and working families to live. Foster's opponent, Angela Jenkins, is eager to serve. We like her, too. But her claim that Foster is a one-issue candidate — focused on bicycling — doesn't ring true. He's on top of a slew of pressing concerns in his district, and is the better choice. "I'm almost at risk of being the opposite," Foster says. "I'm interested in everything."
A former technology executive who lives on the West Side, Furman is committed to keeping his constituents informed. He was appointed to fill a vacancy on the council seven months ago, and already he counts 1,600 subscribers to his blog. He also holds twice-monthly meetings at libraries or coffee shops that are open to anyone who wants to share their concerns. Furman has strong priorities, including good roads, affordable housing, public safety, better transit and smart growth. Having owned a small business, he understands tight budgets and the need to focus on customers. His opponent, Allison Martinson, notes that Furman was appointed with the understanding he wouldn't seek election this spring when his term expired. That's a fair point. Martinson also touts her perspective as a working mom, saying she's made it through hard times and wants to help others in tough situations. Furman, though, has an impressive command of many diverse issues facing the West Side and city. He's thoughtful, well-informed and seems good at pulling people together, without caving to the loudest voices. He's off to a strong start and should continue to serve.
This active volunteer has served on his neighborhood association board, in leadership at the Latino Chamber of Commerce, and on municipal and county panels overseeing public safety and the arts. Now he's ready to take on a larger role in public policy by joining the City Council, with lots of support from local office holders. A Meadowood resident in this Southwest Side district, Albouras is prioritizing public safety — including keeping a police officer in each city high school, attention to break-ins, and pedestrian safety — and more activities for young people and families. A business development specialist for a credit union, Albouras is excited by Exact Sciences opening nearby, and says this mostly residential district will benefit from the economic impact and jobs. We like Albouras' opponent, Erica Janisch, too. Her no-nonsense style and sharp points, mixed with a sense of humor, could help inform the Madison establishment about how Madisonians outside the tony neighborhoods live and view the city. She brought up issues many candidates seem afraid to talk about in blunt ways, such as juvenile crime and homelessness Downtown. But Janisch is too quick to dismiss Albouras' involvement with community groups. Albouras also would bring a Latino perspective to the City Council, which is lacking that voice. He's more on top of city issues and prepared.