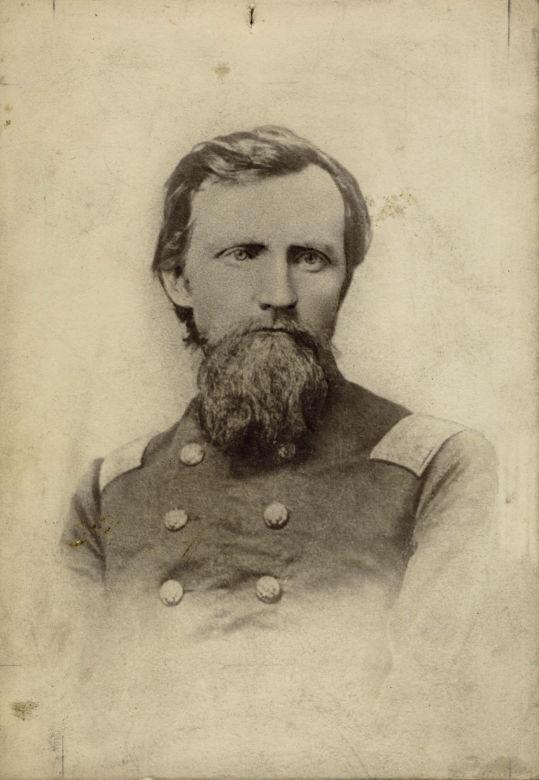 If you're lonely or sad this Christmas because the pandemic has kept you from gathering with loved ones, let Hans Christian Heg cheer you up.
Heg was the Wisconsin abolitionist and Civil War hero whose statue was toppled on the state Capitol grounds last June in Madison. Rioters didn't seem to know or care about Heg's noble life when they dismantled his bronze likeness and threw it in Lake Monona.
But Heg, whose statue is being restored and reinstalled, can teach us a lot about the spirit of Christmas and making the most of difficult times.
Heg was colonel of the 15th Wisconsin Infantry, which trained at Camp Randall in Madison before heading south in 1862 to fight for the Union Army. More than 12,000 Wisconsin soldiers — including Heg — gave their lives to help preserve our nation and end slavery.
On Christmas Eve, 1862, Heg sensed a bloody battle was imminent as he wrote to his wife, Gunild, from his military camp near Nashville, Tennessee. He had marched several miles with his men that morning before being abruptly ordered back to camp.
"There is no doubt but that there will be lively times here pretty soon," he wrote.
The soldiers missed their families and were homesick. A nearby group of Union soldiers from Ohio "gathered about the camp fires during the evening hours with abortive attempts at merriment, soon to be given up, and then to talk in whispers of friends and family and home," Col. Charles Manderson of Ohio wrote at the time.
But the jovial Heg refused to surrender to despair. It was Christmas Eve, and his troops were invited to dinner at a nearby schoolhouse where Union officers were staying.
Evers also has asked the State Capitol and Executive Residence Board to consider a new statue on the Capitol grounds of the late Vel Phillips, Wisconsin's first Black secretary of state.
"I have just returned from the party," Heg wrote to his wife later that night. "We had a nice little time. The best fun was got up by me, getting one of the boys dressed up in women's clothes, and coming into the house just as if I had a lady on my arm. Dr. Himoe (the brigade surgeon) also had the same kind of a woman with him, and we kept the house roaring for a good long time. The boys — including myself — have had a jolly Christmas Eve. It does not seem to make much difference, even if there is a prospect of fighting soon. The men are in good spirits — and as jolly as ever."
Heg had orders to move the next morning, he wrote, and "where we are going, no one knows," other than their commander.
They were going with more than 40,000 Union soldiers to what became known as the Battle of Stones River, about 30 miles south of Nashville. During three days of battle starting New Year's Eve, 1862, Heg's regiment lost more than 100 men, and the Union Army lost nearly 1,700. According to the Wisconsin Historical Society, Heg's horse was "shot out from under him, and his general called him 'the bravest of the brave.'"
Heg and his men chased Confederate soldiers through Tennessee to Alabama and Georgia, where on Sept. 19, 1863, Heg was shot in the abdomen while charging on his horse. He died the next morning.
His last Christmas was that rollicking party at the schoolhouse near Nashville.
"I am taking good care of myself," he wrote to his wife that Christmas Eve when he returned to his camp. "And if a bullet should not hit me, I have not much fears about standing anything else that is to come."
"I should like to fill my sheet — but I must have a little sleep and I must close," he concluded in his letter. "It is Christmas tomorrow. I wish you all a merry Christmas — and a happy New Year — and I shall hope to spend the next Christmas with my Dear wife and little ones.
He didn't make it back. Yet he lived an adventurous and honorable life, crossing the Atlantic at 11 years old with his Norwegian immigrant parents in 1840, panning for gold in California from 1849 to 1851, returning to Wisconsin to run his family's farm, serving in local government, joining the Republican Party that nominated Abraham Lincoln for president, and running Wisconsin's prison system as a reformer who emphasized vocational training over punishment.
And he brightened Christmas for his Wisconsin soldiers at one of their darkest hours.
This Christmas, remember Heg's merriment and make it part of your own, even if you can't hug your loved ones.