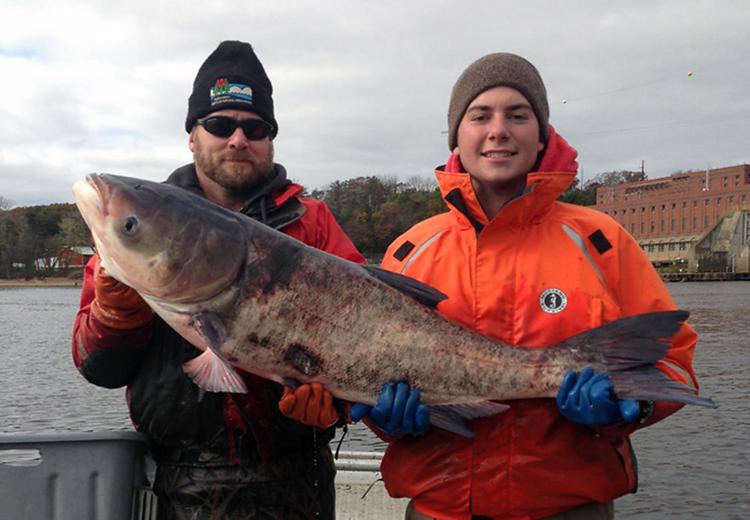 Illinois is worried that elaborate new barriers to stop Asian carp from invading Lake Michigan will bog down cargo shipping in its busy canals.
The health of the Great Lakes is far more important to all of the Midwest and Canada than the parochial economic interests of shipping companies in greater Chicago.
Wisconsin Gov. Scott Walker, Attorney General Brad Schimel and other leaders across the Midwest should resist any attempt by Illinois to weaken the Army Corps of Engineers' plan to protect the world's largest group of freshwater lakes from voracious Asian carp, which would decimate native fish species.
The Army Corps proposed a $275 million plan last year to shore up the Brandon Road Lock and Dam along the Des Plaines River near Joliet, Illinois. The plan calls for electric barriers, noisemakers, water jets and chemicals to block the carp and other invasive species from swimming upstream to reach Lake Michigan.
Illinois officials last week worried the plan was too disruptive of cargo that moves along its canal system. Illinois Gov. Bruce Rauner said he wants to negotiate changes to the plan with other states.
Wisconsin should resist that bad idea.
Remember: An Asian carp was found last summer just 9 miles from Lake Michigan after somehow getting past several electric barriers.
You have free articles remaining.
Register for more free articles
Stay logged in to skip the surveys
OUR VIEW: Madison region is 30 percent of the way to its goal of reducing the algae-feeding nutrient, with lot of work still to come
So if anything, the Army Corps' plan should be strengthened. Ideally, a permanent separation between the Great Lakes and Mississippi River basins should be restored. Systems to transfer barge loads around barriers might add some time and expense to shipments. But that's far less cost and hassle than the Asian carp will be if it reaches the Great Lakes and spreads inland.
Already, five Asian carp — which can grow as large as 100 pounds and crowd out native sport fish — have been found in the Wisconsin River. Luckily, a dam near Prairie du Sac, about 40 miles northwest of Madison, prevents the aggressive invader from moving farther upstream.
A similarly effective barrier is needed to stop Asian carp from getting through Chicago's canals to spread across the Great Lakes.
Illinois has far less urgency to do something significant because many stretches of its rivers are already infested. Asian carp, which escaped from Southern fish farms decades ago, have virtually eliminated native species such as walleye and bass in parts of Illinois' waterways.
Wisconsin and the rest of the Midwest can't let that happen here.
Wisconsin joined Michigan, Ohio and the Canadian province of Ontario in an offer to help pay for maintenance of a gauntlet of devices and barriers in the Chicago canal system. Those states and the province represent more than 90 percent of the Great Lakes' surface area, according to the Associated Press.
But the Army Corps ruled that Illinois must participate, prompting Rauner's call for negotiation.
Wisconsin must stand strong against any attempt by Illinois to weaken protection. Too much is at stake for the health and vitality of our natural waterways to surrender now.