Make that six Republican lawmakers who now support the good-government bill to end gerrymandering in Wisconsin.
The number keeps growing, creating bipartisan momentum for fair voting districts following the 2020 census.
Congratulations and thank you to Reps. Loren Oldenburg of Viroqua, Jeff Mursau of Crivitz, and Joel Kitchens of Sturgeon Bay for adding their names to Assembly Bill 303. They join Reps. Todd Novak, R-Dodgeville, Travis Tranel, R-Cuba City, and all Democratic lawmakers in cosponsoring this important legislation, which mirrors Iowa's proven model for nonpartisan redistricting.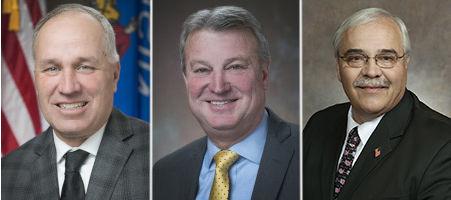 Another lawmaker, Rep. Joe Plumer, R-Lodi, has repeatedly told the State Journal he supports AB 303. Other Republicans have expressed openness to this fair process for redrawing legislative and congressional districts to reflect population changes.
Instead of the politicians shaping voting districts for political advantage following the census, AB 303 would assign this once-every-decade task to the nonpartisan Legislative Reference Bureau. That's similar to Iowa's process, where the two political parties have agreed for decades to let a nonpartisan state agency draw neutral maps.
A collection of State Journal cartoonist Phil Hands' favorite cartoons about gerrymandering in Wisconsin. 
Iowa saves its taxpayers millions of dollars in legal bills because the two political parties don't fight over districts in court. Iowa's maps also have produced more competitive elections, which hold incumbents of all stripes more accountable to voters. Iowa requires its districts to be compact and to follow municipal and county lines as much as possible, without consideration for political advantage.
Mursau asked his constituents in northeastern Wisconsin last fall what they thought about the issue in a legislative newsletter. He subsequently reported that 78% of respondents said the bill was a good idea, while only 6% thought it was bad (the rest were unsure).
On this week's political podcast, Milfred and Hands travel to the Fiserv Forum in Milwaukee and the site of the Democratic National Convention this July. Forget about Florida. This time around, the election comes down to "Wisconsin, Wisconsin, Wisconsin."
"After reading the comments and responses from last week's question and looking over the bill," Mursau wrote, "I've decided to add myself as a co-sponsor."
Good for him — and for all those supporting AB 303.
The response from Mursau's constituents isn't surprising, given that more than two-thirds of Wisconsin's counties have passed resolutions opposing partisan gerrymandering. And nearly three-quarters of respondents to the statewide Marquette Law School poll have said they favor the Iowa plan.
Democratic Gov. Tony Evers in on board, and a bipartisan majority of the GOP-run Legislature is getting closer to reality. Please contact your elected officials. Tell them you want AB 303 to become law this session.
An elder statesman of Wisconsin politics and the Republican Party wants to change how voting districts are drawn to reduce partisanship at the…
OUR VIEW: He wants to fight in court for partisan advantage, but Iowa's model is best