A collection of recent letters to the editor published in the Wisconsin State Journal.
Add railing to all of Camp Randall -- Jennie Larson
I was appalled that UW-Madison will be doing a trial on railings in four sections at Camp Randall. Why are they doing a trial run they know the railings are sorely needed?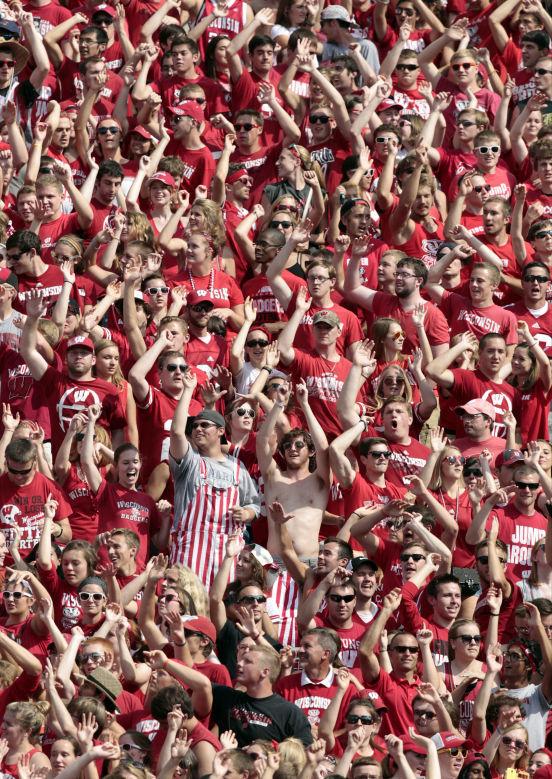 This only delays safety for fans who have to get on their hands and knees to get to their seats. How disgusting.
UW is not being realistic nor concerned with fans. Railings should be added throughout Camp Randall.
Jennie Larson, Madison
Closed captions can help kids read -- Joseph Swinea
I would like to call attention to a free, underused service found in nearly every parent's home that can significantly improve the ability of children to read: Closed captions, or same-language subtitles.
Available on nearly every television and DVD, subtitles have been shown in study after study to significantly improve word recognition skills for children of all ages. For example, a five-year study of nearly 20,000 people in India found that regular exposure to a weekly karaoke television show with subtitles "doubled the percentage of children who became good readers and halved the percentage of children who remained illiterate."
Another example of the benefits of same language subtitles can be found in Finland, whose children regularly have among the highest reading scores in the world. Pasi Sahlberg, an author, educator and former Finnish minister of education credits the country's requirement that children's shows be captioned as one of the three major factors for Finland's academic success.
When it comes to raising children who love to read, there is no substitute for reading aloud to children frequently, allowing them to see you reading for pleasure, and providing them with ample amounts of high quality, interesting books they will enjoy. Parents looking for another way to support their children learning to read may also want to consider using closed captions and subtitles whenever possible.
Joseph Swinea, Madison
Debate needed on population growth -- Chuck Litweiler
Friday's letter to the editor "America isn't close to full" said we should keep taking in many more immigrants because our population density is less than that of most other countries and we need hardworking, taxpaying people.
President Donald Trump on Sunday claimed, "Our country is full!"
This implies that a higher population will lead to more prosperity for all of us. Most Scandinavian countries have lower densities than we do. Their living standards are high, and they have less income inequality than we do.
The immigration debate is always reduced to money alone. I grew up in the '50s and '60s when the U.S. population was about half what it is today. My father was a student of nature. Then I could still get inspired and motivated by the outdoors.
Seldom does the media investigate the links between the social and environmental problems we face and the numbers of people we import. Dealing with our problems should not be reduced to whether a person is for or against President Donald Trump.
After all these years we have not had the debate we need on population growth.
Chuck Litweiler, Madison
2020 election won't be like April 2 -- Mark Quinn
I take issue with last Sunday's State Journal's guest column, "Hagedorn win shows Trump voters are fired up," written by Kelly Ruh, a Republican Party official, who touts Brian Hagedorn's victory for our high court as a precursor for the 2020 elections.
Ruh apparently misunderstands there are elections, and then there are elections.
The April 2 election, unfortunately, did not grab enough people's attention. Too often, independents, Democrats, young people and minorities do not show up for all elections. This is the principle reason Republicans still control the state Legislature despite their unpopular financial and social views. Well, that and extreme gerrymandering. But Republicans, when roused up, do usually show up on voting day.
You saw a respectable turnout in Madison this election mostly because of the mayoral race. Unfortunately, you only saw about 21% turnout in Milwaukee. Last November, we saw a better statewide turnout because Democrats saw a chance to oust Gov. Scott Walker. And the Democrats won, taking all the statewide elected races.
In 2020, President Donald Trump will indeed be on the ticket, and that alone will be a driving force for a healthy turnout to deny this unpopular president his re-election.
Mark Quinn, Madison
Let bars profit from selling pot -- Dennis B. Appleton
Advocates for legalizing recreational marijuana in Wisconsin still face an uphill battle, despite increased public support for the idea.
The biggest stumbling block is the Republican-controlled state Legislature. The simple and effective way to overcome that obstacle is to make it legal for bars to sell pot.
The Tavern League of Wisconsin has long had state politicians under the thumb it uses to stymie any attempt to curb dangerous excessive drinking and strengthen penalties for drunken driving.
But if bars were allowed to profit from marijuana sales, they'd use that thumb to force the politicians to change their tune faster than you can say, "make it a double."
Dennis B. Appleton, Madison