Your letters to the Wisconsin State Journal: Students learned a lot from climate strike
From your letters to the editor: "If you do not believe in climate change, that is your right. But these young people were exercising their First Amendment rights of speech and assembly. They should be allowed to do so. It is civic engagement."
Students learned a lot from climate strike -- Jared Schumacker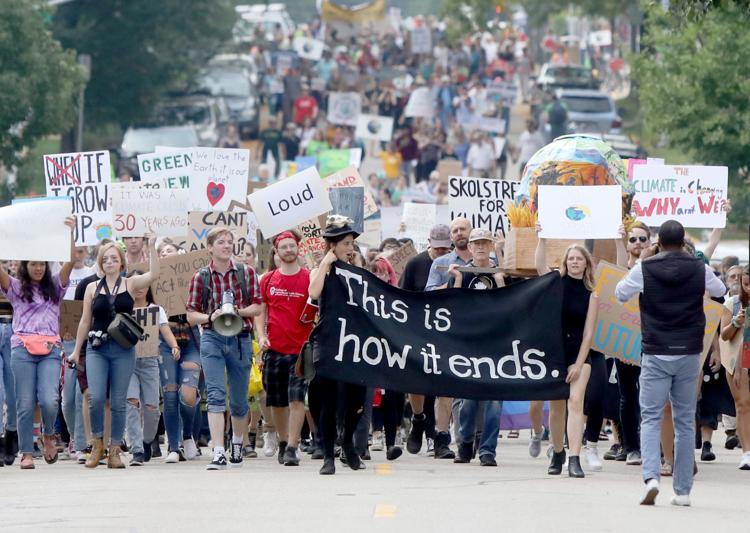 A recent letter to the editor contended that the student climate strike distracted students and was a threat to learning.
I could not disagree more. I worked with many of the young people who organized this strike, and I was very impressed with them. Being part of a movement such as this takes courage. Assembling large groups of people requires organization. Targeting your message to get across what will most impact the crowd requires critical thinking.
Some of the members of the Youth Climate Action Team were as young as 14 years old. To take one night per week for about two months, and one Friday where they missed school, for something as important as the climate crisis is well worth the sacrifice of learning geometry for a day. Several of the organizers attended the United Nations General Assembly in the days after, and you cannot get that kind of experience sitting in a classroom.
If you do not believe in climate change, that is your right. But these young people were exercising their First Amendment rights of speech and assembly. They should be allowed to do so. It is civic engagement.
Jared Schumacker, Madison
Let the Air National Guard have best equipment -- Robert Jensen, Oregon
Every so often or as needed, technology improves and changes things. Our fire and police departments, which are sworn to protect us, have benefited from improvements such as new firehouses, vehicles and computer systems.
So along comes a massive improvement in technology -- the F-35 fighter jets -- and some people are standing in the way.
Our local Air National Guard at Truax Field in Madison are sworn to protect us and the nation. They have been given the opportunity to upgrade their equipment so they can do their jobs better.
Yet some people are trying to stop it.
I grew up on Madison's East Side and had the honor to watch over 40 years as the National Guard's equipment became better and better. We are better off today due to improvements in technology. All of our emergency services are better.
How can we as a community attempt to stop our brothers and sisters at the Air National Guard from improving and having the best equipment to perform their tasks? This is a natural progression. We should embrace the opportunity and not take a step backward.
Politics has become a profession -- Philip Blackwell
We do not have a representative government. We have a professional government.
The primary concern of all elected officials at every level is to get re-elected. It is their livelihood -- their income, health care, pension, mortgage and children's college tuition. To get re-elected they must romance the rich -- not just the rich of their jurisdiction, but also the rich from everywhere else. They must appeal not just to people but also to corporations, which are defined as human beings for funding purposes.
Any issue, no matter how urgent -- climate change, gun violence, an unsteady economy, a zooming debt, the dehumanizing of immigrants, deep-seated racism, and betraying our allies -- is of secondary concern to staying in office.
The 2020 election will be crucial to the future of our country, but it will not fix this elementary flaw in our system of government.
Philip Blackwell, Whitewater
What would Proxmire do about the F-35s -- Preston Schutt, Madison
What would former U.S. Sen. William Proxmire of Wisconsin think about the F-35 fighter jet program?
Let's hazard a few guesses.
The Pentagon seems to deem the $1.5 trillion F-35 program "too big to fail." The military has spent so much money for so long on the project, Proxmire might create a Flying White Elephant award for going above and beyond his Golden Fleece awards.
Yemen's retaliation on Saudi Arabia shows that modern military technology is about being fast, small, low-cost and agile. The world has known for years that Russian radar can see stealth technology. The United States spends trillions on weapons that are already becoming strategically obsolete. But former Pentagon insiders and contractors are getting rich.
Proxmire might find that unpatriotic. He might question why so much discretionary spending is going to this project and ask Madison to make a stand.
Welcome F-35s to Truax Field in Madison -- Tracy Persinger
I have been following the stories about the F-35 fighter jets coming to Madison, and I am saddened by all of the negative responses.
It is an honor to have been the chosen city for F-35s. Madison needs the added revenue, and people can stop complaining that the noise will be a problem.
I live right by the airport and hear all of the air traffic every day. The noise will not change if it's an F-35 or an F-16, which we have now. Each time I hear them fly over, it still gives me goosebumps. I am proud they are nearby protecting us.
We have to get our future and current pilots trained to fly and maintain our newer aircraft. Look at the benefits we get besides the added security. Be proud to have this opportunity.
We were the chosen location. Honor our country by allowing us to be the best that we can be. I say, "Let them fly!" Truax needs an awakening. It has been dormant for way too long.