From your letters to the editor: "He was rude and disrespectful to the press and anyone who doesn't agree with him or the president."
Ron Johnson needs lesson in civility -- Mollie Elliott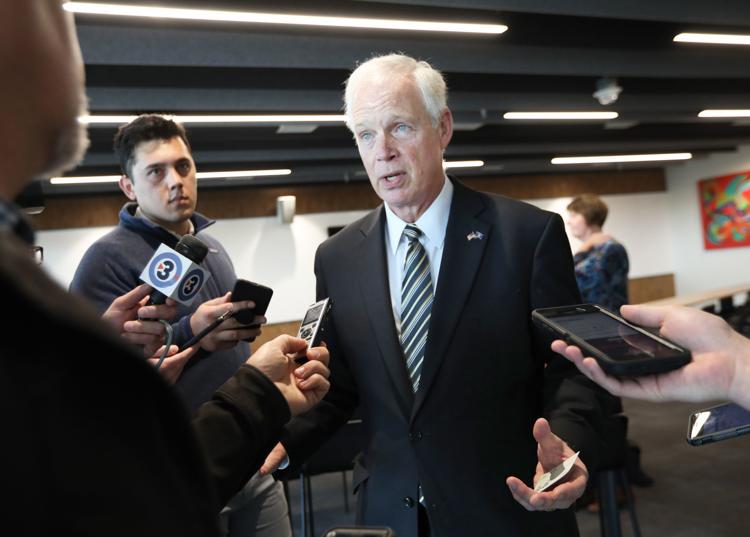 I watched a disgracefully performance by U.S. Sen. Ron Johnson, R-Oshkosh, on "Meet the Press" last Sunday.
He was rude and disrespectful to the press and anyone who doesn't agree with him or the president. Sen. Johnson is the representative of the people of Wisconsin, not President Donald Trump.
Let's have some civility from our elected officials.
Mollie Elliott, Sub Prairie
F-35s will ensure Truax's future -- Melody Schmitt
I live on the East Side of Madison. When I bought my home in 1999, I was aware of the location of the airport and the possibility of noise from planes and jets.
I understand some people in this community disapprove of the F-35 mission, and I am saddened that this has caused such turmoil. It is my understanding that the F-35 fighter jets are not much louder than the F-16s we have now.
I support this mission and am proud that I have a daughter who has made the United States Air Force her life career. I personally have seen the positive impact they have in our community. It is also my understanding more jobs will be available.
"Twenty new F-35 jets at Truax would add 64 jobs to the base, accounting for $1.8 million a year in local economic activity. Truax already generates more than $99 million in economic activity and supports more than 1,650 in-state jobs, according to a 2015 University of Wisconsin-Extension report."
The F-35 jets would add security to all jobs at the base. I feel it would be beneficial to Madison.
Johnson endangers intelligence groups -- Kevin Spitler
If U.S. Sen. Ron Johnson, R-Oshkosh, doesn't trust the FBI and the CIA, as he suggested on Sunday's "Meet the Press," then he should resign from the Senate Homeland Security and Governmental Affairs Committee (which he chairs) and the Committee on Foreign Relations.
These agencies, in concert with the rest of our national defense and intelligence infrastructure (in which I spent my career), provide reliable and well-vetted information to these committees and have kept the country safe since 9/11. Politicians such as Sen. Johnson and President Donald Trump imperil us all by undercutting their credibility merely to advance a political agenda.
Lives will be at risk when actions need to be taken based on their information, and then other government officials or citizens balk because these seeds of doubt have been sown by unscrupulous "leaders." If Sen. Johnson doesn't trust them, then make way for someone else who does.
I want our country to remain safe.