Your letters to the Wisconsin State Journal: Redistricting is a state decision
A collection of recent letters to the editor published in the Wisconsin State Journal.
Redistricting is a state decision -- Paul Browne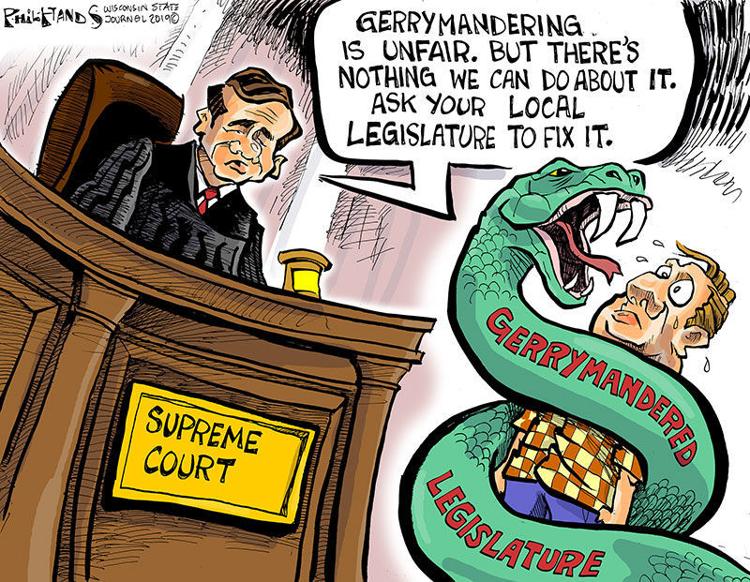 Regarding Phil Hands' June 30 cartoon about gerrymandering, does he not realize how important it was for the Supreme Court to decide to stay out of this issue?
The court properly stayed out because redistricting is the power of the individual states. Leaving redistricting to the states is the constitutionally correct thing to do. The federal government is already overstepping many areas that are the rights and responsibilities of the individual states. We don't want the federal government deciding everything. 
We, as citizens of Wisconsin, should decide these matters when we go to the polls. If we have a problem with something, then we vote people in at the state level to correct it. This includes gerrymandering and many other issues.
We do not agree on everything, but we have the right to vote to express our opinions -- that's the beauty of the United States. And it starts at the local level. Voting districts are ultimately decided at the state level, and the Constitution defends that.
To have the federal government decide this is to give away an important part of our own local and regional influence on our lives.
Fireworks aren't worth the harm -- John Hamilton
A shooting at the Shake the Lake celebration seemed inevitable. The combination of a large crowd, loud music, inebriation, and plenty of loud explosions is a brew for trouble. I'm surprised it took this long.
A question we might want to start asking is: Why do we need to have fireworks on July 4 -- or any other event, really? The ostensible reason -- defeat of the British empire -- has long passed from memory. We have our own empire now: The rest of the world. Or so we would have it.
No amount of fireworks would be adequate to commemorate the carnage our nation has spread around the planet since World War II ended.
We should now know fireworks kill birds and scare wild and domestic animals out of their wits. They also scare young children and cause flashbacks among combat veterans, many of whom hide from the noise. They also cause hearing damage.
We are a thrill-seeking nation. TV, video games, extreme sports, off-road antics, and speed boats aren't enough. We need explosions. Lots of them.
The shooter had the bright idea that no one would notice a few more. Let's bring back the human cannonball. That might satisfy.
School choice hurts public education -- Mark Quinn
In Sunday's State Journal column "Continue to lead on school choice" the president of the Bradley Foundation, Rick Graber, made a pitch for what is termed "school choice."
Many may think the term describes the idea that where a family chooses to live is based in part by the local public school system. But for conservatives like those at the Bradley Foundation, the term "school choice" means allowing people who view their local school system as inadequate to send their kids to a private schools (usually a religious school) with vouchers paid for by your tax dollars.
This started as a well-meaning social experiment in Milwaukee, which sent some students to a private school, hoping the change would improve their academic success. It's now turned into a wholesale effort by these conservatives and the Republican Party to expand school choice statewide. Not trusting our public schools, they desire have as many students attend these unaccountable religious schools as possible, setting up a two school system.
What is taught in these religious voucher schools is less well known even though the tuition is paid by our tax dollars. This takes money away from our public school needs. Separation of church and state doesn't apply here, but it should.
Building is a unique part of history -- John Danielson
I attended school there from 1956, when I entered Miss. Frish's kindergarten class, to 1963, when I completed Mrs. Wheeler's sixth grade class. Since I haven't been in the building since, I wonder what's left of the interior I remember, such as the impressive ramp where people could walk on a gentle incline from the first floor to the second.
Buildings older than this are continuing in a new life, such as the former Kennedy Dairy building on West Washington Avenue. The name "Kennedy" remains carved into the facade of that building. I hope this former school will also remain standing in a new life, especially since the exterior is so remarkably preserved.
I also hope that the new owner will consider revealing a part of the facade that was covered up when the school was renamed. The school's original name, "Washington," was carved into this unique piece of 20th century Madison history.