A collection of recent letters to the editor published in the Wisconsin State Journal.
Madison destroys rural environment -- Pete Papageorge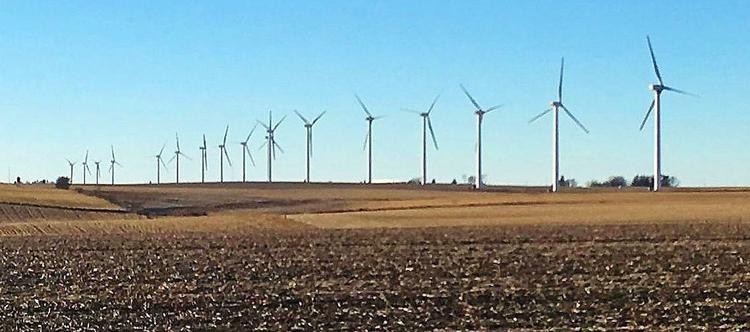 The green initiatives coming from Madison to place solar panels and wind farms in rural areas is just plain wrong and exploits our rural communities for the benefit of the urbanites.
Rural communities pretty much provide everything for the city dwellers, from the lumber products used to build their flats, to the energy, water and food on their tables. Now these same urbanites want to exploit our countryside with massive solar and wind farms destroying our rural habitat so they can enjoy more social media time on their 1984-style devices.
The question to ask is: Why can't solar and wind farms go up within the 77 square miles of Madison? What makes them so special and privileged that they do not have to sacrifice their natural beauty at the expense of rural folks?
Solar and wind farms should be placed throughout the city as a reminder of the energy they demand instead of just dumping them in the rural areas. City folks need to be reminded about the destruction they cause to our natural habitat.
Parents can teach kids about history -- Ryan Fox
Thank you for the comprehensive coverage of D-Day in Monday's State Journal.
What did you teach your children?
If you expect high school history teachers to teach them everything, 25 kids at a time, you are unrealistic. But I bet those children can sing the Oscar Mayer wiener song.
Ryan Fox, Prairie du Chien
Abortion is America's continuous sin -- Monsignor Roger J. Scheckel
If, as some claim, slavery is the original sin of America, then abortion is our nation's continuous mortal sin.
Abortion involves one family member deliberately killing another family member. This is the worst kind of evil, corrupting civilization at its foundations.
Let our governor know he should sign the bills proposed by the Legislature to limit this evil.
Monsignor Roger J. Scheckel, Richland Center
Fuel tax is the fairest solution -- Mike Andrie
I'm having trouble understanding why Wisconsin legislators think a tax on a car owner's registration is a better way to fund roads than an increase in the fuel tax? This registration tax lets two groups use our roads without increased funding from them -- namely, out-of-state drivers and the trucks that cause the most damage.
It makes me wonder who is pulling the purse strings, because fuel taxes are by far the fairest way to fund roads. Those who use the roads should pay for them. Are the representatives having their arms twisted by the trucking organizations?
Let us all demand fairer fuel taxes based on use, instead of shifting the taxes to people who do not use the roads as much.
Madison School Board must act to keep schools safe -- Allen Knop
The Madison School Board is responsible for the health and safety of all of the students. The board must decide if it takes that commitment seriously.
If it does, it should work with the police and have an officer in each school who is trained to work with children and teens. The board needs a sensible and workable discipline policy. This means staff must have the ability to restrain a student who is being disruptive.
The safety of all Madison students is at stake. The School Board needs to make some good decisions now.
Rules of the road keep cyclists safe -- Tawsif Anam
Bicyclists in Madison must ensure their own safety by following the rules of the road. Unfortunately, that is not always the case.
According to the Wisconsin Department of Transportation, bicycles are considered "vehicles" on the roads of Wisconsin. This means that, just like automobiles, bicyclists must follow traffic laws while being treated the same way, too. Safety is especially important for bicyclists because bicycles offer less protection for the riders than what a traditional automobile with airbags and other safety features provide to a driver.
When driving in Downtown Madison this weekend, I noticed four individual bicyclists at two different intersections not stopping at the red traffic lights. They rode their bicycles through the intersections, while automobiles were stopped at the lights and only moved when the lights turned green. I had seen similar instances before, and finally felt prompted to write about it.
Riding a bicycle is a great exercise, helps save gas and the hassles of parking. It offers a pleasant way to experience the city.
Madison recognizes this and offers designated bicycle lanes, bike racks and more. I hope that bicyclists, when taking advantage of the benefits, would recognize the importance of following all traffic laws to ensure their own safety.
Trump's China strategy is a disaster -- Russell Pope
I agree that China has committed unfair trade practices. That is not the real issue regarding President Donald Trump's actions.
Instead of barging ahead with sanctions and tariffs unilaterally, he should have worked with our allies to present a unified front. Unfortunately, in his mind the world revolves around himself.
His "America First" motto resonated with his base. But in terms of international trade, his actions have been a disaster. Unfortunately, he tends to respond to issues with his instincts rather than with reason.