Your letters to the Wisconsin State Journal: Ideas could improve area bus service
A collection of recent letters to the editor published in the Wisconsin State Journal.
Ideas could improve area bus service -- Allan R. Schroeder
Madison could do several things to improve bus service.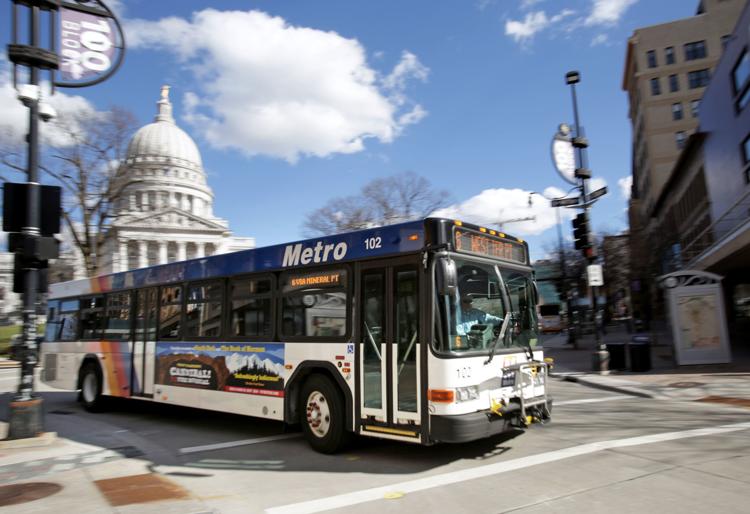 The first thing would be to give the control over to Dane County. This would allow service to areas outside of Madison without the negotiations required by the current system. The transfer points should also be enclosed and equipped with restrooms, because wait times can be more than just a few minutes.
I would also suggest at new shuttle route. Originating from the South Transfer Point at South Park Street and Badger Road, it would go west on Badger Road to Fish Hatchery Road. The shuttle should continue north to Park Street, then west to West Washington Avenue and around the Square, down State Street and then on to Langdon Street to the Memorial Union. From there, it could take Park Street all the way back to South Transfer Point. 
This route would include several destinations in the central city area and could also be a good location for a city bus depot. 
Allan R. Schroeder, Oregon 
Golf key to idyllic Madison childhood -- Terry McGinnity
I have fond memories of carefree summer days playing golf with adolescent buddies at Glenway and Odana Hills.
Delightfully, we ruled the public links during business hours with all the retired guys who treated us as if we were favorite grandsons. Glenway, in particular, was (and is) a perfect track for both the very young and those who have slowed down a bit. In addition, it was affordable for many to play every day through city membership rates. Importantly, the seniors stayed active, and we kids stayed out of trouble.
Sadly, the future is bleak for Madison's city golf courses because of continued financial losses. I understand that something has to bend, but my sincere hope is that Madison finds a way to preserve these community golf course treasures to the best extent possible.
I was blessed with an idyllic Madison childhood, and its wonderful public golf courses had a lot to do with it.
Terry McGinnity, Middleton
Honor flight was a special experience -- Art Carlson
What an honor it was to be on the Badger Honor Flight to Washington on April 20. 
Madison and the surrounding areas showed their best to us when we came back with a warm welcome. I am sure each and every veteran appreciated the large turnout to welcome us back home. 
Art Carlson, Spring Green
Congress must act on immigration -- Frank Fleres
I am outraged by the attitude of our members of Congress.
For decades, they have done nothing to fix the immigration problems. Now that it has become one of the biggest crises of our time, they still refuse to take any positive action. 
They are a disgrace. And they will shamelessly take their pay and pensions and live happily at our expense. 
Find creative way to reduce taxes -- Steve Abitz
Madison is considered a progressive city, but its property taxes are regressive.
My last assessment went up 10% despite no improvements for many years. Last year the neighbor's house sold for $140,000 more than it did 10 years ago. The city's gain is my pain.
Salary increases cannot keep up with these assessments. For those on pensions and Social Security, it's outrageous. It's stunning that property taxes were not part of the mayoral debate. We heard lots of talk about social justice, but for decades-long residents, who have contributed to this city in many ways, it's pay and then pay some more.
The lack of creativity from the city is disappointing. Instead of subsidizing low-income housing in infill developments, why not zone parts of the city as low-income development only? Why not require developers to pay a much larger portion of the city's infrastructure? How about a little good old-fashioned austerity? Every city vehicle I see looks brand new.
Mayor Satya Rhodes-Conway says she wants to make Madison affordable for everyone. There is no better place to start than fair and stable property taxes. That's progressive.
People's medicine should be legal -- Robby Ree
Marijuana needs to be legalized.
It is cruel, absurd and inhumane to prevent patients from accessing medicine.
I often see comments from prohibitionists telling people to leave the state over marijuana legalization. This is what it has come down to. We are going to allow citizens to be bullied out of their homes. People need this medicine and are at risk of being arrested for something that is legal across the border.
Perhaps life, liberty and the pursuit of happiness should be stricken from the Declaration of Independence, because people are not getting it anyway.
Climate change worst in poorer places -- Glen Ecklund
I appreciated the article "Study: Climate change widens world chasm," in the May 4 State Journal.
I have often thought that we are fortunate to live in Wisconsin, where we have enough water and it's not too hot. Climate change might not be as bad here as it will be in much of the world.
Sure, we already have ticks and insects migrating from the South, we are losing our brook trout and having more floods. Many other problems will be caused by warming. But as the article says, the worst effects of global warming won't be here. The hotter and poorer parts of the world will be hurt the most. Already, Nigeria, Brazil and India have suffered 25% to 30% lower GDP than they would without warming. Human cognitive performance and labor productivity will decline as it gets hotter. Crop yields will decrease.
Please call your senators and representative and ask them to support action to minimize climate change, such as the Energy Innovation and Carbon Dividend Act.