From your letters to the editor: "People on their own on the streets, who may have emotional or dependency issues, are not going to get better on their own without any support or guidance."
Homeless people need Housing First -- Craig Schultz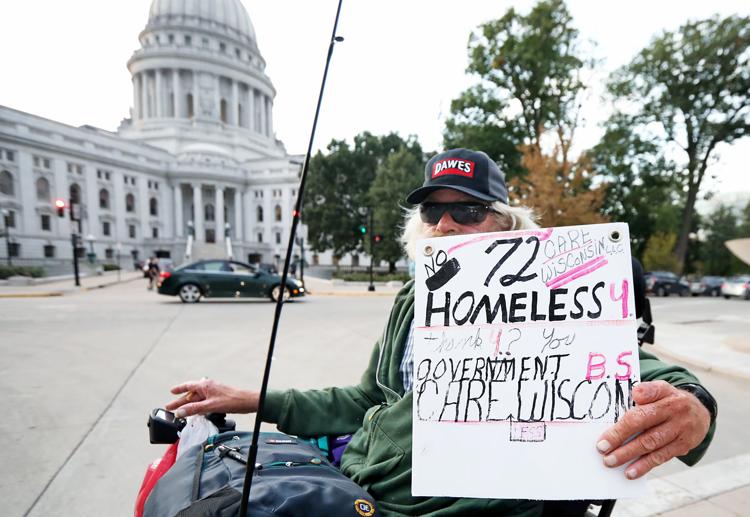 Housing First is really the only way to a safer and healthier community. I'm as conservative as they come, but conservative doesn't mean stupid.
People on their own on the streets, who may have emotional or dependency issues, are not going to get better on their own without any support or guidance. Though some may find the strength in themselves to get better, too many of them won't.
If folks aren't in an environment with access to emotional and psychological support, the vast majority are likely to continue on the path that they are on, and this is bad for the entire community. 
The only way people who keep falling through the cracks are going to be able to have a chance to become happy and productive members of society again is if they are in a housing environment where they can get the help they need. They can't wait to get the help they need until after they've already improved their lives. 
GOP needs to stop partisan power grab -- Dennis Baumann
When will the Republican Party of Wisconsin stop its continued "power grab" and follow the will of the voters?
Since the day Gov. Tony Evers was elected, Republicans have worked to reduce the powers of the governor's office. Now they want to curtail the governor's veto power. Why has it taken them eight years to do this? Could it be they no longer control the executive branch?
Please stop acting like the playground bully wanting to take the ball and go home and listen to the people of Wisconsin. We want you to work together with the other side for what is best for Wisconsin.
Our politicians need to grow up -- James Schwenn
After watching the Democratic presidential primary debate last week, I was disappointed with the so-called front-runners.
Listening to them was like watching a Charlie Brown cartoon when an adult was talking: bwah bwah bwah. Andrew Yang and Rep. Tulsi Gabbard, D-Hawaii, seemed more real and honest. But money talks in politics, and their chances are small.
News reports suggest that President Donald Trump called House Speaker Nancy Pelosi, D-Calif., a "third-rate politician," to which she responded to him, "I wish you were a politician ... ." Sounds like many politicians are still in kindergarten.
I admit I voted for Trump and probably will again. If the Democrats want to win, they need to stop playing into his game and be adults, which is apparently difficult. President Trump is controlling their immature actions.
These recent events are a strong reason for having limits in Washington. We need fresh and brave ideas. But when politicians have power for too long, they all seem to benefit themselves and their families financially. They all get richer with time in Washington. This really needs to stop so we can have faith in government again.
District mistreats minority workers -- Glenn Schmidt
The Madison School District's racially insensitive decision to fire a long-time employee who was interceding with an out-of-control high school student was wrong on many levels.
The decision gives that disruptive student bragging rights to claim he got security guard Marlon Anderson fired. This is about as corrosive as it gets to the atmosphere of the school.
Even worse, in what other job would working conditions allow for staff to be racially taunted and physically manhandled on a regular basis? The school district claims to be searching for more minority employees. Good luck with that if this is how it treats the ones it already has.
Glenn Schmidt, Sun Prairie
Community service can bridge divide -- Alyssa Ayen
If you grew up in a household full of headstrong individuals like I did, you know that bringing up politics can easily get out of hand. What starts as a quiet night of watching the news degenerates into conflict about the headlines.
While it's important to discuss climate change and elections, emotions running high never gets my family anywhere. Instead, we're left exhausted, upset and discontent, and we all feel like we've lost the argument in the end.
What's true for my family seems to be the case for the American public more broadly, too. Today's political leaders use polarization to build support for their agendas. This only serves to heighten our divisions, and it ultimately gets us nowhere.
To bridge the divide, why not start by doing something we can all get behind? Community service is a great way to meet your neighbors and work together toward a common goal. No matter how you feel about impeachment or what your thoughts are about the F-35 squadron proposed for Truax Field, we're all tired of being divided.
Give community service a try so we can start overcoming those divisions together.