A collection of recent letters to the editor published in the Wisconsin State Journal.
Glass tower won't be friendly to birds -- Pam Kahler
I was dismayed and disheartened to read that the Madison Plan Commission had approved plans for the 11-story "tower of glass" to be constructed on East Washington Avenue, sending a clear message that the city of Madison does not care about birds.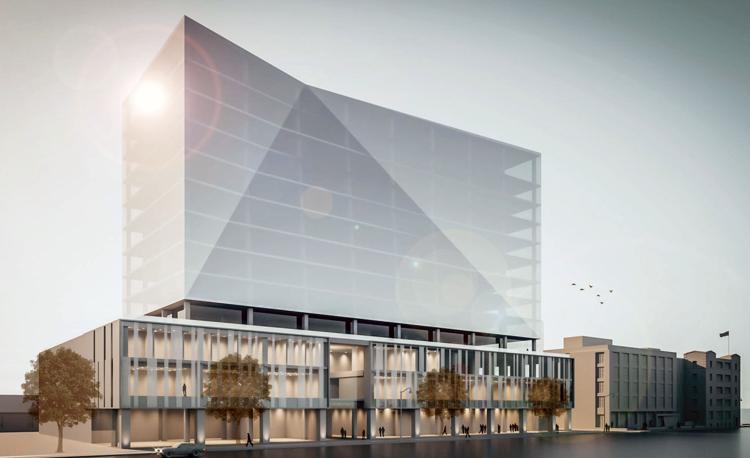 Scientists estimate that over 600 million birds die from building collisions in the United States and Canada every year. Many birds will die as a direct result of this building if nothing is done to mitigate the damage. How ironic that this story appeared in the same issue as the front-page article on humans taking a toll on nature.
In sharp contrast, as reported in Living Bird, the publication of the Cornell Lab of Ornithology, the Milwaukee Bucks' organization has "earned the Bird Collision Deterrence Credit from the U.S. Green Building Council as part of its LEED Green Building Certification."
The Bucks' new stadium is the first certified bird-friendly professional sports arena. The Bucks' owners specifically designed the stadium to be bird friendly by minimizing the amount of see-through glass and lighting that disorients birds.
Kudos to the city of Milwaukee and the Bucks.
Pam Kahler, Madison
We must support pregnant women -- Daniel Moran
Have decades of abortion resulted in 60 million unborn children being discarded just for convenience? There is more to the story.
While the debates and the politics and the protests continue, no one has offered a solution. No one really talks about the real problem: shame and fear. Women who find themselves pregnant have a lot to lose.
Our society still shames women who get pregnant outside of marriage. Families are not supportive, not at first. Medical insurance, single parenting, even getting and holding a job are formidable challenges to a woman on her own.
What's the solution? Communities need to welcome pregnancy, not shame it. When a woman is struggling to secure housing, decent wages and insurance -- and then must provide for a new baby -- abortion may seem like a very easy way out. Family and community education could mean the difference between life and death.
Neither religion nor civil avenues have come up with solutions to help women. The welfare state is not a solution. I propose a pro-women movement to aid such women.
We have become armchair experts at condemning Planned Parenthood and completely useless at creating credible alternatives. I hope the time to act has not passed.
Daniel Moran, Waunakee
Conservatives don't conserve much -- John Hallinan
Because conservation and conservatives are derived from the word conserve, you might think conservatives would embrace conservation with open arms. Alas, you'd be wrong.
Even though the Environmental Protection Agency was created by a Republican president (Richard Nixon), hardcore conservatives have done everything in their power to repeal or cripple rules and regulations passed by the EPA.
Since the radical right takeover of the Republican Party, party leaders have emphasized conserving corporate profits over conserving our earth, air and water. At both the state and federal levels, Republicans have taken the Orwellian approach of enacting laws that are the exact opposite of what their name implies. They pass "clean air" and "clean water" bills allowing more pollution to be dumped into our environment. They have passed laws to prevent government workers from even talking about human-caused climate change and have ignored calls to penalize polluters.
The United Nations is reporting that changes to our environment caused by humans will lead to the extinction of over 1 million species of plants and animals. Sadly, the Republicans' scorched-earth policy toward environmental regulation is indeed creating a scorched earth.
John Hallinan, Stoughton
Column offered bogus economic insight -- Mark Quinn
Last Sunday's guest column by U.S. Rep. Sean Duffy, R-Wausau, and trade adviser to the president Peter Navarro touted President Donald Trump's economic and tariff policies as a boon to our state's economy.
The column was misleading.
President Donald Trump's pro-growth policies are putting people to work. From shipyards in Marinette to manufacturers in Wausau, anyone in Wis…
In a typical Republican Party mantra, Duffy and Navarro conflate that if Wisconsin has added more manufacturing jobs since the Great Recession, then we as a state are steaming along as a economic juggernaut. They blame our recent past economic malaise on too much regulation and high taxes, ignoring that Wisconsin and the nation went through the recession in part because of the lack of regulation.
Also, if President Trump and the Republican economic policies have been so successful, why does our state continue to lag behind not only our region but our nation as a whole? According to the Pew Charitable Trust, Wisconsin continues to be placed in the lower third of personal state income levels. Yes, a few wealthy Wisconsinites are doing quite well, in part because of their state and federal taxes being cut. But that enrichment has not been seen as much by our middle class.
Duffy also got it wrong on tariffs. Tariffs are a tax ultimately paid by consumers. And countries hit with a tariff will do the same to us. Everyone will pay more.
Mark Quinn, Madison