A collection of recent letters to the editor published in the Wisconsin State Journal.
UFOs should interest all of us -- Harry Harris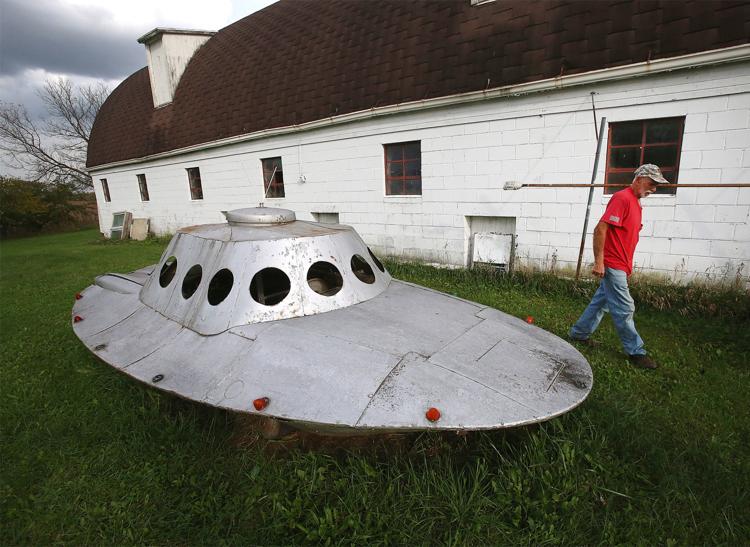 It is stunning that the U.S. military now acknowledges that unidentified flying objects exist.
The U.S. Navy now accepts reports on UFOs from naval aviators for analysis and investigations. This is a huge change from the past of not publicly addressing the phenomena.
The Navy isn't speculating on what the objects are or saying they are extraterrestrial. But some of the objects defy our understanding of aerial flight. 
Yet the general public seems to be a sleep at the wheel. Whether these objects are secret craft from the United States, Russia, China or extraterrestrial, that they exist should be of major concern and interest to everyone.
Gas tax costs less than car repairs -- Stan Howald
Apparently Republican legislators are having a problem with arithmetic when it comes to vehicle maintenance costs.
I know it is blasphemy in some corners of this state to suggest a tax hike might be a good thing. But if we can fix the roads and save money doing it, that sounds good to me.
I could use that extra $597. I need some new tires on my car.
Be mindful of sexual assault victims -- Monica Simpson
It's the season for weddings and bachelor and bachelorette parties. I was reminded of this when I saw an intoxicated young man holding a blow-up doll while at a restaurant recently. Everyone, except the party of young men, was embarrassed or looking away. And rightfully so. In the age of #MeToo, safe spaces and consent, watching a man haul around a plastic woman's body should not be tolerated.
Imagine how victims of sexual assault feel (and many silent ones are out there) who are in pain when they see a body dragged around in a mockingly sexual manner. Since this is still happening in 2019, though, I encourage anyone viewing this to speak up. (Or to poke a hole in said doll when the owner isn't looking.)
People cannot simply look away from this. It's not intolerant to be mindful of sexual assault victims. If you own a restaurant or bar, please speak up.
Republicans are scared of science -- Darin Burleigh
The budget panel restored just two of the 18 DNR researchers cut in 2015 because the GOP opposed studies of climate change and pollution.
It was even more disturbing to learn that Sen. Tom Tiffany, R-Hazelhurst, thinks science and climate change are "red flags." At the moment, many Wisconsinites have unsafe drinking water contaminated with PFAS or bacteria. How does he expect to address these problems -- with divining rods?
Sen. Tiffany does not want to accept the reality of climate change, even though the basic chemistry and physics have been discussed in the scientific literature for decades. Meanwhile, many Wisconsin farmers are behind schedule in planting due to excessive rain.
It probably isn't possible to get Sen. Tiffany out of the Dark Ages. But his colleagues in the Senate should join the rest of us in the 21st century.
Right has no plan for health care -- James Billings
The Wisconsin Institute for Law and Liberty is a right-wing think tank, but in its guest column last Sunday, "How to improve health care now," Will Flanders and Cori Peterson pretended to support neither major party.
The position they advocated for is consistent with the right wing's approach of doing nothing to improve health care access for everyone. They did nothing during eight years with President George W. Bush in charge, and nothing for two years with President Donald Trump in the White House and Republicans in control of both houses of Congress. The state did nothing with total control for eight years under Gov. Scott Walker.
They dance to the tune of the health care industry, not the average person. This is also consistent with their position on workers rights. Other than the "right" to not be part of a union, they oppose any worker rights at the workplace. The result is stagnation of wages and benefits for workers over time, while the corporations and major shareholders amass the wealth created by the workers.
Take what they say with a grain of salt because that is all they have to offer.
James Billings, Black Earth