From your letters to the editor: "Don't be confused. This issue is not about being patriotic. It's about keeping Madison a healthy and thriving community for all its residents."
F-35s do not belong in an urban area -- Sandra Abitz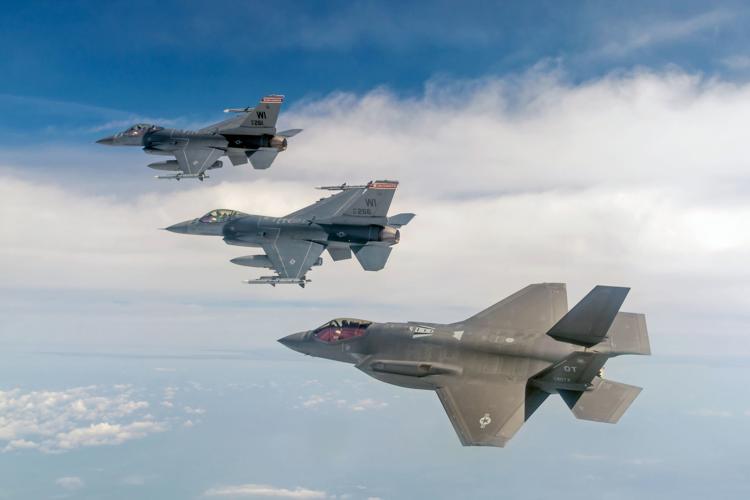 Is it wise to render entire neighborhoods uninhabitable? Is it wise to lower the quality of life with noise-related stress and health risks? Is it wise to cause properties to devalue for entire communities of homeowners?
We can agree these are not good things. Yet this will happen if we bring the F-35 jets to Madison. And for what benefit? Maybe 65 jobs? This is unconscionable, indefensible and wrong.
The F-35s are expected to be much louder than the F-16s, making neighborhoods "no longer suitable for residential use." They could displace 1,000 low and middle-income families in Madison from their homes. What will happen to these people? And what about the schools, daycare centers and parks around these areas? Will children no longer be able to play outside?
Don't be confused. This issue is not about being patriotic. It's about keeping Madison a healthy and thriving community for all its residents. We must protect our quality of life. We don't need our residents displaced from their homes. We don't need noise-related stress and health risks. We don't need our homes devalued -- all just so the F-35s can fly.
The F-35s do not belong in an urban area.
Act now to ease energy transition -- George Perkins
Headlines marking the arrival of the Anthropocene epoch (human-caused climate crisis leading sea level rise, ocean acidification, species extinctions and pollution) are depressing.
Humanity will undergo a fundamental energy transition away from fossil fuels and toward renewable energy sources. We can drive over a cliff (as our current corporate and government leadership appears determined to do) or carefully plan a gentle landing for this energy transition. Either way we will consume far less energy, and life will undergo dramatic transformations. This process has already begun. The next generation will inherit a significantly different world.
To guide the gentle landing, our debt, growth and consumption-based economy needs to be replaced. Both overpopulation and over-consumption are dire threats. Our situation is precarious. The future will be extremely challenging, and many people and other species will suffer in the coming years and decades.
Some immediate steps that are politically possible include a carbon tax with rebate (called the Energy Innovation and Carbon Dividend Act), which will drive down America's carbon pollution while unleashing American ingenuity.
The choice is not whether we face challenges -- it is how painful those challenges will be: either catastrophic or tolerable. We've already wasted precious time delaying and ignoring the inevitable.
Electoral College has damaged US -- Russell Pope
Thursday's letter to the editor "Electoral College plays a vital role" defended the fact that states with lesser populations continue to benefit from the excessive advantage they have in determining the presidential results.
I would be remiss not to mention that the two most recent presidents elected with a minority of votes are named George W. Bush and Donald Trump. Many citizens feel our nation has not benefited from their performances. States with lesser populations would continue to benefit from over-representation in the Senate.
It has been over 200 years since our nation was formed. Perhaps it is time to revisit the inequity of some states being over-represented in the selection of a president who serves all of the citizens of this nation. Let us concede the Senate advantage, but given the record of minority presidents, let us elect our presidents based on the national popular count.
The Electoral College is outdated and has badly damaged our nation.
Congress has duty to impeach Trump -- Mariette Nowak
I am appalled by President Donald Trump's lawlessness and lack of respect for the office of president. He has ignored Russian interference with the election, criticized allies and praised dictators, dismissed our own intelligence experts, put our country in danger by withdrawing from the climate deal, directed federal employees to disobey the law and used his office for personal gain.
The Mueller report laid out the evidence, and Congress must act now. Political calculations about future elections should not be a reason for postponing an impeachment inquiry. Politicians such as President Trump who abuse their power should held accountable. Whether or not the Senate acts should not be a consideration.
Congress has a constitutional duty to address all potentially impeachable offenses. It is shocking that Congress has not done so already.
I urge readers to contact their congressional Representatives and demand they start impeachment proceedings immediately.
Mariette Nowak, East Troy
Officials must take a stand on jets -- Liz Dannenbaum and Donna Winter
We are very disappointed in the many Madison and Dane County elected officials who have failed to state their views on the proposed F-35s at the Dane County Regional Airport.
Some say they are waiting until the public meeting Sept. 12 at the Alliant Energy Center. But a great deal can be learned in the environmental impact statement released by the Air Force this month, and none of it is reassuring. We are talking about significant noise pollution and disruption affecting a wide population including classrooms, churches, seniors and families. Madison residents and a disproportionate number of minorities and people with low incomes who live in the 1,000 homes closest to the base will have to relocate. And yet very few elected officials will speak up or out about this.
If they are in favor of the jets being located in Madison, they need to say why. If they are against having the jets here, they need to speak up -- and sooner, rather than later.
Liz Dannenbaum and Donna Winter, Madison