From your letters to the editor: "The reality is that millions of Americans voted for a racist white man to make America great again because they couldn't admit a black man had already done it."
Barack Obama really made America great again -- Melvin Boone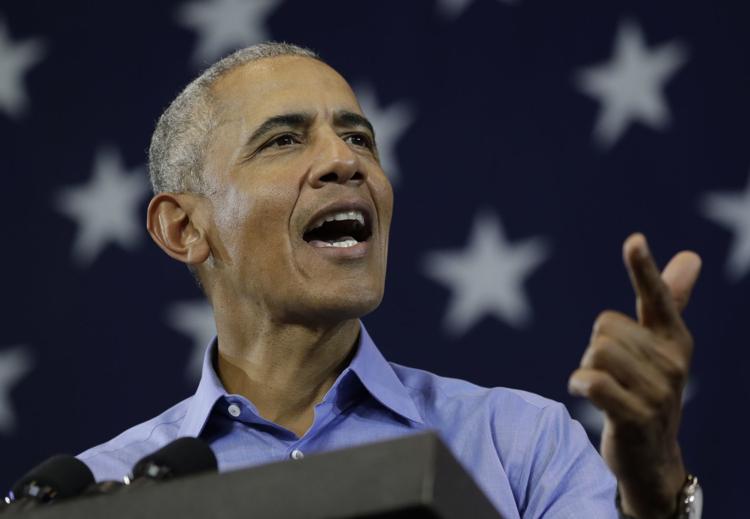 Racism is not always in your face.
Sometimes it's subtle, such as casting white people like Elizabeth Taylor to play early Egyptians, or crediting a mentally unstable white man for "making America great again" rather than America's first black president.
President Barack Obama was handed an economy that was hemorrhaging jobs during the Great Recession of 2008. He spearheaded the American Recovery and Reinvestment act, and created jobs through public works. In his final two years in office, around 5 million jobs were created, according to the Bureau of Labor Statistics. When he left office, the unemployment rate was 4.7%, down from a high of 10.2% in 2009, and the economy has grown steadily.
I often hear how well the economy is doing under President Donald Trump's administration, which cut taxes for the wealthy and removed regulations that protected our air and water. Many people claim this has led to our growing economy.
The reality is that millions of Americans voted for a racist white man to make America great again because they couldn't admit a black man had already done it.
Support F-35 fight jets in Madison or learn to speak Russian -- George Jordan
Recently, I've seen several letters to the editor opposing and supporting the transition to F-35 fighter jets at Truax Field in Madison.
Are the new fighter jets noisier than the F-16s? Yes. Did the folks who live near a major airport not realize that as technology advances some newer, heavier, more powerful aircraft will be louder than the older ones? If not, why not?
Why buy or build a home near the airport only to grouse about the noise?
These new aircraft, as well as all the previous versions based at Truax, are being flown by persons who have committed to putting their lives on the line to secure our freedoms. If these people are willing to give their lives for our benefit, can we be willing to put up with some noise?
Some have called the aircraft noise the "sound of freedom." Rhetorically, would we rather hear American aircraft noise than Russian or Chinese aircraft noise? I really dislike the idea of having to learn Russian or Chinese from our new masters.
Volk Field is uncontroversial pick for F-35 -- David Beyer
In response to the controversy surrounding the F-35 fight jets being placed in Madison and endangering all the impoverished residents surrounding the Dane County Regional Airport, I suggest that the aircraft be assigned to Volk Field in Juneau County.
Fewer residents would be offended with the dangerous noise coming from the planes' maneuvers, and the basing will be a boon to the Juneau County area because support personnel would be located there as well as military personnel to carry out this valuable endeavor. The influx of personnel would bring additional revenue to Juneau County. Attendance at nearby schools would increase. Business opportunities would flourish.
And Madison would be spared the cataclysmic danger to residents who chose to live in the area surrounding Truax, which is a World War ll-era airbase. Of course, why draw attention to the danger of hearing loss due to these occasional flights when many of these same residents attend rock concerts and music festivals where they listen to music at far greater decibels of sound for longer periods than a take off and run up that lasts for perhaps less than a minute. Not to mention pep bands playing in gymnasiums during sporting events.
David Beyer, Morrisonville
Let's stick with the Electoral College -- Don Thompson
I finally understand better why we depend on the Electoral College to elect our president after reading several recent letters to the editor about this topic.
States with large populations (such as New York, California and Illinois) would be dictating the control of the presidency without the Electoral College. Considering the financial calamities in several of these states, I don't trust their voters to set the tone for the entire country.
Let's stay with the Founding Fathers' plan.  
F-35 mission could quickly change -- Lisa Luedtke
I must admit, I'm a bit confused when supporters of the F-35 fighter jets talk about the protection the jets will provide for us and others. 
In the 1950s, surprise Russian bomb attacks over the Arctic had folks worried about attacks from the air. I recall that growing up in Lake Geneva, in addition to duck-and-cover drills, they even built a watch tower from which to monitor the skies. 
In northwest Kenosha County, the Air Force began to build Bong Air Force Base. But after confiscating 5,160 acres of agricultural land and building massive runways, they abandoned the project. (It's a park now). Perhaps it was the creation of a Distant Early Warning Line or, more importantly, the introduction of intercontinental ballistic missiles that made the base unnecessary.
So please tell me, exactly what protection is having the F-35s here now intended to provide?