From your letters to the editor: "Perhaps last week's disappointment will likewise serve as inspiration for the Badgers as they face the rest of their schedule. This is one Badgers fan who certainly hopes so."
Badgers can use loss as inspiration -- John McCarthy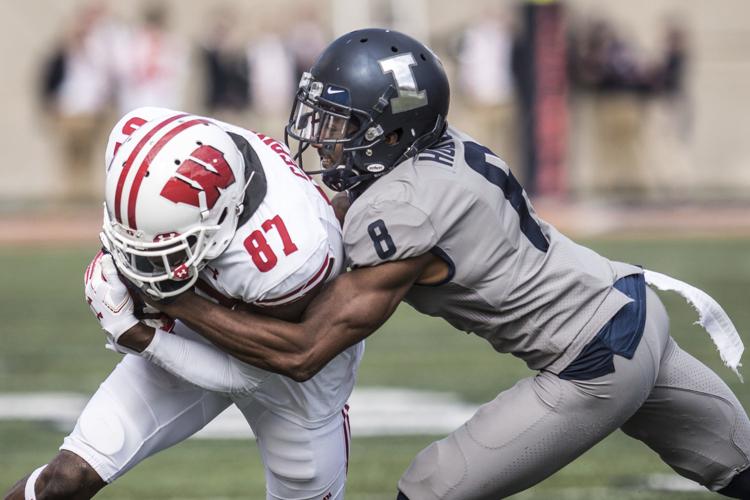 I've followed and loved Wisconsin Badgers football for well over 60 years, so I was certainly disappointed by last week's loss at Illinois. But then I recalled an incident from recent history that gave me some hope, as it may for the young athletes on the team.
In the 2018 NCAA men's basketball tournament, the University of Virginia became the first No. 1 seed to lose an opening round game to a No. 16 seed. The Cavaliers weren't beaten on a last-second buzzer-beater, either. They had their clocks cleaned from start to finish by the relatively unknown University of Maryland-Baltimore County. It was arguably the biggest humiliation in the history of team sports.
But it wasn't the end of the story for coach Tony Bennett and his crest-fallen team. The following year Virginia returned to the tournament and won it all, making it arguably the greatest moment of redemption in the history of team sports.
Perhaps last week's disappointment will likewise serve as inspiration for the Badgers as they face the rest of their schedule. This is one Badgers fan who certainly hopes so.
Don't abuse power to set wheel tax -- Bruce McClellin
City leaders appear to be in the process of destroying the Madison's best opportunity to prevent projected traffic gridlock on city streets.
The mayor and City Council seem determined to create Wisconsin's most expensive wheel tax as a source of funding for mass transit, beyond fares. The privilege of enacting a wheel tax was granted by the Legislature and can just as easily be taken away if that privilege is abused.
The best way to avoid the appearance of abuse is to draw revenue for city services from traditional sources and to spend reduced wheel tax revenue entirely on creation and operation of the bus rapid transit system.
The BRT system will become the core for the regional transit system in Madison that will follow. The city will need a reliable source of income for BRT development and operations for many years to come.
Nothing fishy about impeachment process -- Scott Whitney
The letter to editor in Friday's newspaper "Impeachment does not pass smell test" complained about the process of the impeachment inquiry. But the Constitution clearly specifies the House of Representatives has complete control over the format and course of any investigation.
There is no requirement for a vote by the full house and no requirement that the investigation occur in open session. Keeping things behind closed doors prevents the usual grandstanding and reduces the ability for liars to coordinate their stories.
Additionally, the inquiry is an investigation. Due process and access by Trump's attorneys occur once impeachment charges are brought and the Senate holds the actual impeachment trial.
The only thing disgraceful occurring at this point is the slavish devotion of Republicans to a man who has alienated and abandoned allies, used his office for personal profit, abused his power to invite foreign governments to interfere in our elections, incited violence, damaged our national security, and contributed to the devastation of the planet through global climate change.
Hopefully, through impeachment or election, we can bring an end to the most corrupt and incompetent administration this country has had to endure.
Scott Whitney, Platteville
Jets won't protect us from Russia -- Martin A. Preizler
I have not seen any reporting on the fundamental purpose of spending billions of dollars on the placement of 18 F-35 jets at Truax Field in Madison. What are these warplanes protecting us from? A Russian invasion? It's like a rerun of "Dr. Strangelove."
The Russians have invaded us in a well-documented omnipresent stealth operation that has corrupted our electoral process. This has been compounded by the Russians' unscrupulous exploitation of our social media to distort and confuse the essence of public policy issues.
All the jets and bombs in the world can't save us from this intrusive undermining of our democracy, which these jets ostensibly protect.
Instead, let's invest in critical infrastructure, including securing the electoral system, cleaning our water resources, and rebuilding crumbling roads, bridges and public school buildings. How about raising teachers' salaries and doubling the number of teachers in our schools.
These investments would far exceed 65 jobs, and would be a better strategy to build our future regional economy.
Martin A. Preizler, Madison
F-35 noise isn't the worst in Madison -- Ogie Roberts
Are the people who oppose F-35s being stationed in Madison also opposed to the regular commuter flights at 6 a.m. or 10:30 p.m.? Are they opposed to the prevalence of leaf blowers being used instead of rakes or brooms? Gas-powered lawnmowers instead of push mowers? Snowblowers in place of snow shovels?
Are they against cars and trucks with modified exhaust systems whose sole purpose is to make them noisy? Straight pipes on motorcycles? Negligent dog owners who let their dogs bark late at night or early in the morning? Are they opposed to jet skis and snowmobiles? Do they protest against MedFlight?
What about Rhythm and Booze/Disgrace the Lake, with or without gunfire? Are they against the relentless squawking of car alarms being activated and deactivated or simply going off in the middle of the night? Are they against cellphones with obnoxious ringtones and the oblivious, rude people who shout into them?
It seems to me we have many more common occurrences of annoying noises than the F-16s or F-35s, but nobody's complaining about those. At least the fighter jets are "inconsiderate" for only a few seconds before they're gone in graceful beauty and technological wonder.