Your letters to the editor: Veterans deserve our utmost respect
Here are today's letters to the editor from readers of the Wisconsin State Journal. 
Veterans deserve our utmost respect -- Wayne Alden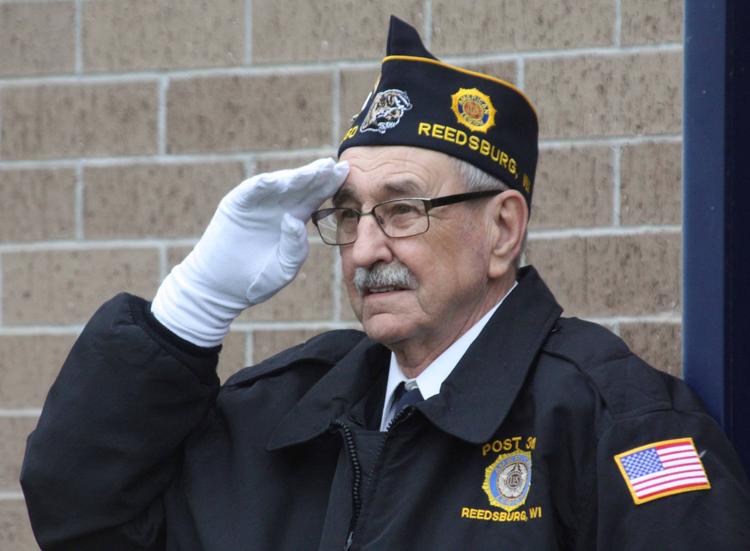 Every Veterans Day we observe what our men and women have done for the cause of freedom.
We are most grateful for their dedication, loyalty and sacrifice to stand in the gap against nefarious foreign regimes that want to do harm to our citizens and dislike our form of government. Many veterans are special patriots and exemplary human beings that have our best interests at heart.
All veterans deserve our utmost respect. God bless our veterans.
GOP is no longer conservative -- Marc F. Hansen
I appreciate that the State Journal makes an effort to present all sides of controversial issues.
An example was Cynthia Tucker's Nov. 2 column, "GOP may soon run out of values to abandon," on the politics of division and opposition. In my view, her arguments and descriptions are accurate and factual. I would recommend, however, that she (and all of us) use the description "conservative" more accurately.
The positions and behavior of the current Republican Party are not conservative, unless we are willing to equate "conservative" with using any and all means to protect (conserve?) power and wealth. 
The U.S. Constitution did not create political parties. It did create a separation of powers in three independent branches of government. An effective government needs to identify and strengthen those things that protect and strengthen what is working for the benefits of all. This can legitimately be called conservative.
An effective government also needs consistent efforts to identify and correct what is not working for the benefit and opportunity for all. This can be legitimately be called progressive.
The existing party system is broken. We expect parties to be able to work together, and use compromise for the good of the nation. The need to recover the best values of that is urgent. It is what elections are intended to do.
Think, evaluate and vote.
Marc F. Hansen, Fitchburg
Don't waste time, money on cursive -- Mike Cunningham
Every hour of classroom time and dollar of school funding is precious, and teaching a skill that few of us use and no employer asks for today is not a worthwhile use of them. My cursive repertoire is limited to two words that appear at the bottom of letters, and I've never needed more than that.
Apparently, this bill is mostly a Republican effort. One would hope for better from a party that claims to stand against overbearing government mandates and needless spending of taxpayer money.
As for the argument that studies show writing in cursive fosters neurological connections in students' brains, a quick web search will find you a paper somewhere making this claim for almost any activity. I can name a few things that foster neurological connections: math, science, computer coding, foreign languages and other skills that will actually be assets to the next generation.
Cursive education has many benefits -- Tawsif Anam
Writing in cursive must be taught in schools. Currently, not all schools include cursive in their curriculum.
In the day and age of computers and smartphones, we have a strong emphasis on typing and printing, and less attention is paid to the art of writing on paper. But scientists have found that writing by hand helps reading acquisition in children. Even when children are taught and encouraged to write on paper, the art of writing in cursive is greatly ignored. Writing in cursive helps enhance brain function and improves comprehension.
The act of typing, or even giving voice commands to a computer or phone, can never be a substitute for writing by hand. Furthermore, children must be taught to write in cursive to fully experience the art of writing and also for proper neurological development.
In Wisconsin, a group of lawmakers is supporting legislation to require schools to teach cursive. It is encouraging to see strong bipartisan support for incorporating cursive into educational curriculum. Such legislation must be considered for the best interest of the students.
Transgender operations aren't unnatural -- Russell Pope
I find it interesting that some citizens believe transgender operations should be prohibited. Their argument seems to be that it is unnatural.
Oddly enough, the reason transgender operations are requested is because the patients have felt that their current state is unnatural. If there is such a concern, let us conduct a national survey of transgender people and ask them whether they feel they have benefited from their actions.
When my granddaughter was graduating, a party was held at the home of a transgender classmate. The acceptance of that person was abundantly clear. They had known that student before the operation and were accepting and supportive. While I will mention that science seems to support the desperate situation these people experienced, perhaps a more valid way of determining whether such operations should be permitted is to ask those who have undergone such treatment.
Let those who actually made that decision answer whether it was right or wrong. I suspect that they would -- by a significant margin -- confirm that the decision they made was right for themselves.