Here are today's letters to the editor from readers of the Wisconsin State Journal. 
Tree in rotunda violates Constitution -- Larry Shapiro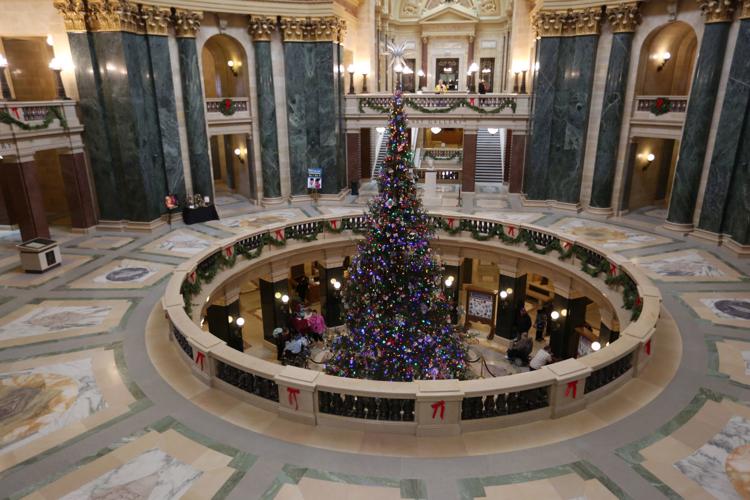 As an atheist and secular Jew, I favor the resolution from Rep. Scott Krug, R-Wisconsin Rapids, to identify the conifer that sits in the Capitol rotunda during the Christmas season as a Christmas tree.
Calling it a holiday tree merely makes less conspicuous why the tree has no place in a state Capitol. On the other hand, recognizing it as a Christmas tree, which it obviously is, makes explicit the state's promotion of religion and its defiance of the Constitution's demand that we keep church and state separate.
A Christmas tree does not belong in the state Capitol. But if we must have one, let's not disguise what it is. We should make perfectly clear that those who want a tree are betraying the Constitution.
Mayor should eschew taxing and spending -- Paul Schrepfer
Madison Mayor Satya Rhodes-Conway isn't supporting the addition of the F-35 fighter jets at Truax Field and the air base's $100 million impact to our local economy.
Her argument essentially labels supporters as racist because the jets would negatively affect minorities and low-income people more than other local residents.
She initiated and was successful in passing a wheel tax. This is a regressive tax and clearly hurts the very group of people she is allegedly trying to help. Puzzling isn't it?
A balanced budget did not necessitate this tax. Refraining from adding new programs and expanding others would easily accomplish this. Most large and small companies improve their productivity by 1% to 2% per year. Why can't the city strive to root out waste and free up cash for new initiatives?
I challenge our mayor and her deputies to start managing our city instead of always simply taxing and spending.
Holiday tree doesn't defy spirit -- Lila Hemlin
The evergreen tree in the Capitol rotunda has again sparked disagreements on its name.
Republicans in the Legislature want it to be called a Christmas tree, not a holiday tree. Why not, in the spirit of giving and good will during the Christmas season, call the tree a holiday tree?
Most businesses continue to close for Christmas, and schools are closed for winter break. What is really in a name? What really matters is the message, credited to the angels in the Bible as singing, "Peace on Earth" and "good will" toward all whom God favors. It is not our job to try to figure out who those are. Are they people who look like me? Worship like me? Vote like me? No.
Jesus brought good news, good works and good thoughts: "Do unto others as you would have others do unto you." The Golden Rule would go a long way in advancing peace in the world. As St. Benedict said over 1,600 years ago, "Seek peace and pursue it." That's still a good premise to follow today.
In the Christmas spirit, I wish all a happy holiday.
Jets in Alabama may do more harm -- John Costello
Because economic arguments for bringing F-35 fighter jets to Madison are compelling, opponents rely on the negative impacts the jets will have on the city's residents. Because the most vociferous residents are split on the issue, opponents stress the disproportionate negative impacts on communities of color, low-income communities and children.
But what's overlooked is that the next choice for the jets is Dannelly Field in Montgomery, Alabama. This airport also is situated among low-income communities of color which surely have children and likely don't have anything such as Madison's Isthmus crowd to advocate for them.
Montgomery has significantly lower income levels and dramatically lower home prices than Madison. The poverty rate is significantly higher, perhaps resulting in more desperation for any promise of a boon.
Montgomery will likely welcome the jets, which may keep them out of our backyard. I don't know whether they'll do poor communities in Alabama any good, but then I haven't heard that question come up here, either.
Zero-tolerance policy isn't working -- Dale Munger
I hope the Madison School District recognizes the folly of its so-called zero-tolerance policy.
While a strong policy against racism is a good thing, this is not. Firing the security guard was absurd, evidenced by the quick massive response by the students. It is telling that teenage students are smarter than the School Board.
This creates a hostile work environment for the staff. While battling racism is a hard and complex task, this is not the solution.