Your letters to the editor: Packers need to get it together
Here are today's letters to the editor from readers of the Wisconsin State Journal. 
Packers need to get it together -- William M. Rosensteel Jr.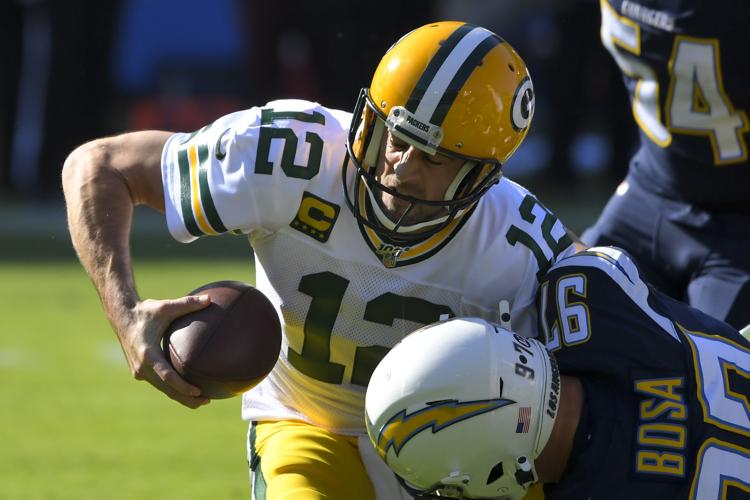 The Green Bay Packers' performance against Los Angeles Chargers on Sunday was pathetic. The defense was like a sieve, and the offense didn't play much better.
The Minnesota Vikings, Detroit Lions and Chicago Bears all lost, so the Packers had a great opportunity to increase their lead in the NFC North Division, but they blew it. Vince Lombardi would say we stink.
C'mon, Packers. Get with it. Six games are left. Let's win them all. On to the NFC North Division and the playoffs.
William M. Rosensteel Jr., Pismo Beach, California, West Coast Packers fan,
Let's get on one permanent time -- Jane Breun
As one of the seven in 10 Americans who doesn't like changing clocks twice a year, I would like to see us change to one permanent time all year long.
While I like the later sunsets in summer, I am not fond of the late sunrises in winter. So I suggest that next March we move our clocks a half-hour forward and stay on that time permanently.
Jane Breun, town of Springdale
Lawsuit against Culver's a bad idea -- Zach Thennes
There were victims and perpetrators of this crime. The criminals received between 15 and 25 years in prison for their wrongdoing. I am very sorry for the family of Christ Kneubuehl, who died after suffering a heart attack during the robbery. But filing a lawsuit against Culver's -- which our family calls "the happiest place in Wisconsin" -- is a terrible decision that erodes society.
How can we hold law-abiding businesses accountable for the misdeeds of criminals? A large perk of living in civilized society is being comfortable in your environment. I don't want alarmed doors, signs posting "NO CASH ON HAND" or security cameras everywhere.
Let's hold people accountable for their actions and stop playing the blame game. History has its eyes on us -- and we are disappointing daily.
Libertarians are running the GOP -- Tom Carroll
In recent days, columnist Cynthia Tucker said the GOP is running out of values, and columnist Dave Zweifel has asked where GOP fiscal concerns have gone. The problem is that they are chasing ghosts. Politicians with GOP values have gone the way of the dinosaurs.
What we have now is libertarian politicians hiding behind the Republican label. Their philosophy is the one advanced and financed by the Koch millions. This philosophy is all about minimizing tax on the wealthy by under funding public schools and universities, eliminating unions, denying climate change and suppressing voting.
We in Wisconsin should easily recognize this as demonstrated by former Gov. Scott Walker and former Speaker of the House Paul Ryan, R-Janeville.
I recommend Nancy MacLean's book "Democracy in Chains" to those who write political commentary. The media needs to expand reporting on the libertarian takeover to help the nation maintain the democracy we have enjoyed for more than two centuries.
City greenways need to be maintained -- Jan Axelson
I was pleased to learn that Madison's engineering division is working to improve storm water management in our public greenways, according to the Oct. 25 State Journal article "City cuts back trees to stabilize ravine." 
Planting these areas to native vegetation to absorbs storm water will reduce flooding and contribute to clean lakes while at the same time benefiting wildlife and providing more diverse, interesting landscapes to enjoy.
I was especially heartened to hear that the Tree Lane site has kept some snags, which are so important for woodpeckers and other wildlife.
Vos must be honest on climate change -- Will Busse
Assembly Speaker Robin Vos, R-Rochester, recently criticized a climate change task force created by Gov. Tony Evers. Vos said, "I don't know if climate change is real. I think it probably is. I have no idea why it is occurring nor do most people on the planet."
Speaker Vos went on to say that it is unrealistic to think we can solve climate change with wind turbines and solar cells "because we need power at night" and current battery technology is inadequate.
Many Republicans, such as Vos, are increasingly inconsistent in their reasoning around climate change. On one hand, he justifies inaction due to a supposed lack of scientific consensus about the causes of the issue. He then changes course and suggests that the barrier is a technological one related to the feasibility of renewable energy solutions.
Speaker Vos is talking out of both sides of his mouth because the tide of public opinion about climate change is turning: 69% of Americans now believe in it. This problem is no longer just an abstract future threat, but something that affects us all, here and now.
Let's challenge leaders such as Speaker Vos to take responsibility for bipartisan solutions to the problem of climate change.