Here are today's letters to the editor from readers of the Wisconsin State Journal. 
Madison doesn't need wheel tax -- Joe Tripalin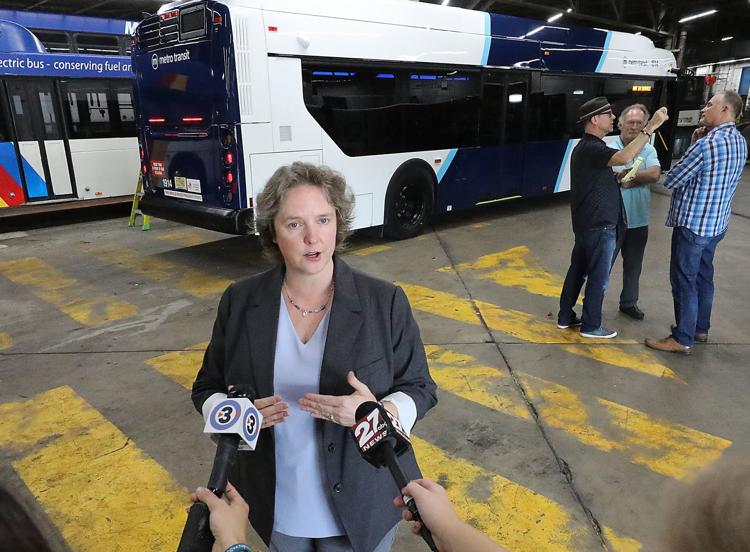 The Madison City Council recently passed the highest wheel tax in the state, and members did their best to show how much this hurt them to do this.
Mayor Satya Rhodes-Conway created a budget that was millions of dollars under funded so she could incorporate bus rapid transit. How do you fix a budget that is seriously out of whack, of course? You tax the people through a new regressive fee.
This ensures the budget will balance and the mayor will have her cherished bus rapid transit program. This budget ignored that police are underfunded and criminals are shooting up the city. Instead, Madison has to have bus rapid transit.
State Journal editorial cartoonist Phil Hands should do a cartoon with the mayor pouring over a map for bus rapid transit while the criminals are trading gun shots in the city and the police watch with their hands tied behind their backs.
I don't think we will see a cartoon like that. Too bad.
Get serious about election meddling -- Shane Vondra
What is being done to prevent or limit Russian meddling in our elections?
It is now proven that Russia was involved in election interference in many states. President Donald Trump has not mentioned the threat of Russian interference, and Senate Majority Leader Mitch McConnell, R-Ky., has let legislation die.
Is the United States threatening any type of retaliation against Russia? Sen. Ron Johnson, R-Oshkosh, has dismissed and downplayed the threat. President Trump seems hopeless in this regard. Republicans are in denial.
That leaves the Democrats left to defend against the upcoming attacks, but from a weak partisan position. It's like the United States has to fight with one arm tied behind its back. When will Republicans join the fight and present a unified effort? Can we at least agree to ban foreign donations to our politicians?
With Republicans refusing to address this threat, one solution is to replace all Republicans with Democrats so we can deal with this threat and offer resistance from both the presidential office, the Senate and the House.
When do politicians start honoring their oath of office? And when do we start holding them severely accountable? Now would be good.
No need to fear 'Medicare for All' -- Charles Uphoff
A growing chorus of Republicans, joined by some Democrats, have expressed alarm at proposals to transition the United States from employer-paid health insurance to "Medicare for All." Single-payer health care systems in Canada, Sweden, Denmark, Taiwan and many of the world's developed nations have been adopted because they provide quality care at a lower cost.
Central to critics' concerns is the cost of Medicare for All. Ironically, our for-profit insurance system costs trillions of dollars more over 10 years than a Medicare for All plan. Opponents of Medicare for All have suggested it's overly optimistic in calculating potential savings, but countries that have adopted single-payer systems have significantly lower costs and better outcomes.
Private health insurance is based on a business model that generates profits for stockholders and millions for CEOs by limiting or denying coverage. If you lose your job or your employer changes providers, you can lose coverage. At the same time, the rising cost of private health insurance has meant companies have less money to increase stagnant wages.
Why would anyone want to continue to pay twice as much for health care as the rest of the developed world for a system that doesn't cover everyone and has poorer health outcomes?
Charles Uphoff, Fitchburg
New generation needs gun reform -- Jordan Chao
Along with millions of other young Americans, I walk through the doors of school each morning at risk of being shot. It is a feeling of being hunted like wildlife that floats in the minds of teens everywhere. Except this is not a fair hunt, for even animals are not trapped in a building and threatened by semi-automatic rifles.
The vast majority of hunters do not use military grade weapons to kill deer. More than 70 percent of Americans favor banning high capacity ammunition magazines today, according to the Pew Research Center. Even though many people enjoy using these powerful guns for fun, this fun comes at the substantial price of America's newest generation. It is shameful that voters in America can stand by and watch us helplessly live through our terrors.
Allowing almost any person to enter a gun store and pick out one of these lethal weapons designed for mass murder is disgraceful, and our government persistently ignores the effects on our country. Young Americans are sitting in classes and fighting an unwanted war, and adults are watching without taking action.
F-35 debate is lesson in equity -- Richard Johnson
It is daunting to talk about race, discrimination and inequality on abstract or "intellectual" levels. So let's look at the issue of having F-35 military jets at Truax Field through the lens of our white affluent privilege.
We have a variety of perspectives to choose whether to support having the F-35 jets, including fear, greed, pride, blindness, innocence or our humanity. Residential land around airports is always less valuable and thus more affordable to low-income folks. The U.S. Air Force's environmental impact statement on basing the new jets at Truax Field states, "There would be significant disproportionate impacts to low-income and minority populations as well as children."
What if the directly impacted people had the time, money and resources to make the case to not have the jets? What would our community conversation be if these jets took off directly over Maple Bluff, the Downtown area or Epic's headquarters? In that case, opposition to the jets might be very loud and popular, even though these affluent residents have the resources and capital to properly insulate their homes, or even to buy a new house outside the jets' landing path.
How would your family decide?