Here are today's letters to the editor from readers of the Wisconsin State Journal. 
Christmas trees aren't Christian -- Richard S. Russell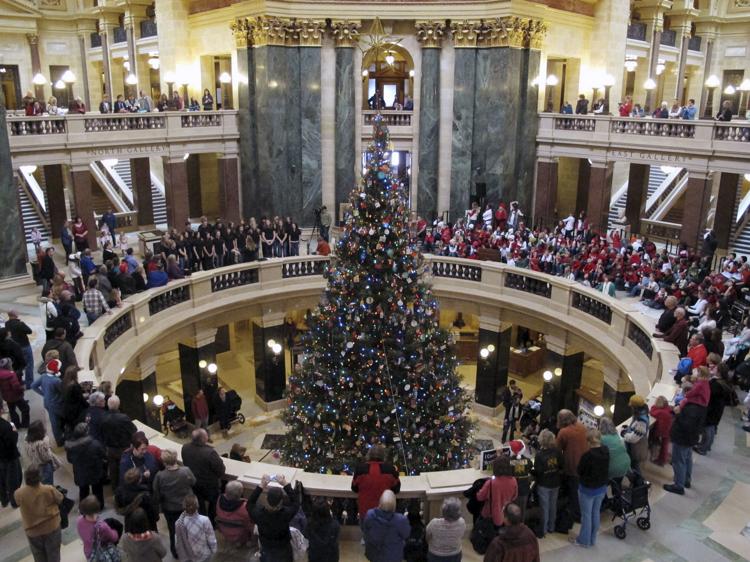 A spate of letters to the editor lately claim it's intuitively obvious to the most casual observer that the big evergreen tree in the Capitol is a "Christmas tree," and any idiot should be able to see that.
This would come as a complete surprise to the Israelites of 2,000 years ago, who lived in an area where trees of any kind were scarce, and pine trees were completely unknown.
Evergreens were, however, native to northern Europe, where various pagan religions respected them as a symbol of persistent life, because they didn't wither and die over the winter, as did most other plants, including crops.
Christian missionaries, trying to ingratiate themselves with the natives, essentially swiped the local practices, relabeled them as Christian, and thereafter pretended they had invented them. This is similar to the way they stole Dec. 25 from the Roman festival of Saturnalia and the myth of the virgin birth from half a dozen predecessor religions.
Indeed, as Tom Flynn points out in his 1992 book, "The Trouble with Christmas," almost none of the practices we now associate with Christmas originated with Christianity -- they were all co-opted from elsewhere.
Richard S. Russell, Madison
During Watergate, GOP wanted truth -- Howard Holmburg
While the current House impeachment hearings have many similarities to the Senate Watergate hearings in 1973, there is one glaring difference.
The Republicans on the Watergate committee, Sens. Howard Baker, R-Tenn., and Lowell Weicker, R-Conn., and minority counsel Fred Thompson, were interested in only one thing: Finding the truth. Many of the toughest questions asked during the hearings were asked by these men.
By comparison, the Republicans on the current House committee have two goals: Criticizing the witnesses and defending the president. They are not concerned with finding the truth. It's partisanship over patriotism.
Howard Holmburg, Sun Prairie
Religion thrives when it is separate -- Rev. Roger Brooks
The author of the recent letter to the editor "Church and state separation is myth" repeats an old claim: that because the phrase is not found in the Constitution, it is not definitive.
But in the 1878 case Reynolds v. United States, the U.S. Supreme Court discussed the term "separation between church and state" in this way: "Coming as this does from an acknowledged leader of the advocates of the measure (Thomas Jefferson), it may be accepted almost as an authoritative declaration of the scope and effect of the (First) Amendment thus secured."
If being in the Constitution is so critical, then why is God not mentioned in the Constitution? Yet for decades some Christians have argued that ours is a Christian nation.
Actually, as the Founding Fathers and the U.S. Supreme Court have made clear again and again that the First Amendment goes far beyond the letter's claim that it "merely provides for the protection of religious practices and prohibits government from adopting a state-sponsored religion." It also prohibits government from forcing taxpayers to support any religion and religious practices.
By the way, Christianity and other religions have flourished under this system.
Rev. Roger Brooks, Madison
Trump feels more like God's wrath -- Scott Whitney
Let's review the evidence for this miracle. Supposedly, President Trump has improved the security at the southern border. He has done this through the methods of destroying families, locking children in cages, and stealing billions from military projects to pay for his boondoggle of a wall that smugglers can cut through in 10 minutes with a cheap saw.
How about improving our national security? Centuries-old alliances have been damaged, vulnerable allies were abandoned, and dictators have been coddled and given legitimacy in exchange for nothing. Not to mention a complete failure to address climate change, the biggest threat of all to national security.
What about confronting China on its poor human rights record? President Trump's ludicrous trade war has driven farm bankruptcies through the roof and gained us nothing. He's also done nothing of substance to support human rights anywhere in the world, nor is he ever likely to.
I have to agree with last week's letter, though: President Trump really was sent by God in the same way that God once sent locusts and boils to Egypt.
Scott Whitney, Platteville
Area needs a regional transit authority -- Ron Wolfe
Madison is proposing a $130 million bus rapid transit system. The growing transit demand, however, extends well beyond the authority of the Madison transportation planners.
Given the 30-year projected increase in Dane County population and associated property values, economic incentive to increase average transit distance to jobs in Madison suggests that without a viable alternative, auto congestion will stifle economic growth for the county.
The public transit plan objective should be to eliminate the auto preference by expanding convenient access to safe, reliable, comfortable public transit. An effective public transit plan should have a 15-year goal of serving the metropolitan area and a 30-year goal of serving Dane County.
Such a plan goes beyond the authority of the Metropolitan Planning Organization, requiring input from Dane County and the Wisconsin Department of Transportation. What is needed is a coordinating regional transit authority.
A long-range transit plan should consider more than reduction of Madison congestion. It must also address the zero-emissions goals expressed by Madison, protect wetlands and recreational areas and prohibit development of valuable agricultural land. An obvious solution is to electrify and exploit the existing state-owned rail corridors radiating from Madison throughout Dane County.
Don't let climate crisis paralyze us -- Carol Phelps
The danger of people realizing we have a climate crisis on our hands is that it is easy to become immobilized with fear, uncertainty and a sense of helplessness.
The natural human response to danger is flight, fight or freeze. Becoming paralyzed or running, either in despair or denial, does not help anyone or anything. We need to fight -- but what? If we fight each other in partisan mudslinging, we will lose, because our enemies are physics and ourselves.
It's our own habits and complacency and confused priorities that have gotten us into this mess. But that's part of the good news. We can change old habits, shake off our complacency, and reorient our priorities.
Save the planet and our children's future first, everything else can go in the "this would be nice to have" category. We can do this. We just need to believe in ourselves, get off our rear ends, and do it.
Don't demonize public servants -- Carl Sinderbrand
Watching and reading accounts of the public impeachment hearings, I am comforted by a reassuring and possibly unintended theme: The essential institutions of government are managed by career diplomats, senior military officers and civil servants who place honor, integrity and love of country above partisan allegiance.
While certain elected officials and their sycophants generate chaos and undermine our faith in the foundations of our republic, thousands of public servants go to work each day dedicated to maintaining the continuity, quality and stability of those institutions that protect our health, food quality, natural resources, financial integrity, transportation systems, international standing, security and dozens of other attributes of our national success.
Having spent most of my 40-year career interacting with state and local governments, I have seen that same dedication, honor and integrity among our public servants here in Wisconsin.
For those of you who would demonize public service, consider that they include our educators, health care professionals, police, firefighters, emergency service officers, scientists and many others whose work enhances our quality of life. Where would you be without them?
For those of you who, like me, abhor the lies and divisiveness undermining our society for political and financial gain, take heart that the so-called "deep state" is deep enough to withstand this assault.
Carl Sinderbrand, Middleton