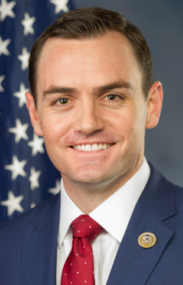 To save thousands of lives, we have temporarily shut down our economy. This has been a necessary tactic, but it cannot be our permanent strategy.
Even as the strictest part of the coronavirus lockdown continues, we must start planning for our post-quarantine economy. On our current trajectory, likely no amount of federal relief will save us from another great depression. With small businesses nearing the breaking point and national unemployment claims already approaching the levels seen at the peak of the financial crisis, a long-term shutdown is simply not sustainable for Wisconsin.
This coronavirus poses a unique threat. Many young people believe they are at lower risk. But it's highly contagious and can be a vicious killer of all Americans, especially those with underlying health conditions. Allowing the virus to spread unchecked could overwhelm our health care system. So if you are a college student still partying on spring break, or just a stubborn middle-aged person insisting this is another seasonal flu cycle, you need to wake up, step up, and slow the spread of the virus. Your carelessness could kill yourself, your relatives, or your neighbors.
Yet as our state works to mitigate the spread and contain the virus,
Wisconsinites must also think about the next phase in our response. The simple fact is: Wisconsin must work. We should look at this short-lived shutdown as a time to prepare ourselves and ready our tools to kill the virus with growing confidence. Instead of watching Netflix until the federal government saves us, we need to save ourselves. We are rapidly learning how dangerous it is to shut our doors and grind the economy to a halt. If we keep them shut much longer, we will open them only to find a fundamentally weakened state and country.
Wisconsin must therefore adapt best practices and guidance from national experts to meet the needs of our state, recognizing that what works for Manhattan and Los Angeles may be different than what works for Milwaukee and Madison, let alone Green Bay and Brillion. "Forward" isn't only our state motto, it is the way we live, and the way we must live, especially in the most difficult of times. To move forward we must shift into the second phase of this war, employing five lines of effort:
1. Strict but strategic quarantine: We must continue to protect the most vulnerable: those who are over 65, and who have underlying health conditions. Individuals, families, churches and businesses must immediately support these groups, encouraging them to quarantine strictly, while providing them with the aid they need to make the quarantine work. This targeted quarantine will prevent overwhelming our health care system while simultaneously mitigating the spread of this virus.
2. Get to work, at a distance: Those less vulnerable — the healthier population — need to continue to work. This means our businesses, small and large, must adapt their operations to the threat: continue to telework where possible, engage in social distancing, and maintain proper hand washing and sanitizing as if our lives depended on it (because they do). The government can enact policies and make recommendations, but the bottom line is we need businesses to be responsible for themselves, their employees and customers. If you are fortunate enough to have a steady paycheck, it has never been more important to support small businesses by shopping and eating locally.
3. School is in for summer: Our kids need to hit the books. They cannot afford to fall months behind. Every school district in Wisconsin must develop a community plan — and partner with private schools — to determine how to educate at this time. For example, high schools may decide to go digital so that elementary schools can use the extra classroom space and spread out into smaller groups. We could then reopen schools in three weeks and extend the semester for a month, paying teachers overtime if needed. We believe in local school districts for a reason — let them reflect the specific needs of their community.
4. Surge support to the front line: Even in the most optimistic scenarios, our health system will be strained. To the extent we are thinking about spending billions or trillions of dollars that we do not have, every marginal dollar should be used to build surge capacity for those on the front lines: our health care workers and first responders working to defeat the disease. The sooner they control the virus, the sooner our economy and our population will recover. The government must help those businesses and sectors that have been shut down, but we won't have enough federal or state dollars to cover the cost if we do not rapidly win this war on the front line.
5. Fight smarter with data: We aren't just fighting a war on this coronavirus, we are fighting a war on misinformation and Chinese Communist Party propaganda. We must use data collection and technology to counter misinformation and make better decisions in near real time. If we are indeed on a "wartime footing," let's use intelligence and reconnaissance to fight smarter. A continuously updated, transparently accessible "Battle Update Brief" — with statistics on tests, masks and ventilators — would allow Wisconsinites to track how we are doing in the fight. Uncertainty, panic and fear — from lack of accurate information — are also dangerous contagions.
I am not saying "the cure is worse than the disease." I am saying it is unrealistic to choose between economic devastation on the one hand and millions of deaths on the other. Wisconsinites know that is a false choice. There has to be a middle ground that takes our livelihoods, both physical and economic, into account.
It is time to go on offense and play to our unique strengths as a state. In Wisconsin we have an uncommon amount of common sense and community strength. Let's engage both and shift to a bottom-up, community-based strategy, one that places our hope and faith in our neighbors — our workers, small businesses, churches and charities — and their ability to take care of each other in a time of crisis.
Wisconsin can and must defeat this disease without defeating ourselves.